Blueberry muffins itself are already so yummilious. Top it with crunchy streusel bits, irresistible. To me and my whole family at least. I love how the blueberries burst into this sweet gooey goodness as it bakes. Oh my, my tummy just gave a loud growl as I visualise the oozy berry surprise nestled in a warm, moist, and fluffy muffin. With the streusel topping forming the outer crust of the muffin, each bite gives 3 different texture and 3 different flavours marrying into one delicious muffin.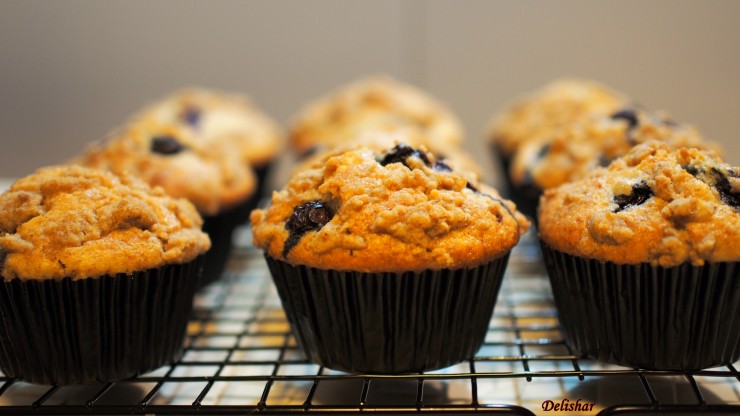 Whenever I make muffins for the family, it wouldn't last very long before they are all gone. However, blueberry muffins seems to go the fastest. Well, I am guilty of having one too many as I'm a lover of blueberry muffins. Especially when they are warm and fresh out of the oven. I have problem waiting for them to cool before biting into one. My reason is that I need to test taste my bake goods right? I call it quality assurance. 😛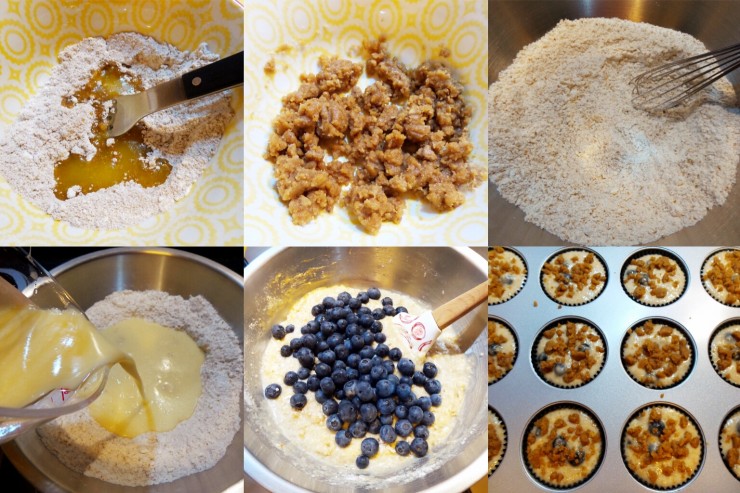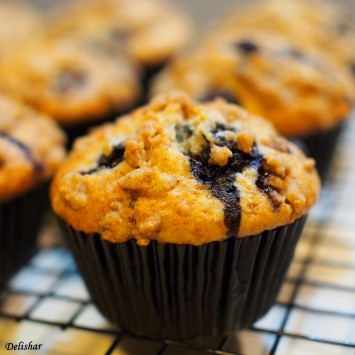 Blueberry Streusel Muffins
Ingredients
Blueberry Muffins
2-1/2

cup

320g plain flour

1-1/2

tsp

baking powder

1/2

tsp

baking soda

3/4

cup

castor sugar

1/4

tsp

salt

2

large eggs

Grade AA, 65g

1

cup

250ml buttermilk

1/2

cup

125ml vegetable oil

1-1/2

cups

150g blueberries

1

tsp

vanilla extract
Streusel topping
1/4

tsp

cinnamon powder

1/4

cup

32g plain flour

2

tbsp

25g brown sugar

2

tbsp

30g melted butter
Instructions
Preheat oven to 200C.

Mix all the ingredients for streusel together in a bowl with a fork until you get moist clumps.

In a large mixing bowl, whisk together flour, baking powder, baking soda, sugar, and salt.

In a measuring cup mix together oil, vanilla, buttermilk, and eggs.

Pour wet ingredients into dry ingredients and mix to just about combine and still lumpy.

Then fold in blueberries.

Do not over mix!

Fill muffin cups to 3/4 full, and crumble streusel toppings on top of muffins.

Bake for 20-25 minutes or until skewer comes out clean.

Allow to cool completely before storing.