When Mekhala Living sent me a box of their products, ideas of what I could do with it were already pinging in my mind. I was so impressed to find out that their products are all prepared, made, bottled and labelled by hand in small batches. What's more, every Mekhala product is created in accordance with the principles of mindfulness and healthfulness. And the best part? No artificial flavours, colours or preservatives are used.
Besides healthfulness, Mekhala Living operates on social consciousness. They are committed to the farming community in Northern Thailand, from where organic, clean-farmed or natural ingredients were procured at fair prices. This creates opportunity for good working conditions, and fair practices for women from the marginalised Burmese Shan community. In return, brings improvement to their welfare.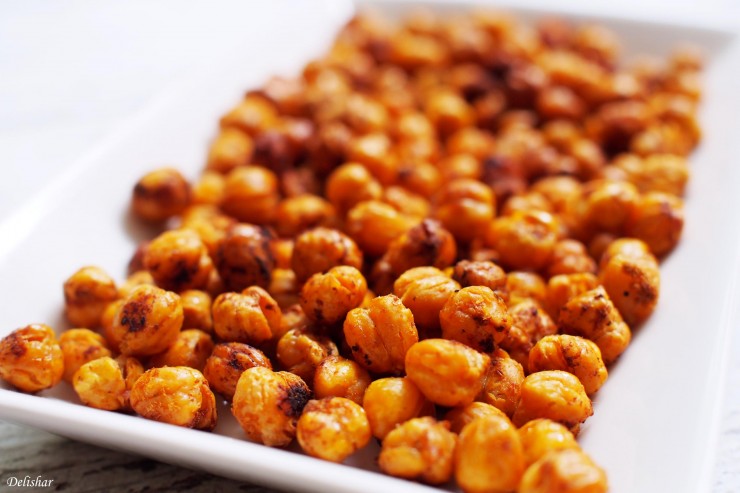 All their sauces, pastes and dressings are made vegan, with many gluten-free options. Himalayan Pink Salt is used for seasoning, which is highly prized for its mineral content and healthful properties. They are made all natural with no refined sugar, artificial preservatives, colours or flavours.
I've been wanting to try out crispy baked chickpeas for a long time now, because it's such a healthy and yummy snack. Makes me think of good old Kacang Puteh, which is probably extinct now. So I jumped at the chance when I spotted Organic Tom Yum Paste and Organic Cold Pressed Coconut Oil. Knowing me, I love giving my food a little Thai twist. It takes minima effort to get it done, and doesn't take long to finish them either!
I personally prefer removing the skin of the chickpeas, as I find that it gives a crispy finish. But this step is entirely optional, and this is the step that will take the longest time. I actually find it quite relaxing to remove the casing for some reason. Using coconut oil gives the chickpeas an extra fragrant boost. However, if you not have coconut oil, use any of your preferred oil.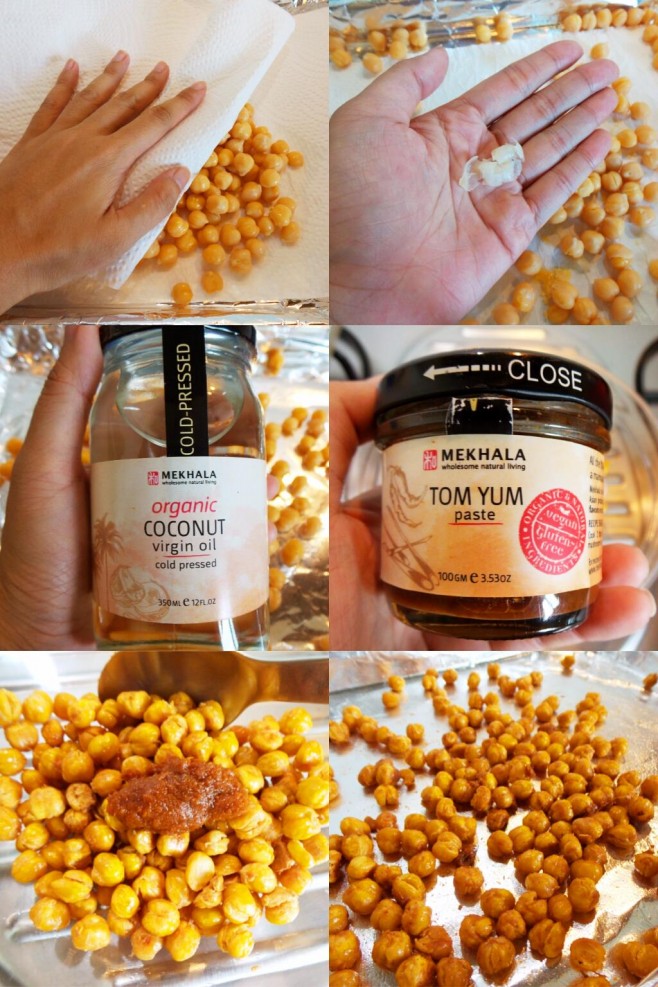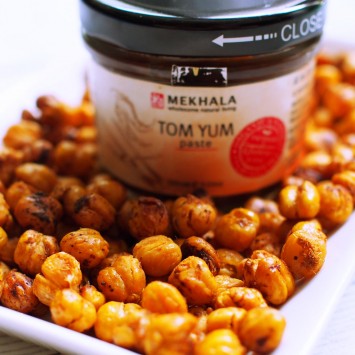 Crunchy Tom Yum Chickpeas
Ingredients
1

can chickpeas

439g, drained & rinsed

1-2

tbsp

coconut oil

1

tbsp

tom yum paste

read note
Instructions
Preheat oven to 200C.

Dry chickpeas by rolling it between kitchen towels.

Pinch off skin of chickpeas (optional).

Lay out chickpeas on tray and drizzle coconut oil.

Toss chickpeas around to coat.

Bake for 20 minutes.

Remove from oven and pour chickpeas into a bowl.

Add tom yum paste, and toss to coat.

Return back to tray, and bake for another 10-15 minutes or until crispy.
Notes
If using other brands of tom yum paste. Please give it a taste test first and gauge how much to use as individual brands will have different level of spiciness and salt content.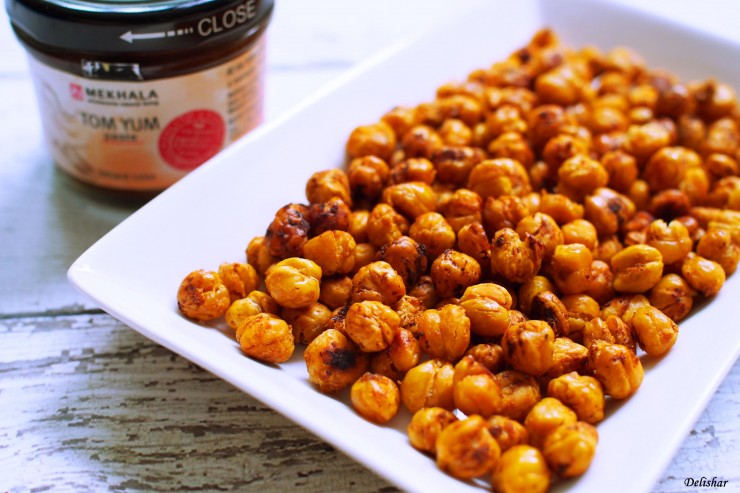 Disclaimer: This post was made possible by Mekhala Living. However, all opinions are of my own.