As I was looking through my posts on my dashboard, I found some recipes that was stashed in my draft folder. This is one of them. Not sure why I didn't post it 2 years ago. Lol! But it is still a recipe that I make every now and then. So I thought, why not share it with all of you!
Browsing through my older recipes and posts, I see how I have evolved as a cooking blogger. At one point, I thought I should just redo all my older posts. The ones when I first started out blogging. My pictures are terrible. haha! I'm not saying that they are excellent now. I'm still learning, but my food photography skills have definitely improved.
I've been blogging for about 3.5 years now, and I've enjoyed this journey tremendously. I've learned a lot along the way, met many awesome foodies and fellow bloggers, I have learned not to beat myself up if things are the way I want it to be, and to let go. I've learn to have fun, laugh at my mistakes, appreciate feedback and critics, and also be grateful for all the encouragement and support shown. And with all these, I decided to leave my old posts as it is. It document how Delishar has developed, it's authentic, and it will continue to show how Delishar will evolve in future.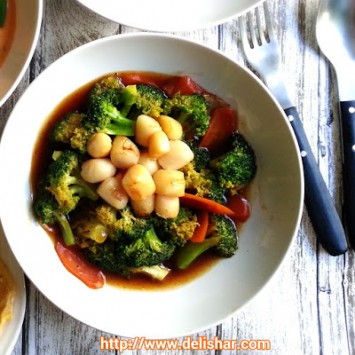 Broccoli with Bay Scallops
Ingredients
1

head of broccoli

cut into florets

1

small carrot

sliced

1

clove

garlic

minced

6

slices

of old ginger

16-18

pieces

bay scallops

2

tbsp

soy sauce

1

tbsp

chinese cooking wine or sherry

1

tsp

sugar

1/4

cup

chicken stock

Salt and pepper to taste

Peanut or canola oil

2

tsp

corn flour + 1 tbsp water

corn starch slurry
Instructions
In a bowl, mix soy sauce, sugar, wine, and chicken stock together.

Pat dry scallops and season with salt and pepper.

Heat a frying pan on med high, add cooking oil.

When oil is shimmering, sear scallops on both sides.

Side scallops aside.

Add a little more oil of pan is dry, stir-fry garlic and ginger until fragrant.

Add carrot and stir fry for 30 seconds.

Add broccoli and stir-fry for a minute.

Pour in sauce mixture, and bring to boil.

Drizzle in corn starch slurry while stirring to thicken sauce.

Remove from heat and serve topped with seared scallops.