Say wings, and you'll get most people's attention, mine included. Perhaps it's a better way to get large crowds' attention by loudly announcing, "CHICKEN WINGS! CHICKEN WINGS!", then say, "Ladies and gentlemen, may I have your attention please." Lol! I'm just kidding of course, but you know, it may just be an effective way to get people's attention if the usual way doesn't.
Darn, I got diverted even before I started. That's what wings does to me. When I see it offered on the menu, I'd forget what I was there for in the first place. Are you the same too? Especially when the description or picture of the wings screams crispy! Oh man… My mouth just started watering. As much as I like chicken wings, I'm also reminded of the amount of oil that it was deep fried in. Luckily, deep frying isn't the only way to get drool-worthy crispy wings.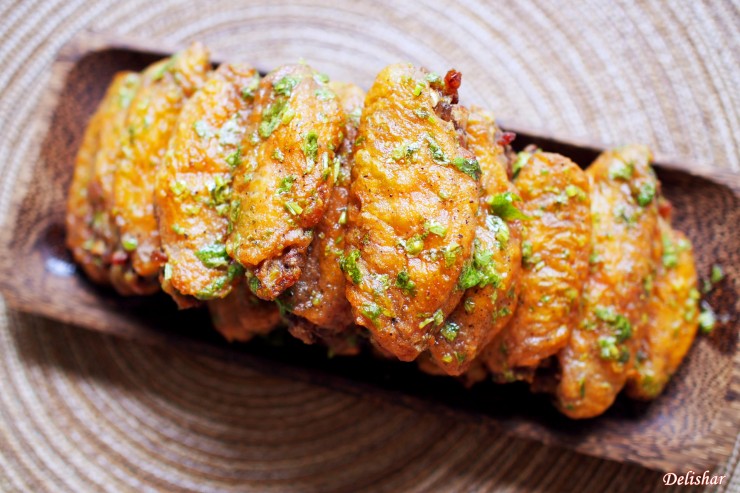 Since I made it a rule that deep frying is never allowed in my kitchen, it doesn't mean that I can't enjoy crispy chicken wings at home. I simply bake them, and this time with the help of a secret ingredient. Baking powder. Cook's Country explains that baking powder composes of an acid and an alkali. This combination helps to draw moisture to the surface of the poultry skin. The moisture then evaporate leaving the skin crisp instead of soggy. The acid weakens the proteins within the skin, while the alkali accelerates the browning process. In layman terms, allowing the skin to crisp and brown more quickly.
You can use the crispy chicken wing recipe as your base recipe and toss it in whatever sauce you like. Sriracha + butter is a really good combi, but the wings taste really good on it's own too! I left out the jalapeños in my recipe to make it kid-friendly. So, if you like crispy wings like us, but is turned off my the gallon(s) of oil that the chicken wings are deep fried in. Or even if you have not tried crispy oven-baked wings before, do give this a try. I assure you that you'll not miss dem deep fried wings.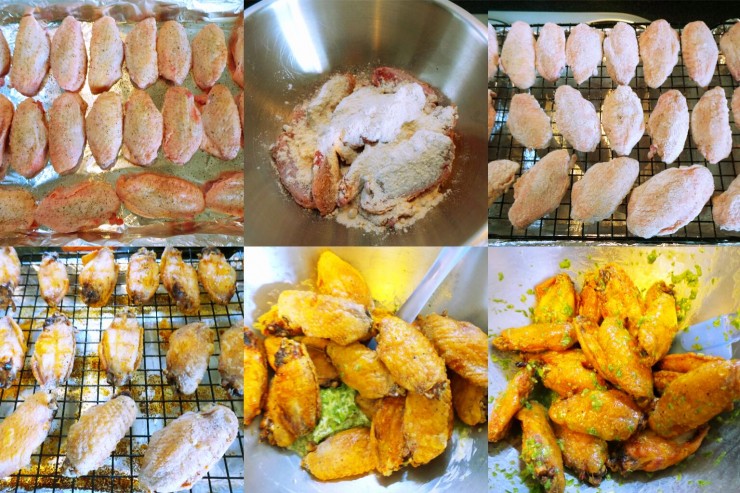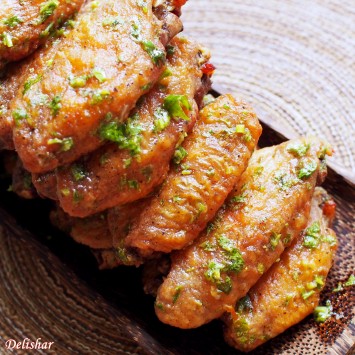 Perfectly Crispy Lime Cilantro Wings
Ingredients
1

kg

chicken mid wings

1

tbsp

baking powder

3

tbsp

all purpose flour

Salt and pepper to taste

Juice of 1 lime

2

tbsp

unsalted butter

room temperature

3

tbsp

chopped cilantro

Chopped jalapeño to taste

optional, I opted out for the kids
Instructions
Clean and rinse chicken, then pat dry with kitchen towel.

Season both sides with salt and pepper.

In a large mixing bowl, whisk together flour and baking powder.

Then toss wings to get a thin layer of even coating on both sides of the wing.

Lay wings on baking wire rack and allow it to rest at room temperature.

Now, preheat your oven to 200C.

When your oven is ready, give the wings a light spray of cooking oil.

Bake at 200C for 20-25 minutes, then flip and bake for an additional 10 minutes.

Meanwhile, make a compound in a large mixing bowl by combining butter, lime juice, cilantro, and jalapeño.

When wings are done, add the wings in the mixing bowl with the butter compound.

Toss to coat wings with lime cilantro butter.

Drip off excess, if any, then serve immediately.