When I asked my older daughter what she wanted for dinner, she replied, "Dumplings, long long noodles, and soup!". So I decided to make this Thai-Chinese fusion version of wonton noodle soup. I've made a Chinese/Local dried version of
Wanton Noodle
in the past before.
The difference is the filling of the wonton. This version uses fish sauce as seasoning and uses all pork. The previous version was made using a mixture of pork and prawn, and seasoned with soy sauce. The Char Siew or Red BBQ Pork is marinated and cooked differently too. I like both version equally well! However, this version was easier to make.
I flavoured the broth with lemongrass and ginger because I wasn't feeling too well. Lemongrass has been known to have anti-bacterial properties, and ginger has anti-oxidant and anti-inflammatory properties too. With healing properties like that, it should be helpful to fight my infection.
The girls totally enjoyed their dinner, and cleaned their bowl really quickly. Not one drop of broth was left. That was the greatest compliment and appreciation my girls have given me. It made every little effort worth while, especially when I was aching all over and fighting a fever while making this meal for them. That's the joy of cooking for the people you love. 🙂
For pictorial guide on how to wrap the wonton, go to this post.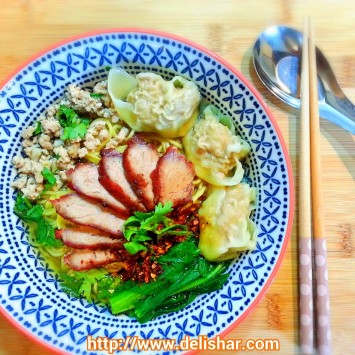 Wonton Noodle Soup
Ingredients
Moo Dang (Thai style bbq roast red pork)
500

g

pork shoulder

cut to long strip like pork fillet or use pork fillet

7

cloves

garlic

smashed

2

bunches of coriander

roots smashed

1

tbsp

Chinese 5 spice powder

1/2

cup

sugar

1/4

cup

honey

1/2

cup

fish sauce

1

tsp

white pepper

1

tsp

red food colouring

optional
Lemongrass Broth
8

cups

pork or chicken broth

2

stalks lemongrass

bruised

6

slices

galangal

4

slices

ginger

1

yellow onion

whole but paper peeled

4

garlic cloves

smashed
Ingredients for wanton (Makes about 45 wantons)
500

g

minced pork or chicken

1

tbsp

fish sauce

1

tbsp

shao xing wine

1-2

tsp

sesame oil

Ground white pepper to taste

1

tbsp

grated ginger

2

cloves

minced garlic

2

tsp

corn flour

1/2

egg

1

stalk spring onion

chopped

1

packet of wanton wrapper

Little bowl of water to seal dumplings
Dish Assembly
Fresh egg noodles

blanched as per packing

Left over minced pork mixture

blanched

Chye sim

blanched

Cooked wonton

Moo Dang

Thai roasted red pork

Lemongrass broth

Chopped cilantro

Thai chilli flakes

optional

Garlic oil

optional
Instructions
Moo Dang
Mix fish sauce, honey, sugar, white pepper, and chinese 5 spice in a mixing bowl.

Whisk to combine, then add garlic and coriander.

Use a fork to pierce the pork shoulder / fillet for marinade to penetrate in.

Place pork into marinate and use your hands to massage the marinate into the meat.

Use a glove to prevent staining.

Cling wrap the bowl, and allow to marinate for 1 hour to 24 hours.

Preheat oven to 200C.

On a foil lined and lightly greased baking tray, place pork on top without touching each other.

Spoon some of the marinade on to pork.

Allow to bake for 40 minutes, basking once again with left over marinate half way through.
Lemongrass Broth
Place everything into a stock pot, and bring to a boil.

Lower to a simmer, cover, and allow to simmer for 15-20 minutes.

Scoop out ginger, galangal, lemongrass, garlic, and onion before serving.
Wonton
Put all the ingredients for wanton except for the wrapper into a large mixing bowl.

Use a wooden spoon or chopsticks to mix meat in one direction until meat is stringy.

Set up wrapping station. Dust plate and tray with a little plain flour so that the wanton will not stick.

You will need a little bowl of water to seal the wanton.

Place about 1 tsp of meat filling on wanton wrapper.

Dip finger into water and apply around the bottom edges

Fold and seal the edges.

Fold in half again length wise and pinch the ends together.

Continue until done.

I lay mine out on a tray so it will not stick together when I freeze it.

To store it for later use, freeze it on tray for an hour, then transfer into ziplock bag for storage in freezer.

If cooking immediately, then no need to freeze.

There is no need to defrost wonton before cooking.

Cook wanton in a boiling pot of water for about 3 minutes or until cooked.

After wanton is cooked, take it out and set aside.
Noodle Assembly
Assemble by adding noodle to bowl.

Cook your noodle serving by serving.

Top with blanched minced pork, chye sim, wonton, moo dang.

Scoop broth over toppings.

Garnish with chopped cilantro, thai chilli flakes, and a little drizzle of garlic oil.
Notes
Adapted from Moo Dang adapted from Foodtraveltv