A couple of weeks ago, I was seriously craving some comfort food. As I walk down the aisle of the supermarket, the bags of crinkle cut fries were desperately calling out my name. Or at least that's why I was delusionally hoping would happen. Thanks to the lack of self-control, my hand reached out for it and before I could stop myself, it was sitting comfortably in my shopping cart. I shrugged and and attempted to reason with myself, "Oh well, it's already in there. Can't put it back now. It'd be so cruel."
Looking into my shopping cart, the bag of fries looks kind of lonely amongst a bed of fresh fruits, and vegetables. It was kind of depressing being by itself as it obviously did not fit in. I sighed an made it my mission of find the bag of fries some friends to hang out with. I walked over to the chiller, grabbed a pack of apple wood smoked bacon, and a pack of white & red shredded cheese. Threw it in my shopping cart and smiled to myself, feeling pretty satisfied. The clique is formed and completed. I knew I had to hurry out to the check out line before I sink any deeper. And that was exactly what I did.
Back home, I started to feel a tad bit guilty. So I chose to bake the fries in an attempt to be 'healthier'. The husband came home that evening, took a look at what was served for dinner, and his eyes instantly sparkled and a huge grin appeared on his face. With that, I didn't feel guilty any more. We sat down and indulge that night. And shortly after our dinner, we headed to the pool to burn off some of the calories consumed. All in moderation. 🙂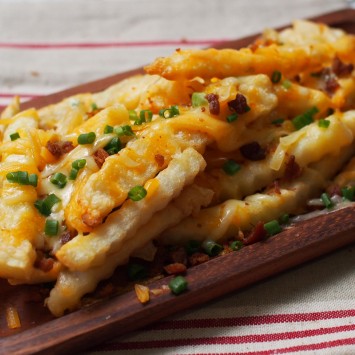 Bacon & Cheese Fries
Ingredients
200

g

frozen crinkle cut fries

1/2 to 3/4

cup

shredded red and white cheddar cheese

2

strips bacon

cooked and crumbled

1/4

tsp

paprika

Salt and pepper to taste

1

tbsp

chopped spring onions

Cooking spray
Instructions
Bake fries according to directions.

When it's done, season and toss with paprika, salt, and pepper. (I transferred fries to large mixing bowl to toss with seasoning.

Return to tray or casserole, pack fries together, and sprinkle cheese on top of fries.

Return fries to oven, and allow cheese melt. This will take only a couple of minutes.

Remove from oven, sprinkle crumbled bacon and chopped spring onions.

Serve immediately.
Notes
You can prepare the fries however you like. Air-fried or deep-fried. I prefer to bake it.