If you are a regular reader on my blog, you would know that I love making muffins. If you have not tried the top 3 muffin recipes on my blog yet, please do. It'll list them here for your easy reference.
Muffins is my choice of bake product simply because they are quick, easy, and has never failed to satisfy the sweet tooth or hungry bellies looking for a snack. Muffins are also a very good make ahead breakfast option. Bake the day before to sleep in a little more in the morning. The family will go on auto-pilot to grab themselves a muffin for breakie if it's on the kitchen counter.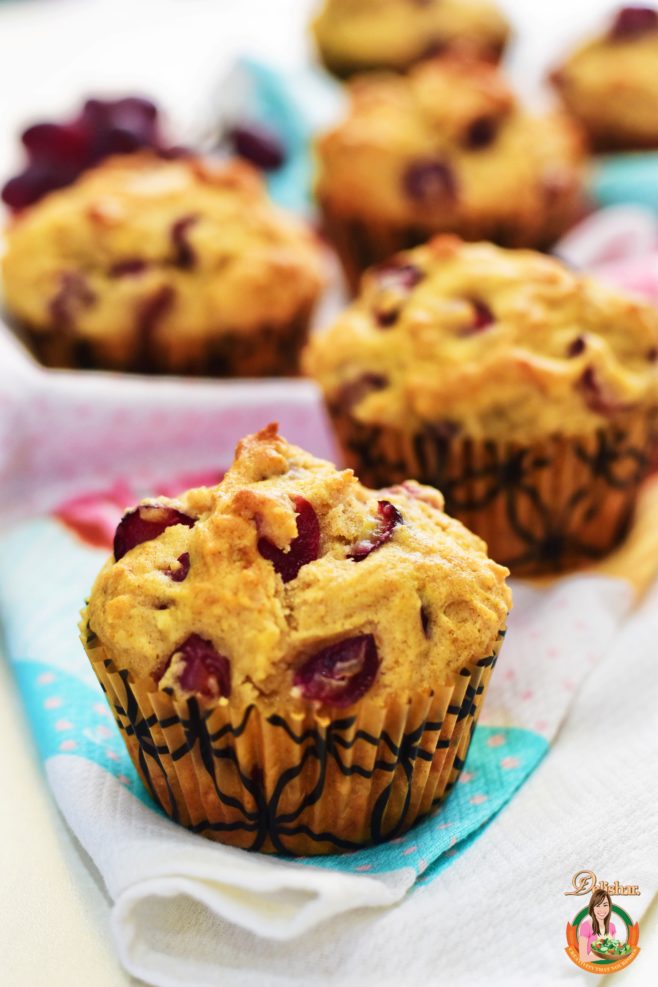 I know it is uncommon to use grapes in muffins. However, that does not mean that it should not be in there. My eldest wanted me to buy red seedless grapes for her to snack on, and the auntie in me bought so much because they were on promotion. 1 punnet for $8.99 and 2 for $10.99? Quite a no-brainer. Which also led me to this grape muffin experiment.
I really did enjoy biting into the grapes for that burst of sweetness. The grapes holds its shape pretty well even after baking and did not turn into a mushy mess, which was awesome because it added nice texture to the muffins.
I'm also trying to mess around with producing recipe videos after getting quite a few requests. So there is my debut. There are still a lot I need to learn about shooting these recipe videos and editing them. Baby steps I suppose. Let me know what you think, I'd love to hear from you.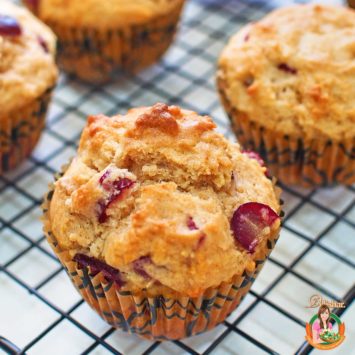 Grape Muffins
Ingredients
1 1/2

cups

192g all purpose flour

1

cup

120g wholewheat flour

1/2

cup

100g castor sugar

1

tsp

baking soda

1 1/2

tsp

baking powder

pinch

of salt

2

eggs

lightly beaten

1/2

cup

veg oil or melted butter

1 1/4

cup

356g greek yogurt

3

tbsp

45ml fresh milk

1

tsp

vanilla extract

1 1/2

cups

245g seedless grapes, rough chopped
Instructions
Preheat oven to 190C

Line muffins tray.

Whisk together all plain and wholewheat flour in a mixing bowl.

Combine flour, sugar, salt, baking soda, and baking powder.

Then add oil, yogurt, eggs, milk, and vanilla.

Mix until just combined and still lumpy.

Fold in grapes.

Divide batter equally into lined tray.

Bake 20-23 minutes at 190C.

Allow to cool in pan for 5 minutes before transferring to wire rack to cool completely.

Stir until ingredients are combined. Lightly fold in grapes.

Bake 25 minutes or until golden brown on top, Cool in pan.
Notes
To use all plain flour only, use 2 1/2 cups (320g) flour and omit wholewheat flour.
You can use natural yogurt or buttermilk as well.