Wanted to make dinner, but was a tad too tired to walk to the market, plus the haze was terrible which made me want to hibernate indoors. But my food supply was low as it's the end of the week, so what do I do? Raid the fridge and make whatever is available of course!During my fridge raiding quest, I found some treasures. A rack of frozen baby back ribs, watercress, chicken legs, a piece of fish cake, and a pack of cai xin / choy sum.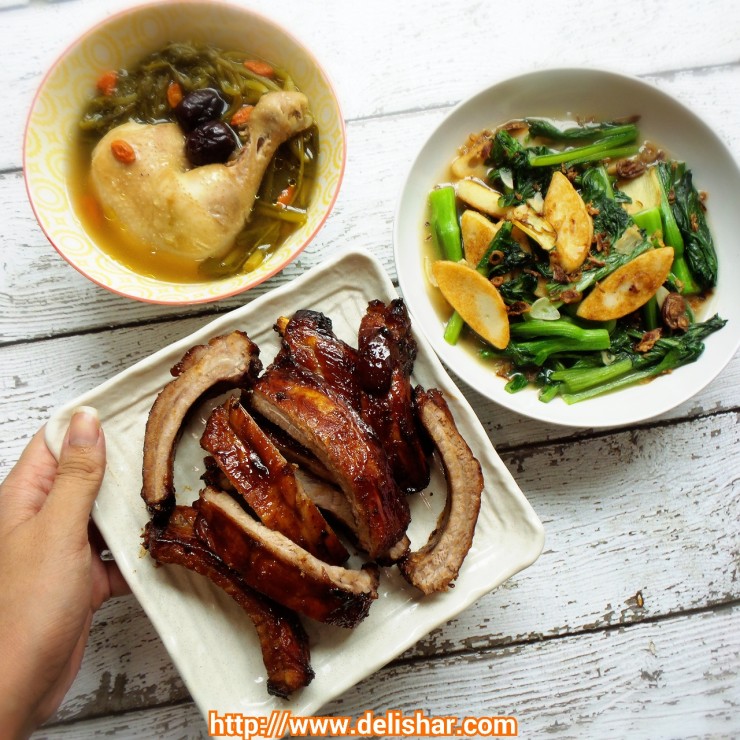 This was what I came up with, after some time in the kitchen. With watercress, it'll definitely be soup, but I'm not wasting a beautiful rack of ribs for the soup. Additionally, 2 chicken legs isn't enough to feed the 2 + 2 of us. So I used the chicken legs to make Watercress Chicken Soup (Recipe will be shared later). Transformed the ribs into Honey Hoisin Ribs (Recipe will be shared later too).
At first, I was just thinking of pan-frying the cai xin with garlic because I didn't think the fish cake has any part to play in the whole meal. But I thought, what the hell. What's the worst thing that can happen if I mix it up a bit tonight? So I threw it in the mix, and made a starchy white sauce to bring everything together. Oh boy am I glad I did that! The girls loved it, and I adored that pan-fried golden fish cakes! Definitely a play of texture to the dish, and made a boring stir-fried Chinese greens a little more exciting.
The white sauce in this recipe is versatile, and can be used for any stir-fried greens. Broccoli + scallops/prawns, mixed vegetable, or even as a sauce over steamed fish/chicken.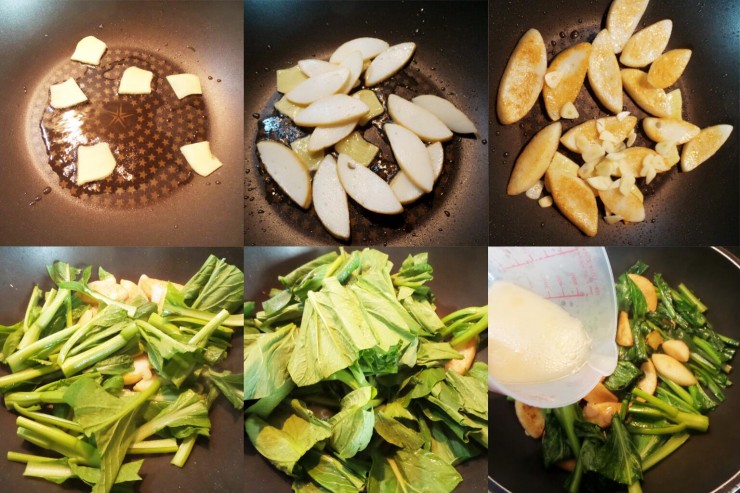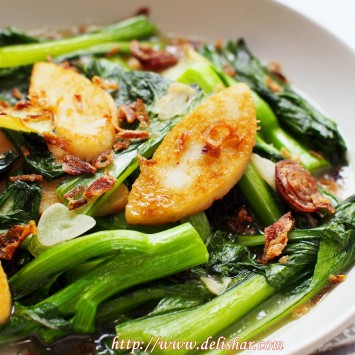 Cai Xin with Fish Cake
Serves 2-4 in a multi-course meal
Ingredients
1

pack / bunch of cai xin / choy sum

cut into 2 inch length

1

piece

fish cake

sliced into 1/4 inch pieces

5

slices

ginger

2

cloves

garlic

minced
Sauce
6

tbsp

water

1/2

tbsp

sugar

1

tsp

wine

1/4

tsp

sesame oil

1/2

tsp

salt

soy or fish sauce to taste

dash of white pepper

1/2

tbsp

corn flour
Instructions
Mix all the ingredients for sauce together.

Heat pan on medium high, and add oil.

Stir-fry ginger until fragrant, then add fish cake to brown both sides.

Then add garlic and stir-fry for 30 seconds.

Add cai xin, stir-fry until wilted.

Pour in sauce, and allow to thicken.

Remove from heat and garnish.