Sometime back I shared a Pulut Hitam Chiffon Cake recipe. As mentioned before Pulut Hitam is one of my favourite dessert. A few weeks ago, I had a chance to dine at a friend's place and she made pulut hitam. I was over the moon! Just thinking about a hot bowl of sticky black glutinous rice dessert make my mouth water uncontrollably!
After making the chiffon cake, I knew I had to make an Ogura version. I much prefer Ogura to chiffon although they are very similar in terms of method of making and texture. Ogura yields a moister cake due to the steam baking, and tighter crumbs.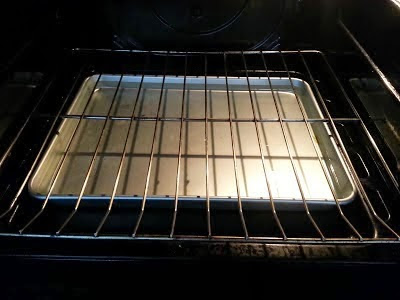 This is how it should look like. A tray of warm water on the lowest rack then your metal rack on the 2nd lowest. This is where your cake tin should sit. Preheat the oven while you prepare the batter. When you are done, the tray of water should be almost at boiling point.
What I like about this cake is that it is gluten-free, low in sugar, and free of baking agent. This ogura has a slightly gritty bite to it because it uses glutinous rice flour instead of top flour or cake flour. It is something different and a love every bite of it!
Check out my Milo Ogura and Tri-flavoured Ogura too.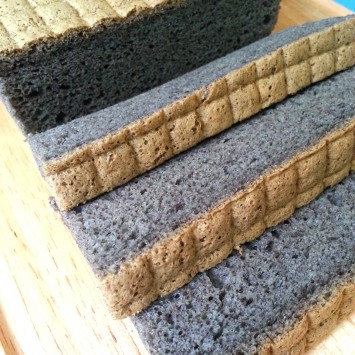 Pulut Hitam Ogura
makes an 8-9 inch pan
Ingredients
6

eggs

separated (60g Each)

1

whole egg

65

g

coconut oil

melted or corn oil

80

g

coconut milk

70

g

sugar

1/2

tsp

vanilla bean paste / vanilla extract

1/2

tsp

pandan paste

65

g

black glutinous rice flour

available at bake king

1/4

tsp

cream of tar tar

optional

Black gel colouring

optional

1/4

tsp

salt
Instructions
Preheat oven to 160C.

Line bottom of pan with parchment paper.

Prepare oven for steam baking as shown above.

In a large bowl, beat the egg yolk, one whole egg together, and drizzle oil while beating.

Then continue beating and drizzle in milk, vanilla paste, pandan paste, and colouring gel if using.

Mix salt into rice flour.

Sieve into yolk batter and mix until combined.

Beat the egg whites together with cream of tar tar.

When whites turn foamy, slowly add in sugar while beating.

Until you get firm peaks.

Add 1/3 of the meringue into your yolk batter, and fold it in.

Then fold in the rest of the meringue.

Be sure not to deflate your batter.

I like to use a balloon whisk to fold, but you can use a spatula if you prefer.

Pour batter into prepared pan.

Give it a few taps on your kitchen top to get rid of large air bubbles.

Steam bake for 10 mins on 160C then 50-55 mins on 130C.

Or until skewer comes out clean.

Invert immediately to cool for 5-10 minutes.

Then use a knife to release the cake from the sides of the pan.

Invert to unmould, and carefully peel off the baking paper.

Allow to cool completely before cutting.