I have not come across anyone who doesn't like pancakes, or crepes. Something so simplistic yet appealing. Banh Xeo made it even more alluring with the fresh herbs and lettuce used to wrap the crispy crepes. The trick is to get the crepes as thin as possible, and enjoy it immediately.
Some recipes calls for soda water in place of water. It promised an extra crisp by using soda water. Unfortunately, I didn't have any that day, so I had to make do. I can't rave enough on how much the husband and I enjoyed this meal the day I made it. It made it's way up the top 10 favourite Kay list of food. It does take a little practise in making the crepes. I recommend pouring the batter on the side and swirl it around the pan to form the crepe. It may also be easier if you pan fry the toppings (onion, pork, and prawn) first and remove it. Swirl the batter to from crepe before spreading the topping on one side of the pan. That way, your crepe will not be too heavy when you fold it.
Here how to enjoy it: Take your lettuce, romaine or large butterhead. Tear out a little of you prepared banh xeo pancake with fillings, top it with some fresh herbs. Roll it up with your lettuce, and dip it in the dipping sauce. Say ahhh, and savour. Then quickly go back for more. 🙂
Don't forget to participate in the current giveaway!! 5 pairs of Each-a-Cup drink vouchers to giveaway! Click HERE for details!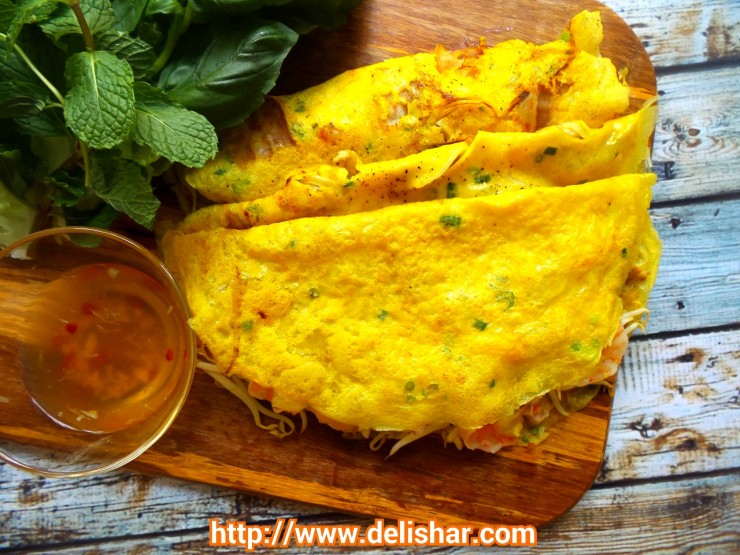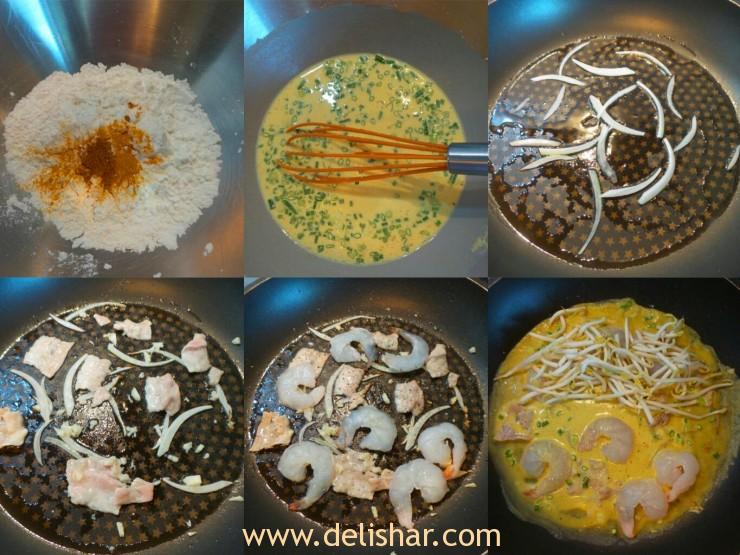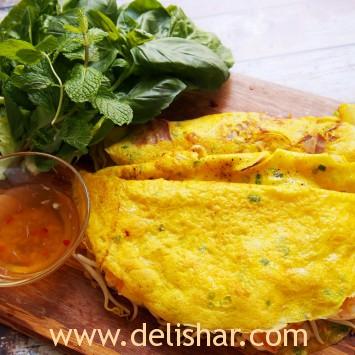 Bánh Xèo (Vietnamese Filled Crepes)
Makes 4 pancakes using a 28cm frying pan
Ingredients
Batter
1/2

cup

rice flour

1/4

cup

corn flour

1/4

cup

coconut milk

3/4

cup

cold water

1

egg

1/4

tsp

salt

1/2

tsp

curry powder

1/2

tsp

turmeric powder

1

spring onion

chopped
Topping
12

large prawns

halved across

2

cups

bean sprouts

8

pork belly slices

cut into 2 inch pieces

1/4

medium yellow onion

thinly sliced

2

cloves

garlic

minced

Cooking oil

Salt and pepper
Dipping sauce
6

tbsp

warm water

2

tbsp

fish sauce

2

tbsp

sugar

Juice of 1 lime

1

clove

garlic

minced

Chopped Thai chilli to taste

optional
To Serve
8

Romaine lettuce

Fresh mint leaves

Fresh basil leaves

Fresh cilantro
Instructions
In a mixing bowl, add both flours, turmeric, curry powder, and salt together.

While stirring, drizzle in cold water, and coconut milk.

Whisk in egg, until you get a smooth batter.

Set aside for 30 minutes while you prepare the rest of the ingredients.
Pancake
Brush pan with oil over medium high heat.

Add onion and stir-fry until soften, then add garlic, and pork.

When pork is almost cooked, add 1/3 cup of the batter for an 28cm inch pan.

Swirling to spread out the batter.

Top with 6 slices of prawn, and 1/2 cup of bean sprouts on one side.

Cover and cook for 2 minutes or until side crisp.

After 2 minutes, fold into half, and press down.

Serve with fresh herbs, lettuce, and dipping sauce.
Notes
Tear a portion of the pancake.
Use Romaine lettuce as a wrap to hold the pancake, and herbs.
If using 26 inch pan, use 1/4 cup of batter
Adapted from khas-kitchen