I love making muffins, and my family loves eating them. Lol! One of the biggest reason why I like making muffins is because it is so simple to make. Most or almost all of my muffin recipes doesn't require a mixer, and is all done in a bowl. Making clean up very easy too!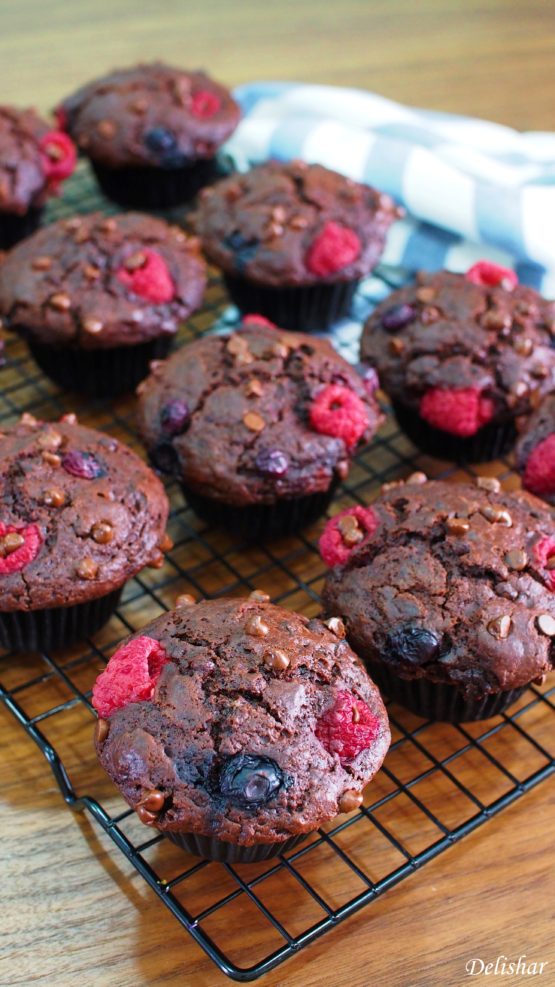 Ever since the girls started at their new school, I have to pack snacks for them to bring to school. So every now and then the girls will ask for their favourite Double Chocolate Muffins. So using that recipe, I added a little more goodness to it by cutting down on the chocolate chips and added some anti-oxidant rich berries into the mix.
My girls and husband absolutely loved it! I had some guests over in the morning for a meeting, and they got to taste these freshly baked muffins. They loved it as well! Unfortunately, I ran out of wholewheat flour the day I made them. However, feel free to substitute 50% of the flour for wholewheat flour if you want a little more fiber in your muffins. 🙂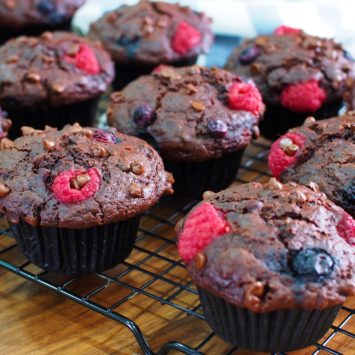 Double Chocolate Berries Muffins
makes 12-18 muffins (see note)
Ingredients
2

cup

256g plain flour

3/4

cup

150g castor sugar

1/2

cup

64g good cocoa powder (I used Valrhona)

1

tsp

espresso powder **

optional, read note

1

tsp

baking soda

1/2

tsp

salt

3/4

cup

130g chocolate chips

1

cup

245g greek yoghurt

1

egg

1/2

cup

+ 2 tbsp

150ml milk

1/2

cup

120ml vegetable oil

1

tsp

vanilla bean paste/vanilla extract

1

cup

150g blueberries

24

raspberries for topping
Instructions
Preheat oven to 200C.

Line muffin pan with paper liners.

In a large mixing bowl, add flours, baking soda, salt, sugar, cocoa powder, sugar, espresso powder, and 1 cup chocolate chips.

Whisk to combine.

In a measuring cup, add yoghurt, egg, oil, milk, and vanilla extract.

Whisk till combined.

Pour wet ingredients into dry ingredients.

Using a spatula, mix until batter is just combined and still lumpy.

Do NOT overmix!

Fold in blueberries.

Spoon batter into prepared liners, and top with 2 raspberries on each muffin.

Bake for 18-25 mins or until skewer inserted, comes out with a few moist crumbs.

Leave to cool in pan for 10 minutes before transferring to wire rack to cool completely.

Store in airtight container.

Serve with a glass of milk.
Notes
The only purpose of the espresso powder is to enhance the taste of the chocolate. You will not be able to taste the coffee, and it is too little to keep you up like what cup of coffee does. If you don't have it or is uncomfortable adding, then please omit.
This recipe yields 12-18 muffins. Fill 3/4 full for 18 regular muffins or full liner for large muffins. I mad large muffins here. Adjust baking time to suit.