What is Fischeon you ask? It's fish meat loaf. Yup, you heard me right! Fish meat loaf, just like luncheon meat, only made from tuna & sardine instead of pork! I have to admit that my first response was also, "what?!" as well. When the representative educated me about what Fischeon was about, my response was, "Does it contain Sodium Nitrate? (yes, that cancer causing pink salt that is used for curing meat and gives hot-dogs, ham, and luncheon meat it's pink tinge) If it contains sodium nitrate, then I apologise that I will not be able to collaborate.
However, I was told that Fischeon was not only sodium nitrate free, and has no added preservatives. It is also high in omega 3 & protein. Additionally, they offer a healthier choice option with low-sodium. I didn't mind trying it out. Just in case you are wondering, Fischeon is also Halal-certified. Fischeon is also a sister brand of the locally loved DoDo brand under the umbrella of food producer and distributor Thong Siek Food Industry.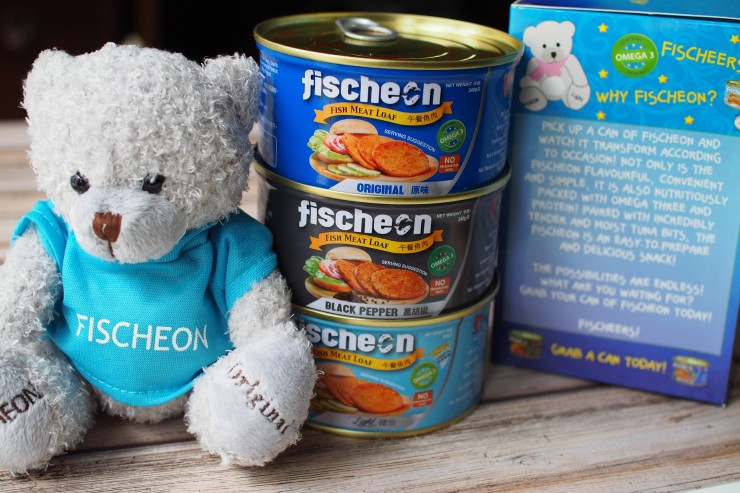 These are the 3 different flavours that Fischeon offers; Black Pepper, Original, and Light. For this recipe, I chose to go with light because it is slightly healthy with 25% lower sodium content. The can was designed with the consumer in mind, as you can easily open it with the ring tab without having to use a can opener.
I had a little difficulty trying to get the product out from the can, probably due to the lack of grease. Not complaining though, I remember having to open a can of luncheon meat when I was much younger. When I flip it over and give it a little shake, it falls right out due to the amount of grease in and around the luncheon meat. It wasn't a pleasant experience.
I was amazed by how non-greasy the fish meat loaf was! It smells like what I expected, tuna and sardine, more tuna than sardine in my opinion. The consistency was similar to luncheon meat, and even the texture after it's baked. I thought it would taste more like fish-cake, but it didn't.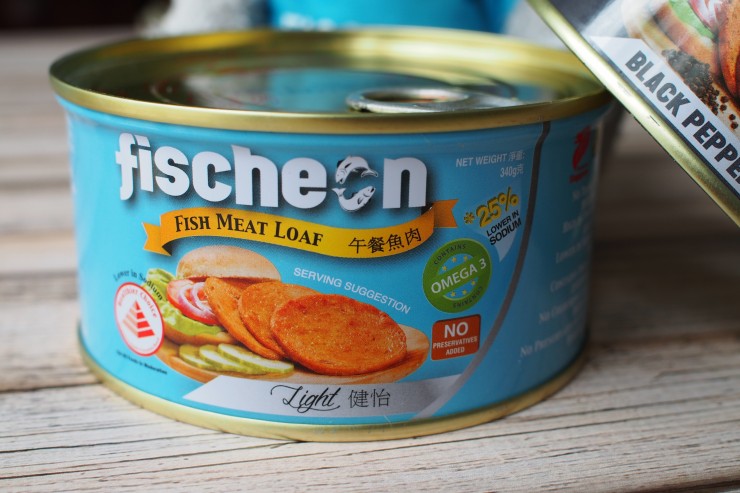 I did a blind test on the husband. He DOES NOT eat fishball, fish paste, or any of that sort except for fish in fillet form or a whole fish that he can see. He said he doesn't like the texture and how unusually fishy fish products tasted. So I did not mention to him about what was wrapped in the rice paper rolls. After he was done with his 3rd or 4th rolls, I finally asked if he knew was was in there. His response was, "What? Lunch meat?". Win for Fischeon. I told him what it was, and he said that he wouldn't have known the difference, and liked it that it wasn't greasy unlike regular spam.
Then it was the girls. So they were given the same rice paper rolls with Fischeon in it. They took a dubious bite into it, then proceed to skilfully use they teeth to fish out the piece of Fischeon in the middle. Well, I guess that's another win! I made about 10 rice paper rolls and nothing was left. I just served the rest of the pieces as Fischeon 'fries'. My verdict? It's definitely not luncheon meat, so don't expect that. But it sure is a darn good alternative! Especially if you are addicted to luncheon fries but do not want the extra calories!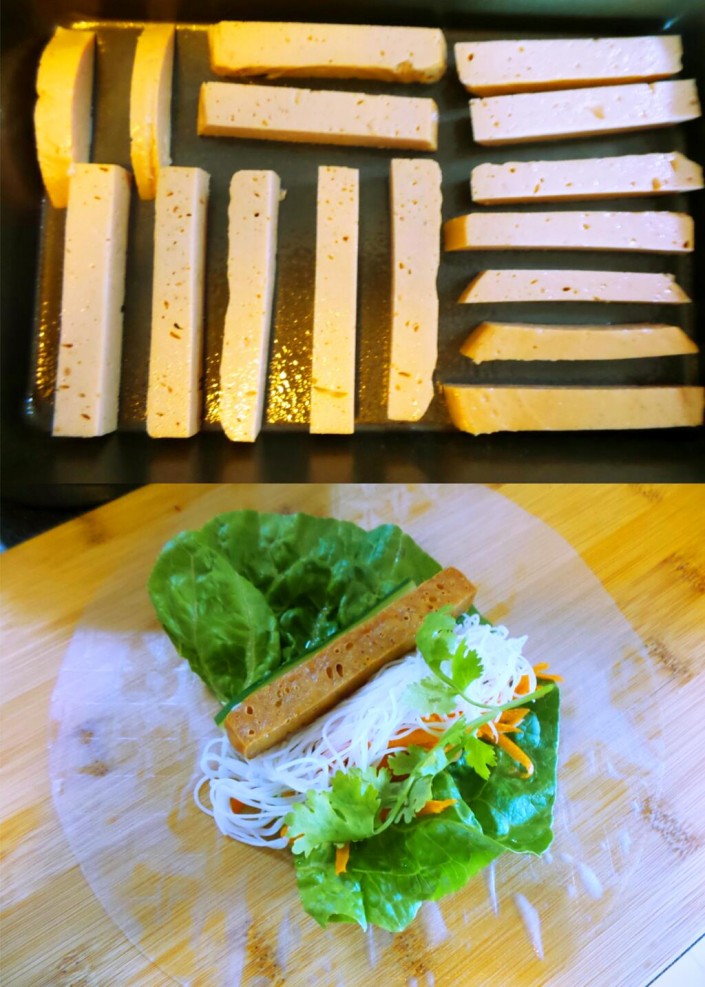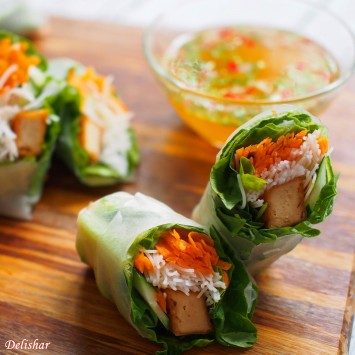 Fischeon Rice Paper Rolls with Nuoc Cham
Ingredients
1

can Fischeon

sliced into 1/2 inch batonnet/fingers

1

carrot

shredded

1

cup

rice vermicelli

10

pieces

of rice paper

10

cucumber batonnet/sticks

10

romaine lettuce

cleaned & rinsed
Nuoc Cham (Dipping Sauce)
1

tbso lime

1

tbsp

white sugar

1/4

cup

warm water

1-1/2

tbsp

fish sauce

1

clove

garlic

minced/pressed

1

thai chilli

seeded & minced (to taste)

1

coriander root

minced
Instructions
Preheat oven to 200C.

Lay Fischeon fingers on lightly greased or non-stick baking tray.

Spray on some oil on the Fischeon fingers.

Bake for 15-20 minutes or until crispy on the outside.

Dip rice paper in warm water to soften.

Just dip and rotate to dampen the whole rice paper, don't worry if it doesn't soften immediately.

It will soften once you are ready to roll.

Layer romaine, carrot, cucumber, rice vermicelli, and baked Fischeon.

Start rolling from the bottom, then bring in the sides and finish rolling upwards.

Serve immediately with Nuoc Cham.
Nuoc Cham (Dipping Sauce)
Mix warm water and sugar together until dissolved.

Add all the other ingredients, and adjust to taste.

Add more sugar if you want it sweeter, more lime if you want it more sour, and more fish sauce if you prefer it saltier.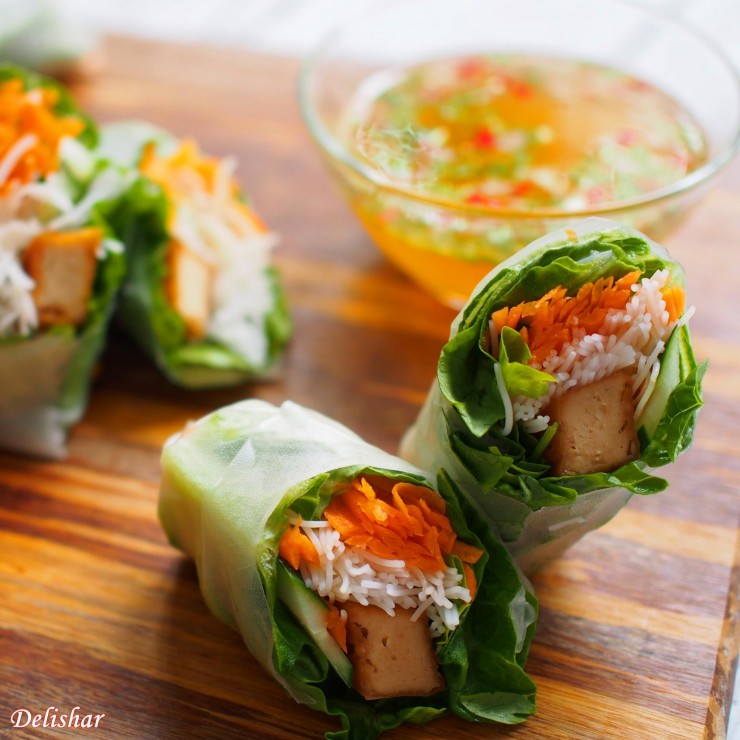 Disclaimer: Although this post was made possible by Fischeon; all the above mentioned opinions are of my own.