The husband has been hinting a lot lately, about how the girls need more wholewheat in their diet. Mind you, I only buy wholewheat bread for the family. But he was lamenting about how commercial wholemeal bread is probably not really wholemeal. And he asked if I would like to back something for the girls.
Quite honestly, I knew he wanted me to bake him something instead of 'for the girls'. See, the husband rarely, if ever would explicitly request for me to do something. He doesn't want to make me feel obligated, so he would drop really obvious hints (although he thinks he is quite subtle). I can't say no to that gorgeous man that's ever so supportive and loving! Plus he said, it's for the girls! The more I HAVE TO do it, even though I'd prefer not to work with dough. :p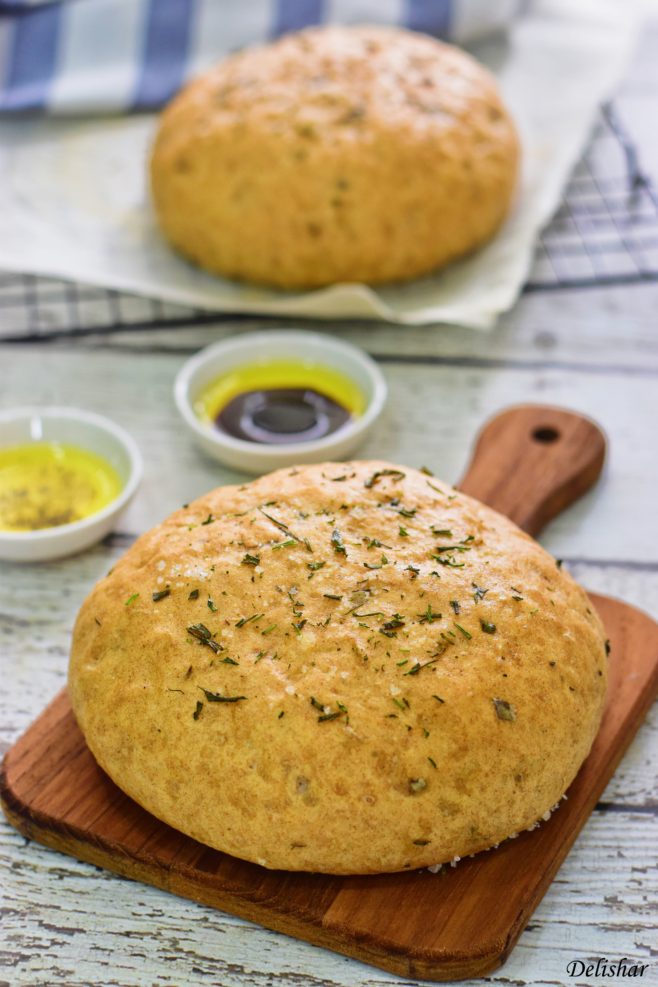 Friends asked why I don't like working with dough. I think it's because I've picked up so much playdoh after I had the girls, that I've develop a phobia towards that kind of texture. Imagine having to clean playdoh in nooks and crannies, remove them from clothes, fabrics, and don't even get me started on the ones stuck on carpet. *faint
However, this recipe requires very little contact with the dough. My mixer did the mixing, and I just have to shape it. The texture of the dough is easy to handle, and I have to say that after making bread a couple of times, I'm beginning to slowly get over that negative thought of handling dough.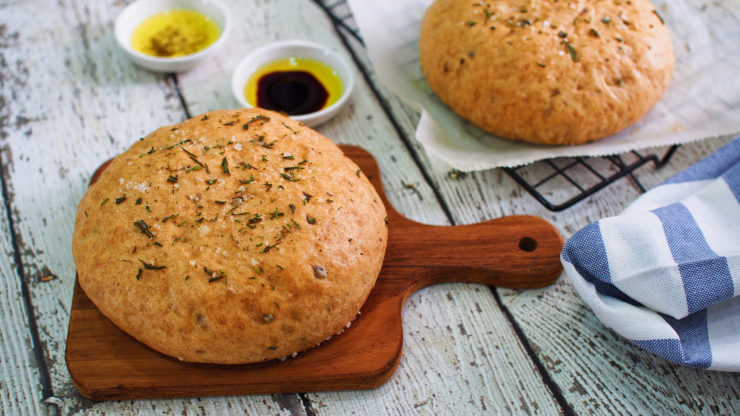 So after dropping hints, I decided to make this bread for the family. A good way for me to use my herbs from my mini-herb garden too! Can't go wrong with putting rosemary, olive oil, and sea salt together. Wholewheat makes the whole loaf healthier and heartier! The husband was grinning from ear to ear when he saw it on the dinning table. He took a bite and exclaimed, "Wow! This is so good!". The girls pretty much didn't want their dinner that evening, and only wanted to eat this bread. Definitely a good sign when the kids love it!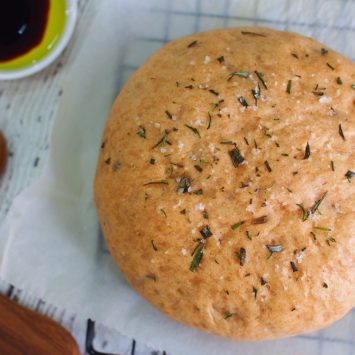 Rosemary Olive Oil Bread
Makes 2 loafs
Ingredients
1

cup

130g wholewheat flour

1

&1/2

198g cup plain flour

1

cup

warm water

1

packet/envelope of active dry yeast

1

tbsp

sugar

1

tsp

sea salt

1

tbsp

olive oil

1

tbsp

melted butter

2

tbsp

chopped fresh rosemary

divided

Olive oil to coat bowl

Sea salt flakes

fleur de sel, to sprinkle
To serve
Olive oil

Cracked Black pepper

Balsamic Vinegar
Instructions
Mix warm water, yeast, and sugar into stand mixer bowl.

Let stand for 5-10 minutes until frothy.

Meanwhile whisk plain flour and wholewheat flour together in a separate bowl.

When yeast is bubbly and active, add in sea salt, 1 tbsp rosemary, 1 tbsp olive oil into mixture.

Turn on mixer fitted with dough hook on low, and slowly add in flour.

When incorporated, allow to knead on low for 1-2 minutes, then medium speed for 5 minutes.

Or you can hand knead which will take about 10-12 minutes.

The dough should appear smooth and pull of the sides.

Grease a mixing bowl with olive oil, and transfer dough into the bowl flipping once to coat it with oil.

Cover with cling wrap or damp towel, and allow it to rise until double in size. About 1 hour.

Punch it down, divide dough into 2, shape into round loaves, and place on baking sheet lined with parchment paper.

Sprinkle the remaining 1 tbsp rosemary, and pat it on to make sure it sticks on the loaves.

Cover and allow to rise again until doubled. (45 minutes)

Bake in preheated oven for 15-20 minutes at 190C, until golden.

Remove from oven, brush on melted butter and sprinkle sea salt flakes.

Transfer to wire rack to cool.

Serve with olive oil & crack black pepper, and/or olive oil with balsamic vinegar for dipping.
Notes
1 packet of yeast is about 2&1/4 tsp or 7g
Adapted from bakingwholegrains