So in my last post, I shared with you a recipe of my Spatchcock Tandoori Chicken. I mentioned that I served it with Saffron rice and will be sharing with you the recipe. So as promised, here is the recipe.
I, or perhaps I should say… the whole family fell so deeply in love with saffron rice that I knew I had to re-create it at home. As a family, we would eat out some times and one of out favourite restaurant to have dinner is an Indian joint. My girls will always request to have naan and 'yellow rice' which is saffron rice. I secretly rejoice when they ask for it because the husband and I are huge fans too.
Loaded with aromatics, warm Indian spices, luxurious saffron, and flavourful ghee. The fluffy, and gorgeously tinted rice turned out to be light, fluffy, and loaded with so much oomph in each bite. Just typing about it is making me salivate quite uncontrollably! Let's get to the recipe shall we?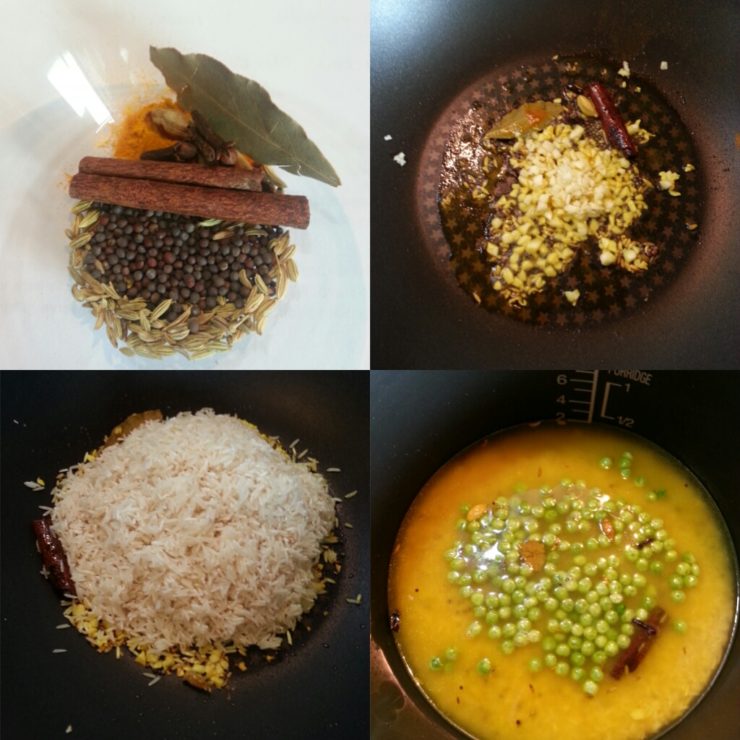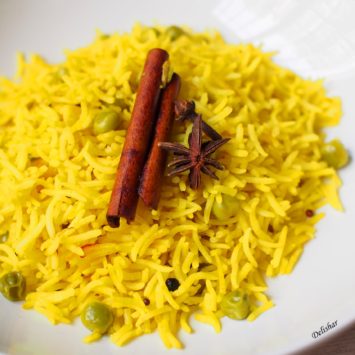 Saffron Rice
Ingredients
2

cups

basmati rice

rinsed

2

pinches

of saffron thread

1/4

cup

of boiling water

2

tbsp

ghee / clarified butter

3

cloves

garlic

minced

3

cardamom pods

lightly smashed*

1

cinnamon stick*

4

cloves*

1/2

tsp

cumin seeds*

1/2

tsp

mustard seeds*

1/2

tsp

turmeric powder*

2

bay leaves*

1

star anise*

4-5

black peppercorn*

1

shallot chopped

1/2

cup

frozen peas

Chicken stock

Raisins

optional
Instructions
Steep the saffron in the 1/4 cup boiling water.

Heat pan on med high, melt ghee in pan.

Saute onion until soft, then add spices marked *.

Saute for 30 seconds, then add garlic, and saute for another 30 secs.

Add rice and toss to coat, and remove from heat.

Transfer rice to rice cooker, pour in saffron mixture, and add enough chicken stock into rice cooker as indicated in your pot indicator.

Add frozen peas, and cook as per normal.

When rice is cooked, remove bay leaves, star anise, cardamom, cinnamon, and cloves.

Fluff rice before serving.