An easy 7 mins stroll from Ang Mo Kio MRT station will get you to the newly remodelled Bliss Restaurant located at Cheng San CC. Along with its new face-lift, Derric the Chef de cuisine took the opportunity to revamp the menu as well. There is quite a few crowd-pleaser, and items on the menu are affordably priced.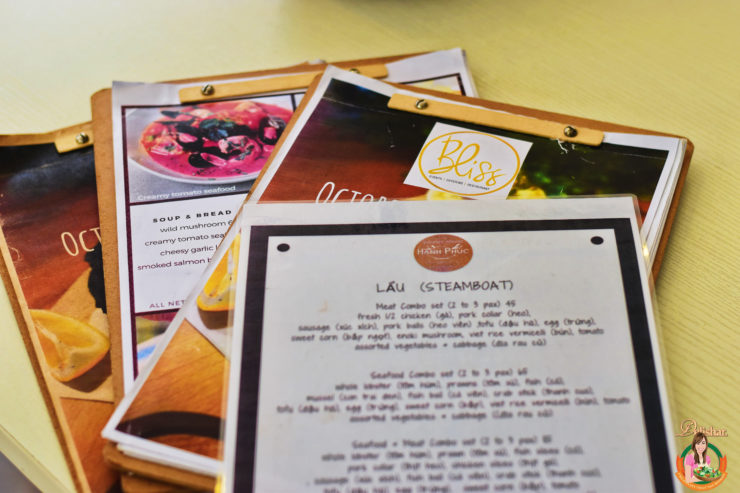 Once we were seated, we were presented with 2 different menus. A western and a Vietnamese Menu. Which we later understand that Bliss has expanded to offer Vietnamese cuisine to the public during lunch while the latter western menu starts serving from 5pm till late.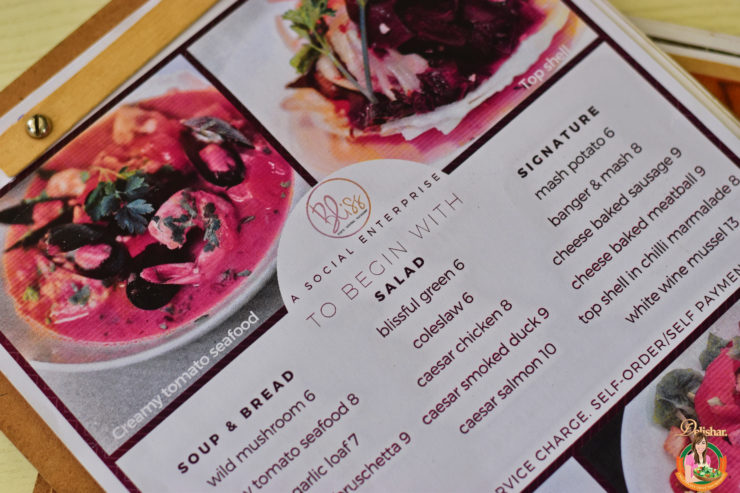 The menu offers a very decent selection of food. Being the Libran that I am, it took me a while to decide what I wanted. But I'm very certain that I needed coffee, and it was promptly served. The coffee was strong.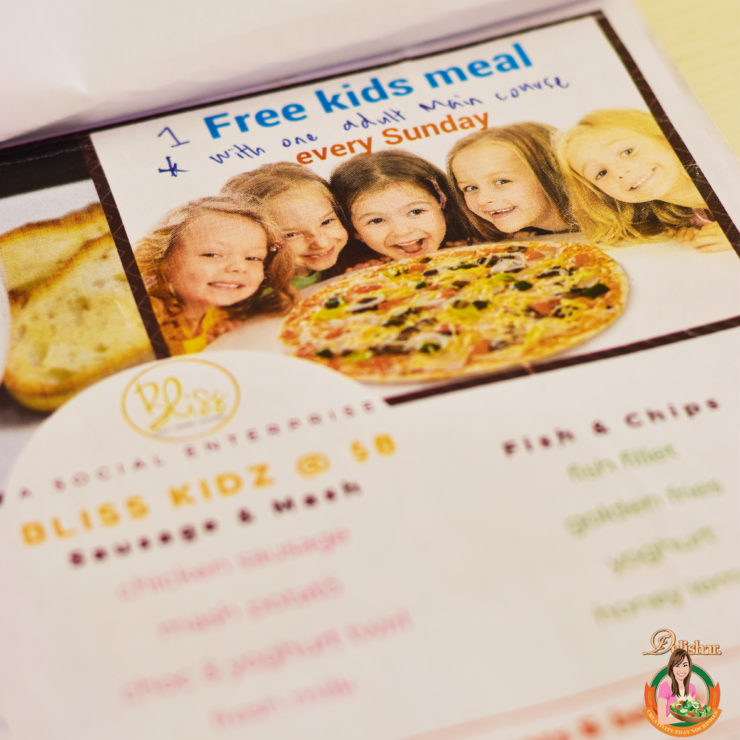 As I continue browsing the menu, I saw this. Free kids meal with every adult main course on Sunday! The mummy/auntie in me secretly let out a "YASS!". Guess where the fam will be hanging out this Sunday? The price of kids meals is $8, which is really reasonable. And this place has PLENTY of space for kids to run around safely while the adult sip on their energy drink (read coffee or alcohol).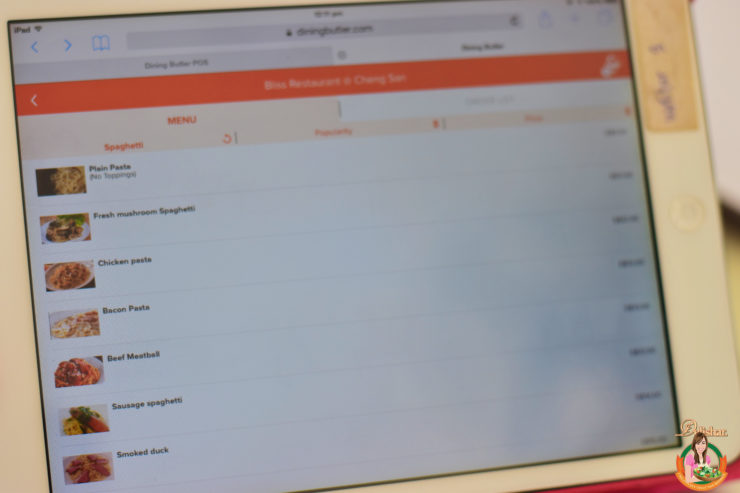 When I'm finally ready to order, the server presented me with an Ipad to place my order electronically via diningbutler.com. The app has a preloaded menu as well, and users can go cashless by paying through the platform. Took a while for me to get used to the self-service system, but it was pretty straight-forward and easy to grasp.
However, while I was at the payment page, the personal payment information of the previous user showed up! Although to be fair, I wasn't able to see all the info as it was partially encrypted. So I'd suggest ordering it from your phone instead. Just go to www.diningbutler.com search Bliss, and you are ready to go!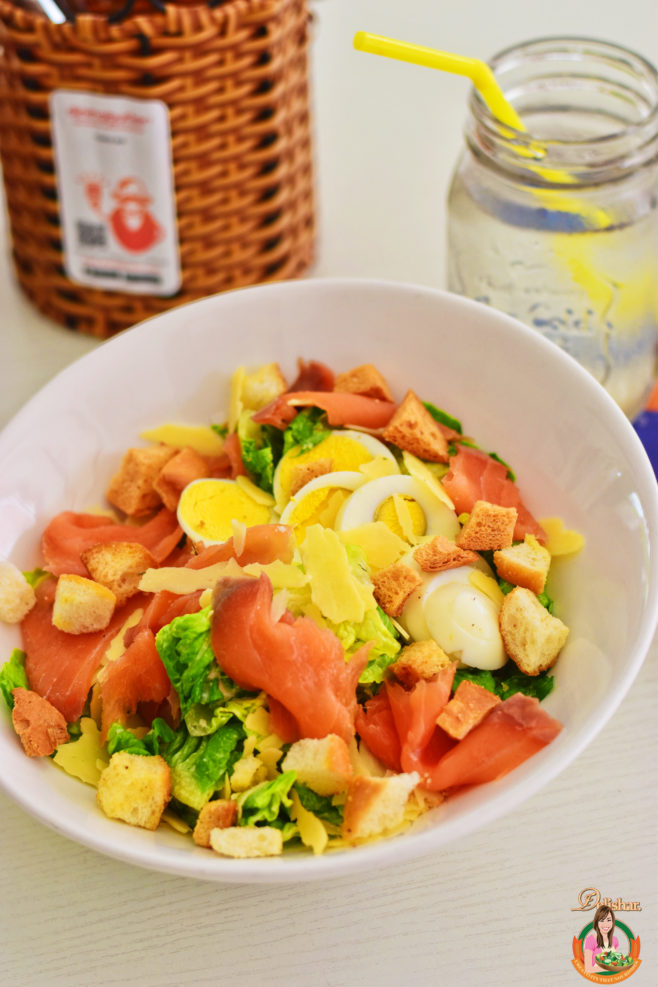 Food started streaming in shortly after. My Smoked Salmon Caesar Salad came with a very generous serving of smoked salmon! Happy me! Greens were fresh and crisp too!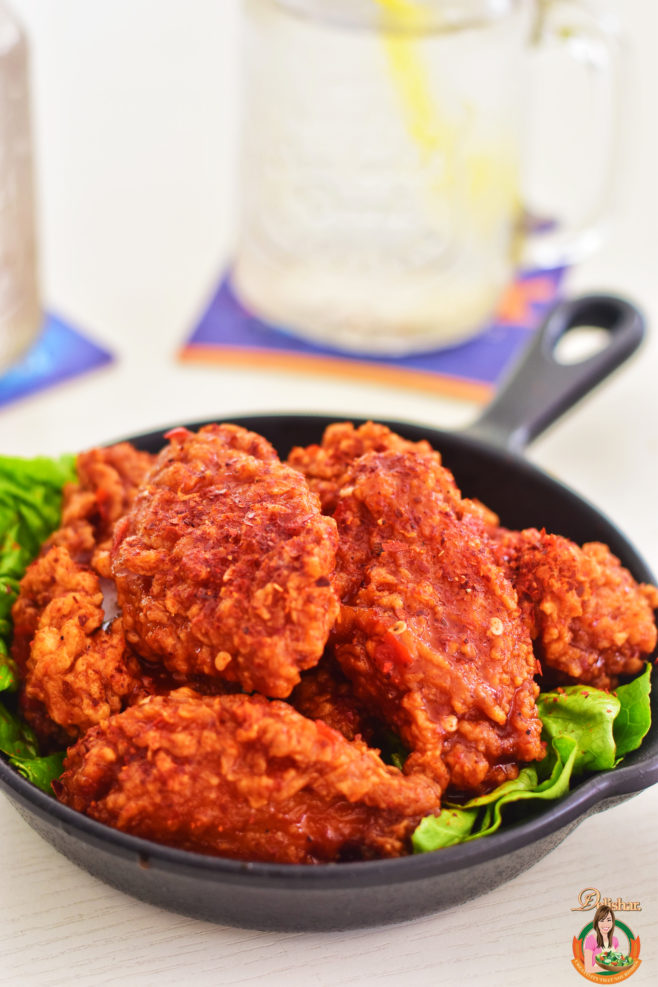 Then came this! According to the menu, it's Super Spicy Wings. Not sure if it's my tolerance to spices, but it was not as spicy as I thought it would be. It was more sweet & spicy, think Korean chicken. But, it was delicious nonetheless.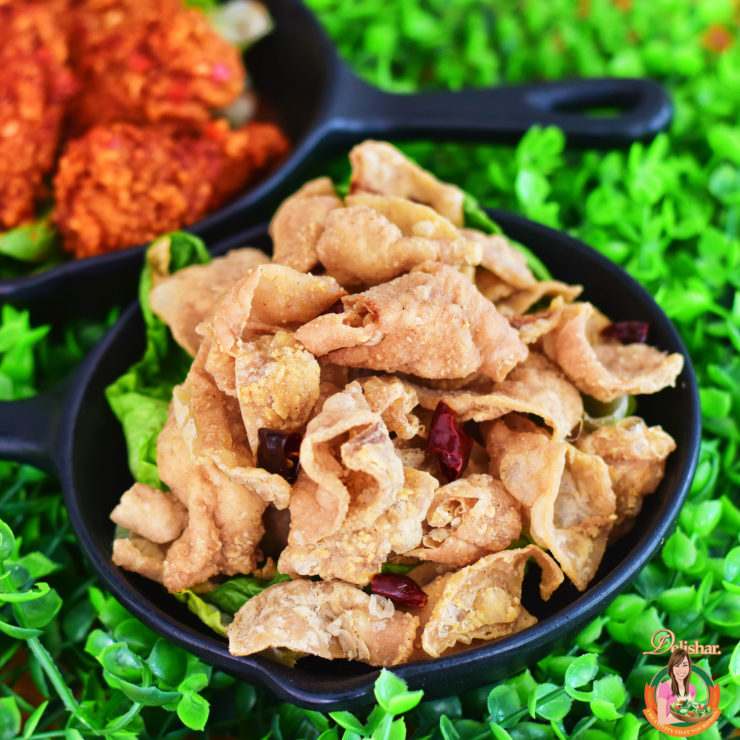 If you do not mind the extra calories, you HAVE to order their Sinful Chicken! OMG! Sinfully good! Totally with every single calorie. Heeeeee…..but it is not an everyday food, it is a once in a blue moon kinda food. In moderation, mmmkay?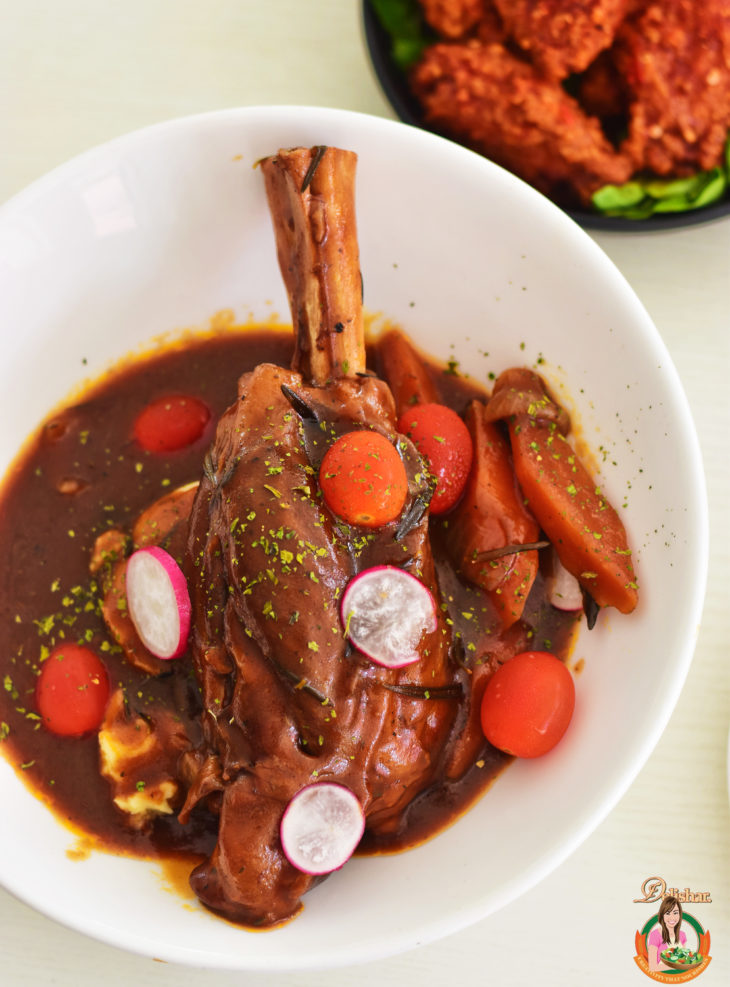 Mains started to arrive. But now we were questioning if we are able to finish what we ordered. The portions that have been served so far are pretty generous. The lamb shank is huge! Meaty, tender, flavourful, rich, and not at all gamey. Served with creamy mash, it a pretty dense meal on its own.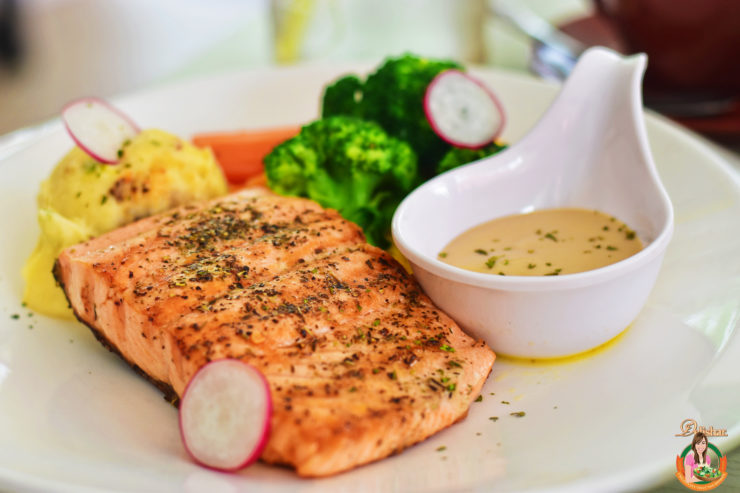 I had the pan-fried salmon, and was pleasantly surprised! The salmon was perfectly cooked! No gunky white stuff (albumin)on the salmon, the flesh flakes beautifully, the meat was moist and tender while the skin was beautifully seasoned and crispy. So good I ate it on its own without needing the sauce at all.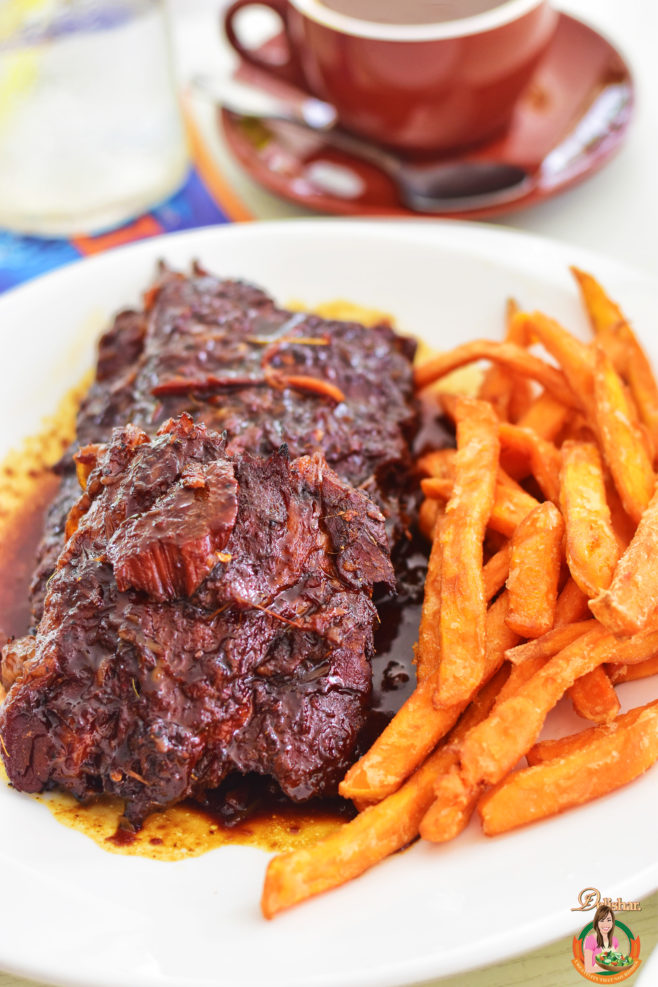 Then Chef sent out another dish, their Signature Pork Ribs. Ultra flavourful ribs, one bite and you know that it has been cooking for hours, so tender it falls off the bone. That sweet potato fries still gets me excited. Personally, I prefer sweet potato fries to regular french fries and it's good to know where I can get them since isn't a norm in many restaurants.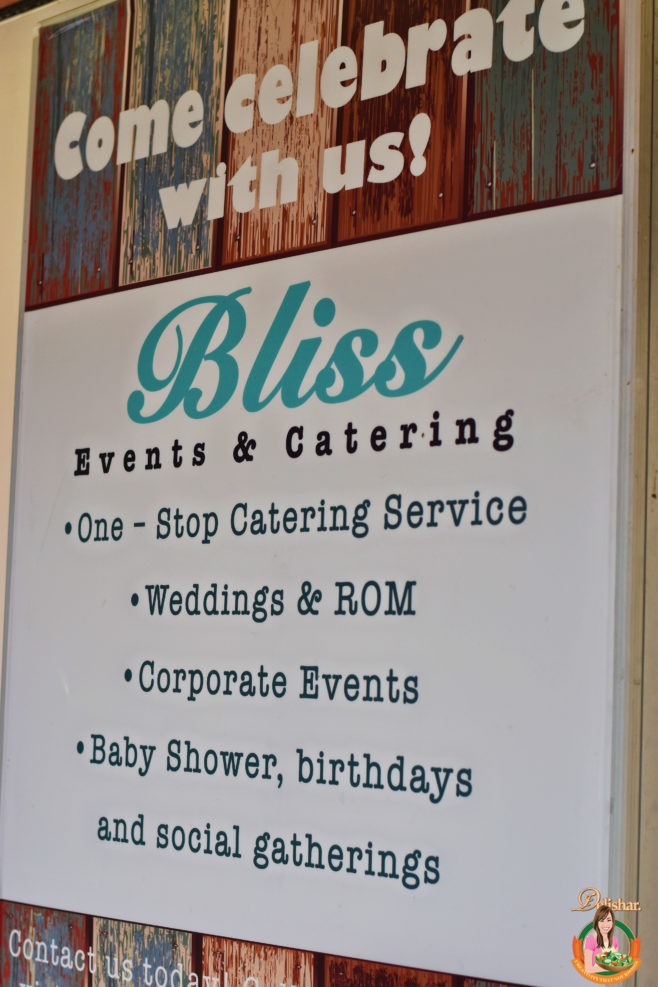 Took a walk around the compound in between main courses to aid with digestion and hopefully burn a few calories. I really like the area. It's bright and airy, with plenty of event space to host a private party or social gathering with friends. Bliss also has party packages for birthdays, ROM, and baby showers at very reasonable price.
The al-fresco dining area would be a great place to lounge around with friends and family after the sun goes down.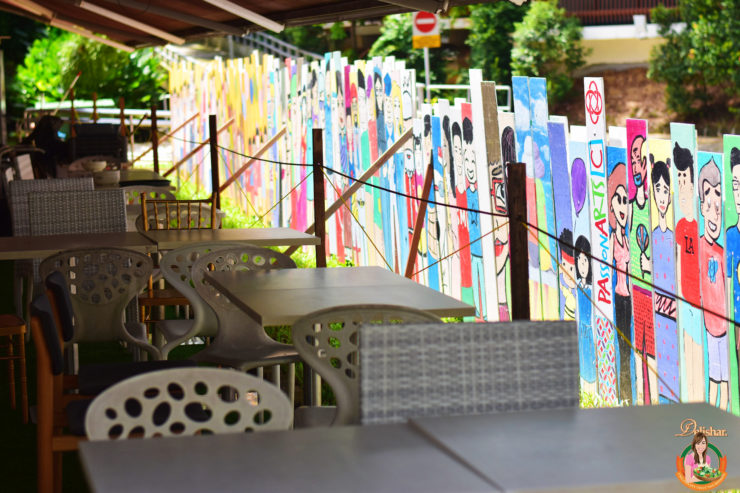 These tables situated right beside the hand-painted fence adds so much character to the place! We didn't have any room for dessert and didn't want any more food to go to waste. So, we sat around to chat with Chef Derric instead.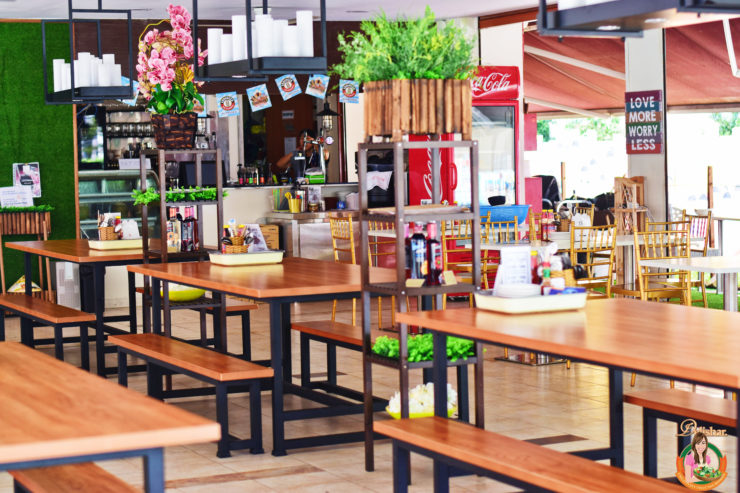 The extremely humble and down-to-earth chef shared with me a little more about Bliss. It's extremely heartening to find out that Bliss is a social enterprise that offers employment opportunities to individuals with special needs. Bliss also partake in giving back to society by donating their used carton boxes & canned tin to low-income elderly residents & donating groceries to low-income needy residents thru Aljunied GRC.
Bliss Restaurant
Cheng San Community Club
6 Ang Mo Kio Street 53
Singapore 569205
TEL: 62803389 / 97624226 / 98175056
Email: info@blissrestaurant.com.sg
Opening Hours
Sun-Thur – 5pm – 12 Midnight
Fri-Sat – 5pm – 1am
Vietnamese Food 12pm – 11pm
* This was a food tasting invite hosted by Bliss Restaurant. However, all opinions are of the author's own.