The husband was away on a work trip last week, so I'm left alone with the kids. That also meant that I have the bed, extra pillows, and two bolster all to myself! I could build a comfy fort with it, and I did, every night. I love it that my girls will come in my room to snuggle up to me every morning, and all three of us still have some space to toss and turn. But I also extremely tired because I cannot sleep without the husband around. The bed felt empty, and I felt somewhat lonely to be sleeping without the husband. Do you enjoy your partner being away or are do you suffer from insomnia without the other half?
The husband being away also meant that I'm only cooking for myself and the kids. And since I'm so tired from the lack of sleep, I whipped up this super quick 20 minutes one pot recipe to feed the girls and myself. My girls love their noodles. Who doesn't? I mean, it's such a fun thing to eat! And they are also a big fan of my Yakisoba, Melody especially love the sweet, savoury, and slightly tangy sauce. So using the recipe for the sauce, I made this simple Yaki Udon. This is a great meal to make if you are trying to clear your fridge of scrapes of leftover ingredients. Feel free to substitute for any kind of protein and vegetable you prefer.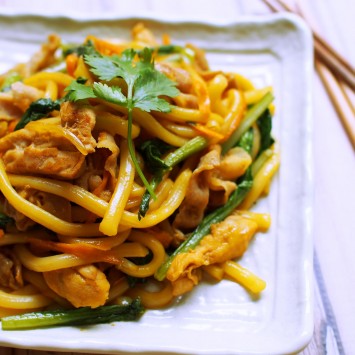 Easy Yaki-Udon
Ingredients
200

g

shabu beef / sliced pork belly

2

packets fresh udon noodles

from chiller section of supermarket

1/4

yellow onion

sliced

1/2

cup

carrot

julienned

bunch of cai xin

cut into 2 inch pieces

2

tbsp

water

1

tbsp

cooking oil

Chinese parsley to garnish
Sauce/seasoning
1

tbsp

mirin

1

tbsp

white rice vinegar

1 1/2

tbsp

light soy sauce

1

tbsp

sweet soy sauce / kicap manis

1 1/2

tsp

brown sugar
Instructions
Heat pan on medium high heat, and add oil.

Stir-fry onion until soft, and add beef/pork.

Stir-fry until no longer pink.

Remove and set aside.

Add udon noodles, and 2 tbsp water.

Gently break up noodles, and add carrot.

Then add in beef and onions, and pour in sauce mixture.

Add cai xin, and toss everything together to combine.

Remove from heat when cai xin is wilted.

Serve garnished with chinese parsley.
Get the pre portioned cook kit for this amazing dish and
cook it in your own kitchen! Order Now