How cute are these little bears?! Made this with the girls, and we definitely need more practice cutting cookies together. The girls helped me to stamp out the cookies on the cookie dough while I did the rest. The girls watched on with a thousand questions, many of which I had to answer over and over again.
Thinking of it now, puts a smile on my face. I told them that the cookies can be made for V-day and Chinese New Year, or even as Xmas gifts, then I had to explain what V-day is, and why the bears are giving holding hearts. Took some of them to school and the teachers commented that they couldn't bear to eat it, and didn't know where to start! LOL! These cookies are yummy, buttery, have a nice texture, and are not overly sweet! Pack some in individual cookie bags to give out as festive treats ! Make some little rectangles rather than hearts to represent red packets for CNY!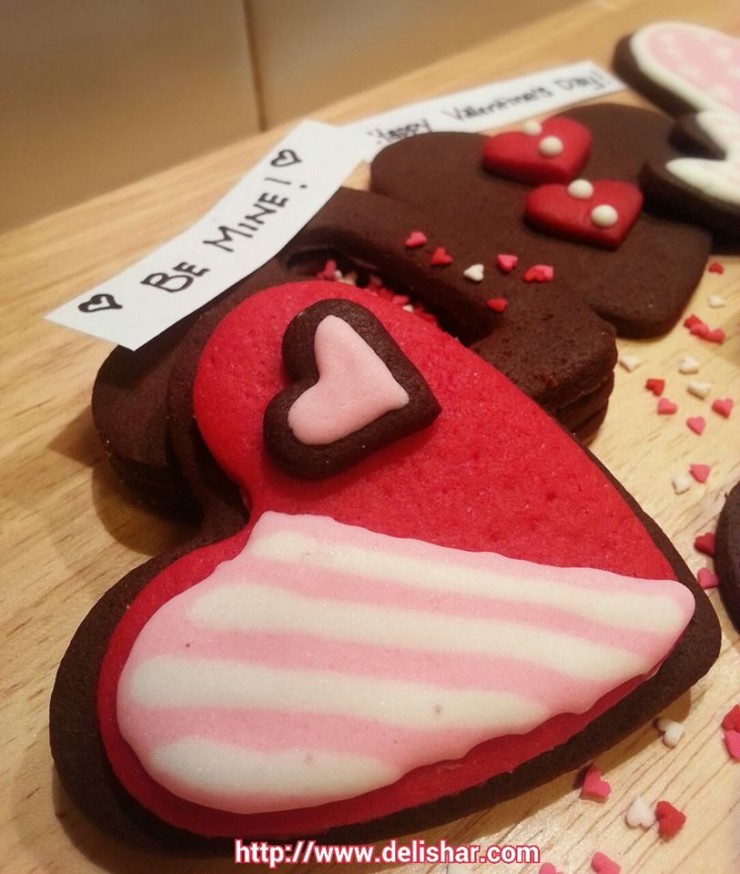 I used the same cookie recipe to make these edible heart boxes. I used royal icing as 'glue' to stick on the layers and also tinted it with some gel food colouring for decoration. Then I filled the 'boxes' up with heart shaped sprinkles and inserted a hand written note for my valentine, in this case, the husband. 🙂 This was certainly a really fun project!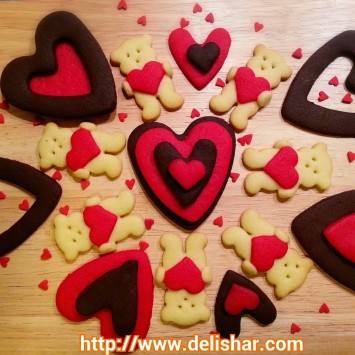 Almond Vanilla Sugar Cookies
Makes about 30 cookies
Ingredients
1-2/3

cup

205g all purpose flour and some more for dusting

1

tsp

baking powder

1/2

cup

100g sugar

1/2

cup

113g butter, softened

2

tbsp

beaten egg

1/2

tsp

vanilla extract

1/2

tsp

almond extract

1/4

tsp

salt
Instructions
Preheat oven to 175C.

Whisk together flour and baking powder.

In your mixer, cream butter and sugar until fluffy.

Add salt, extract, egg, and mix until combined, scraping the sides.

Gradually add flour and baking powder mixture.

Beat until just combined.

Dough should look crumbly, use your hands to knead it together as you transfer it out to counter-top dusted with flour.

To make the red hearts, take about slightly less than 1/4 of the dough and place it back into the mixer bowl.

Add red gel colouring and beat until evenly coloured.

Roll out the plain cookie dough between 2 pieces of parchment paper to about 1/6 to 1/8 inch thickness and cut out the teddy bears with cookie cutter.

Then remove excess dough around.

Roll out red dough and cut out heart shape with cookie cutter.

Place a red heart on the torso of the bear, then use a toothpick or skewer to gently lift the arms of the bear to hold the heart.

Then use a skewer to stamp out the eyes and nose on the bear's face.

Transfer prepared cookie on parchment paper to baking sheet.

Bake for 9-12 minutes on center rack.

Cookie is done with the sides starts to brown.

Leave on baking sheet to cool and set for at least 10 minutes before transferring to wire rack to cool completely.

Continue until all cookie dough is used.

Store in air-tight containers.

Cookies can be stored at room temperature.
Notes
Note: For chocolate version, add 1/2 cup (64g) cocoa powder, and reduce 1/2 cup (64g) flour. You can use almond nut in place of the heart to make the popular bear hugging nut cookies. Or shape cut out small rectangles for 'ang bao' for Chinese New Year
Adapted from bakeat350
Royal Icing
Makes 3 cups of royal icing
Ingredients
1.5

tablespoons

Meringue Powder

2

cups

250g confectioners' sugar

38

ml

warm water
Instructions
Beat all ingredients until icing forms peaks (7-10 minutes at low speed with stand mixer, 10-12 minutes at high speed with a hand-held mixer).
Notes
For stiffer icing, use less water.
Use gel food colouring for tinting royal icing.
Thinned Royal Icing: Thin royal icing for pouring, add 1 tsp water / cup of royal icing. Stir in using a spoon or spatula. Add 1/2 tsp water at a time until you reach desired consistency.
Adapted from Wilton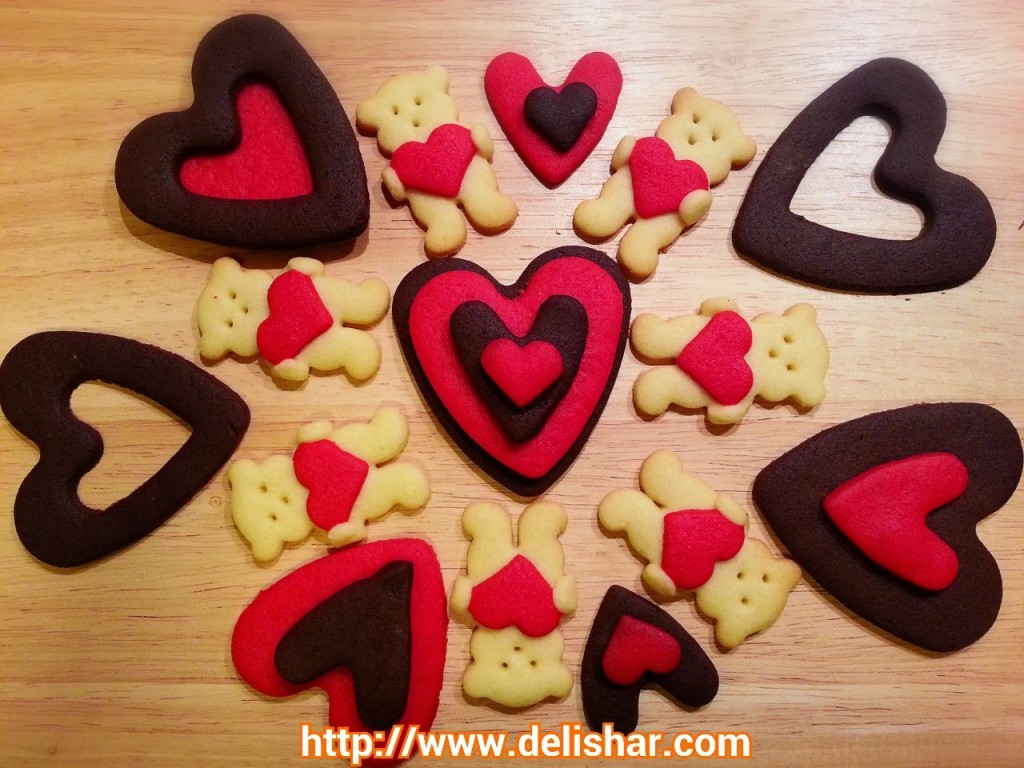 I'm submitting this to Little Thumbs Up hosted by Zoe of Bake for Happy Kids and Doreen of my little favourite DIY and Grace of Life can be Simple.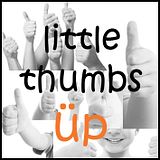 I am submitting this to "My Treasured Recipes #5 – Chinese New Year Goodies (Jan/Feb 2015)" hosted by Miss B of Everybody Eats Well in Flanders and co-hosted by Charmaine of Mimi Bakery House