One skillet cooking makes it so easy to clean up!! I only have one pan to wash, and that also means that I do not have to be cooking multiple dishes at once to get dinner ready in time for the husband to come home too. The husband comes home famish and ready to eat a whole cow every single work day. He usually skips lunch because he doesn't have enough time, or he has his lunch too early in the day because that's his only break time. So I always made sure that food is ready, plated, and served the moment he steps into the house.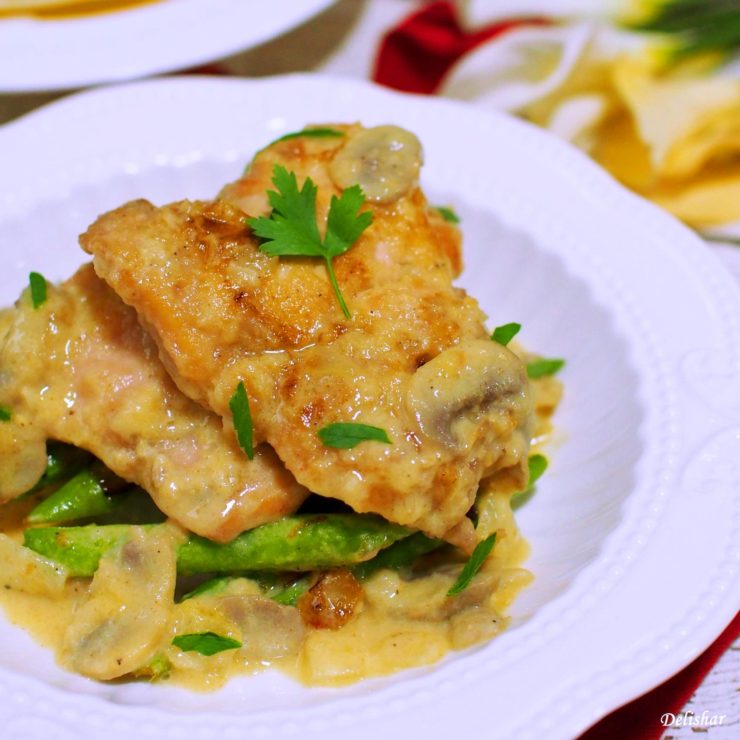 I made this meal about a week or 2 ago. I was trying to cut down on carbs after my Thailand trip which I probably overloaded on carbo! So I made this protein rich meal to compensate for the lost in carbs to keep our belly satiate. The husband took a bite, opened his eyes wide, and said,"Wow, this is gooooooood!". It hit the spot for him. Perhaps it's the wine! lol! If you are worried about the alcohol, don't be. The alcohol cooks off and evaporates in the cooking process leaving the essence of the wine that gives the sauce it's depth. This is coming from someone who DOES NOT drink any alcohol at all. I get hives if I drink, and this meal did not give me any hives.
However, if you just want to be extra safe especially if you are cooking for pregnant, breast-feeding ladies, or kids. Then substitute the alcohol with chicken stock. Also, I used the pan to saute my beans with onion, garlic, salt, and pepper. Gave it a little wipe down before making my chicken. So this is truly a one skillet meal. 🙂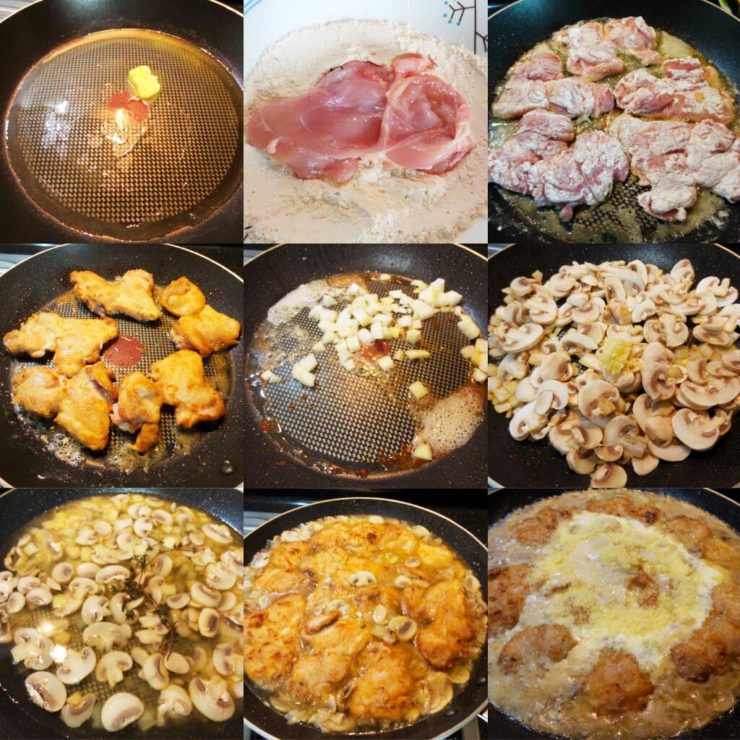 Chicken in Creamy Mushroom Sauce
Ingredients
8

boneless skinless chicken thighs

1/2

cup

flour seasoned with salt and pepper

2

tbsp

butter

2

tbso olive oil

400

g

button mushroom

sliced

3

cloves

garlic

minced

1/2

yellow onion

diced

1

&1/2 cup white wine or chicken broth

2

tsp

dried thyme or 1 heaping tbsp chopped fresh thyme

1/2

cup

parmesan cheese

2

tbsp

dijon mustard

1/2

cup

heavy cream
Instructions
Drege chicken in flour, and set aside.

Melt butter and olive oil in a large skillet over medium high heat.

Cook chicken on both sides until golden brown, remove from pan, and set aside. (4-5 minutes each side)

Reduce heat to medium, and add onion, saute for a minute, then add mushroom & garlic.

Saute for a few minutes until mushroom are limp.

Add wine/broth, scraping up the bottom of the pan, and add thyme.

Bring to boil, and add chicken back into the pan.

Lower heat to low, and allow to simmer for 15-20 minutes.

Add cream, mustard, and parmesan cheese.

Stir to combine, and allow sauce to thicken.

Remove from heat and serve.
Notes
Adapted from Laughing Spatula
Get the pre portioned cook kit for this amazing dish and
cook it in your own kitchen! Order Now