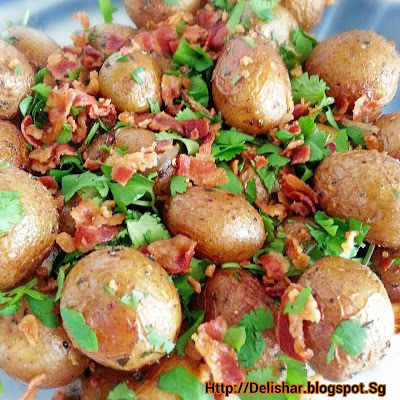 This side dish goes really well with any kind of meat and its so simple to make! Just spend a little more time prepping and let the oven do the rest of the work for you! The bacon was crisped up using the oven, and the fat was used to coat the baby potatoes before baking it. Looking for something to bring to a pot luck party? This is the one to bring! It makes a delicious side dish too!
Have you taken part in the current GIVEAWAY yet?
Ingredients
1.5kg baby potatoes, washed and pat dry
2 sprigs of fresh rosemary, finely chopped
3 cloves garlic, finely minced or use a garlic press
1 large yellow onion, cut into wedges
1-2 tbsp extra virgin olive oil
4 slices of bacon / beef / turkey bacon
2 tbsp chopped parsley
salt and pepper to taste
Preheat oven to 200C.
Line a pan with aluminum foil (for easy cleaning) just big enough to lay out 4 slices of bacon.
Lay out bacon side by side.
Bake for 15-18 mins until bacon is crisp but not burnt!
Take bacon out to cool. Do not turn off the oven!
Pour bacon fats into a heat prove bowl/container.
Add garlic, rosemary, and extra virgin olive oil into bacon fats and mix well.
Place potatoes and onions into a large mixing bowl and toss with the oil mixture, season generously with salt and pepper and toss well. Making sure the potatoes are nicely coated with oil.
I had to use 2 mixing bowls for 1.5kg of potatoes.
Line a baking tray big enough to hold all the potatoes,side by side, making sure it's not stacking on top of each other!
Bake for 40-45 mins @ 200C, turning once at the 20th min.
Check that the potatoes are fork tender.
Meanwhile, crumble the crisped bacon.
Let potatoes cool for 5 mins before transferring to serving plate.
Garnish with bacon bits and parsley.
Serve.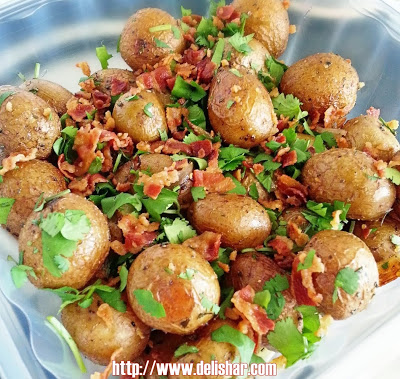 Bon appetit!!