Another super quick and easy meal for week night dinners or a quick lunch! I didn't want to use heavy cream due to the fat content, so a healthier alternative is in place. Ricotta is one cheese that is naturally lower in fat but still gives that cheese, and creamy texture. Surprisingly when I did my research, it seems that ricotta has even lower fat content than cottage cheese! Read about it HERE. I added some pancetta for bite, and depth. But if you want to make this healthier, omit the pancetta.
Ingredients (Serves 3)
3 servings of spaghetti, cooked in salted water until al dente
1/4 cup pancetta
2 cloves garlic, thinly sliced
1/4 cup diced red pepper
1 med sized zuchinni, shredded length wise
2 tbsp chopped fresh basil
125g ricotta cheese
1/3 cup reserved pasta water
Salt and pepper
1 tbsp olive oil
Heat pan on med high and add oil.
Then pan fry pancetta allowing it to release it's natural oil.
Add red pepper and garlic.
Pan fry till fragrant.
Add zuchinni, season with black pepper.
Stir fry for 1-2 mins.
Add your cooked pasta.
Reduce heat to low.
Toss well to mix.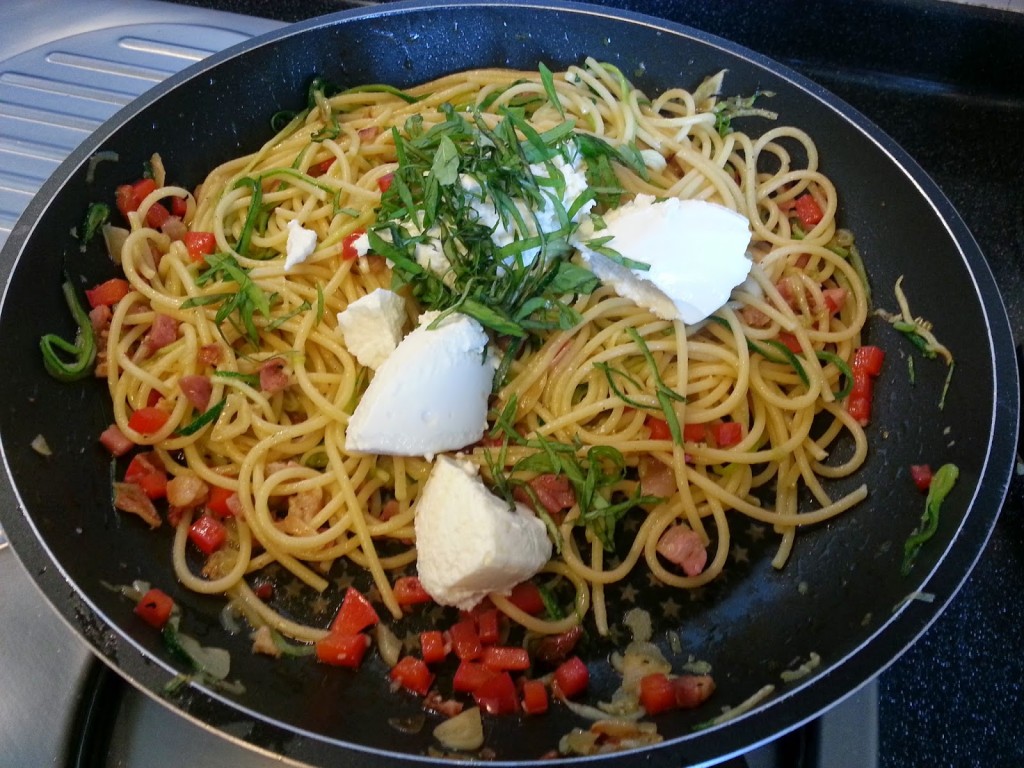 Add ricotta and fresh basil.
Add reserved pasta water if too dry.
Toss to coat pasta with cheese.
Serve immediately.
Bon appetit!!