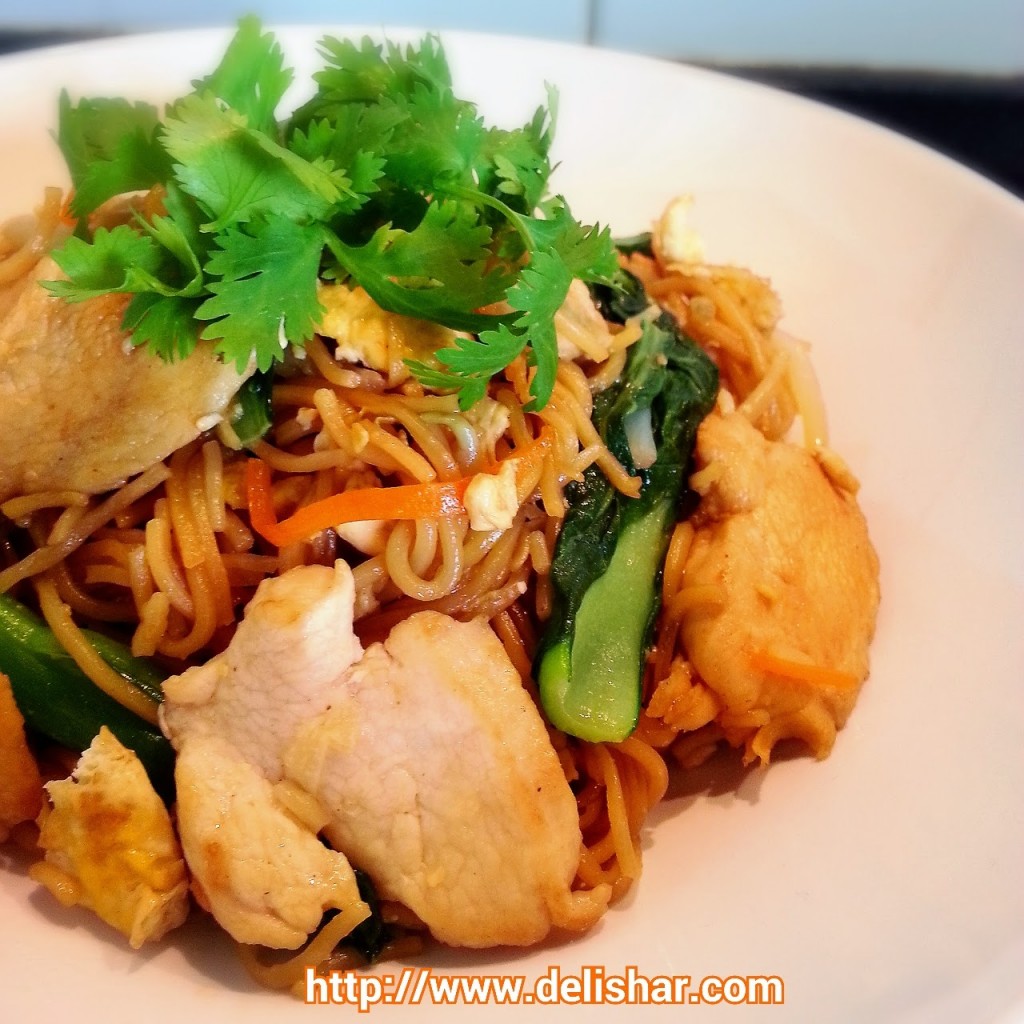 Don't you think that noodles make things a lot more fun? Check out my Fried Flat Rice Noodle (Char Kway Teow) recipe as well! This popular take-out dish is a great week night meal or make ahead lunch box meal! Stir-fries are often simple and fuss free, plus it's a one pot meal, so that means lesser dishes to wash! I was on a facebook food group today, and one of the theme that the admin suggested was budget meals. The rule was to make something within the budget of S$4-5 per pax. As I was reading it, it got me wondering how much did my chicken chow mien cost me as it used simple and inexpensive ingredients. I worked it out and I have to say that I was super amazed myself! I'm usually pretty prudent about how I spend money on groceries to make sure there is minimum wastage, good value, and full yummy factor. That's why I plan my meals on a weekly basis, and taught my helper how to do so as well. Anyway, just to share the breakdown of the cost of this meal.
Chicken $1.60
Egg noodle $1.05
Eggs $0.50
Cai xin $0.80
Bean sprouts $0.50
Small carrot $0.40
Seasoning condiments $1
Total: $5.85 for 4 pax. (>$1.50/pax)
Eating out as a family would have easily cost us at least $15 at the hawkers or at least $40 at restaurants! It's really simple to make your own stir-fried noodles, let's look at how I made it. Oh, do check out GuaiShuShu's version of Chow Mien that he generously shared as a guest contributor.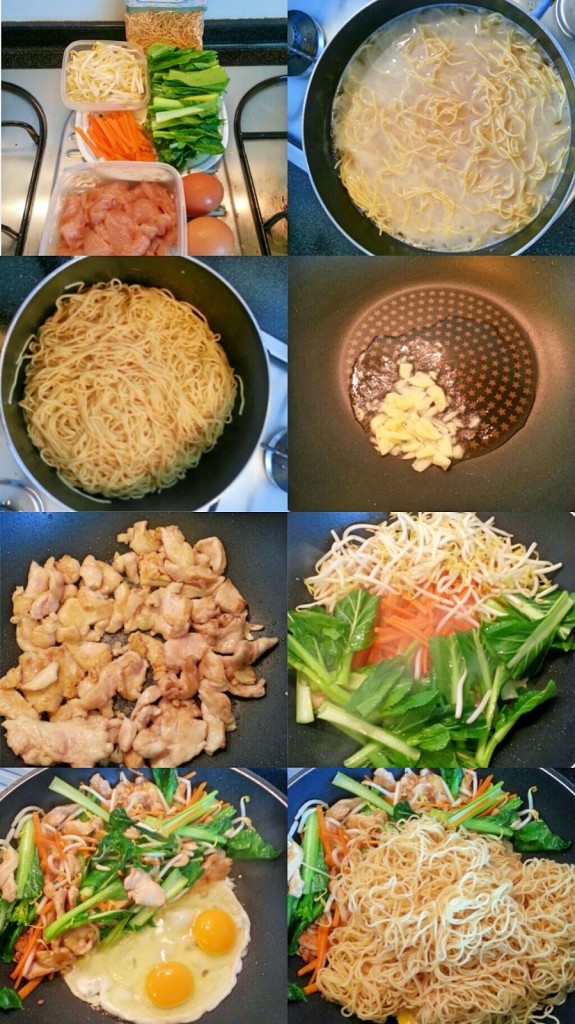 Ingredients (Serves 4)
Dried egg noodles, 180g – 200g
2 small chicken breasts, thinly sliced
2 eggs
2 cloves garlic, minced
3/4 cup bean sprouts
8 stalks cai xin / chye sim, cut into 2 inch pieces stalks and leaves separated
1 small carrot, julienned
2 tsp oyster sauce
1 tsp corn flour
1 tsp sesame oil
3 tbsp soy sauce
3 tbsp kicap manis / sweet soy sauce
White pepper to taste
2 + 1 tbsp veg oil
Splash of water
Coriander to garnish
Marinate chicken in oyster sauce, sesame oil, white pepper, and corn flour while you prepare the other ingredients.
Bring a pot of water to boil and add noodles.
Cook for 2 minutes until softened then drain.
Heat pan on med high, add 2 tbsp oil.
When oil is hot, add garlic and stir fry until fragrant.
Add chicken and cook until no longer pink.
Add carrot, bean sprouts, and steams of chye sim.
Stir fry for a minute, then add the leaves of the chye sim.
Stir fry till almost wilted, push everything to the side.
Add 1 tbsp oil, and scramble your eggs.
Then add noodles, and season with soy sauce, white pepper, and kicap manis.
Add a splash of water of too dry.
Stir fry until noodles are well coated with seasoning.
Serve garnished with coriander.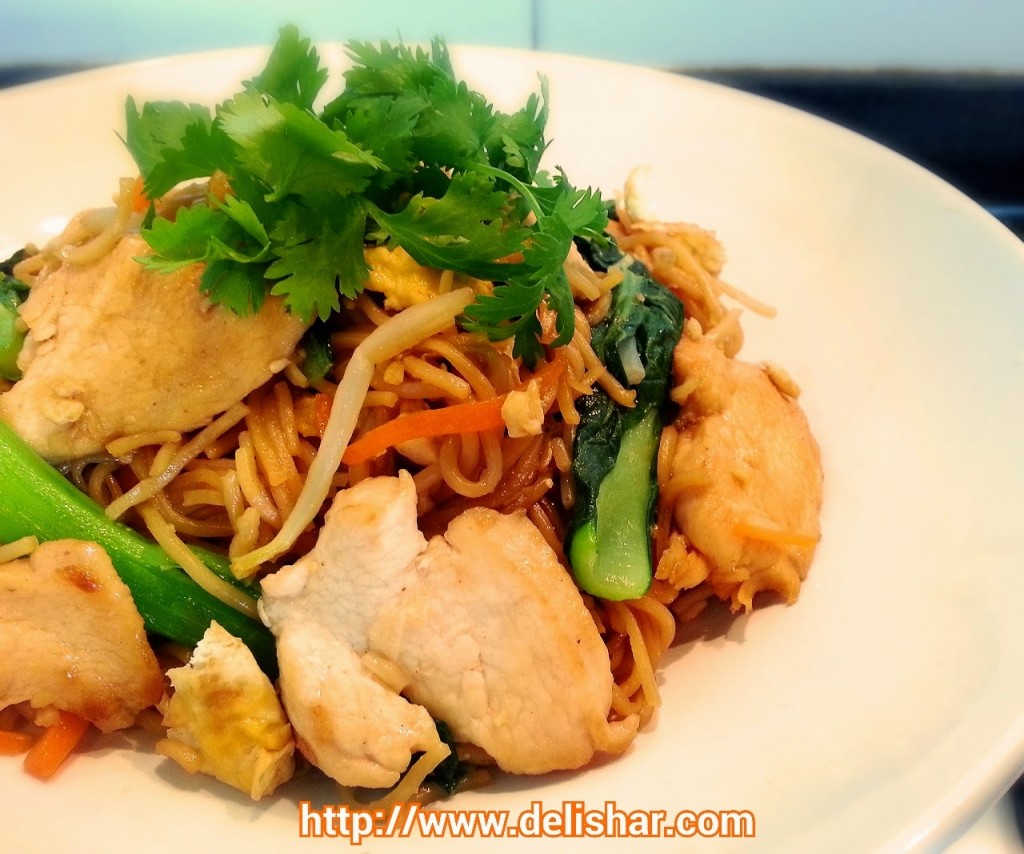 Bon appetit!!