My husband will sometimes walk into my study and exclaim, "You and your porn!" or "Stop watching porn". And by 'porn' he means food porn. I can't help it, I too think i'm addicted. LOL. But I guess that's work hazard when one is a recipe / cooking blogger! Besides working independently like writing my recipe blog, obsessively buying/reading cookbooks, daily research on food, and constantly staring at foodporn. I too have a social life. I also enjoy foodie meet ups, and good conversations about food and cooking with my friends. Yes, my life revolves around food. 🙂
One such discussion sparked my curiosity about Carbonara. A couple of friends were discussing about their experiences with the different types of carbonara they have tried. That got be reading up a little bit. From what I gathered, the authentic version is the one without the heavy cream. The version when doused in heavy cream is more likely to be served at restaurant here, if you are eating out. I've had the so-called authentic version of Carbonara when I was in Rome a decade ago, and always kind of wondered why did it taste lighter. But I didn't quite get around to finding out the reason why.
There is just so SO much to learn about food and cooking, and it excites me! So anyway, there are 2 ways to go about doing this. Have your egg mixture in a mixing bowl, and toss the hot pasta into the bowl to coat. Or simply do it all in the skillet. One less bowl to wash! The trick is to work fast, so that you don't scramble your eggs. The residual heat from the cast iron pan will cook your eggs, making it safe to consume. Don't forget that cast iron retains heat very well.
Did you know that the black stain enamel was designed to provide a tough and durable high temperature cooking surface for the cast iron skillet? This gives the food that gorgeous sear! The enamel coating gives the skillet a non-stick surface, enhancing the cooking experience, and ease of washing. All you need to do after washing, is to wipe dry, and store away. The enamel is also hygienic and prevents transfer of food smells. Just remember to wash with warm water. Avoid using soap to allow 'patina' to built over the cooking surface of the pan. That's the seasoning which adds a layer of protection, increases non-stick surface, and adds deeper flavours to your cooking.
Don't forget to participate in the current giveaway!! 5 pairs of Each-a-Cup drink vouchers to giveaway! Click HERE for details!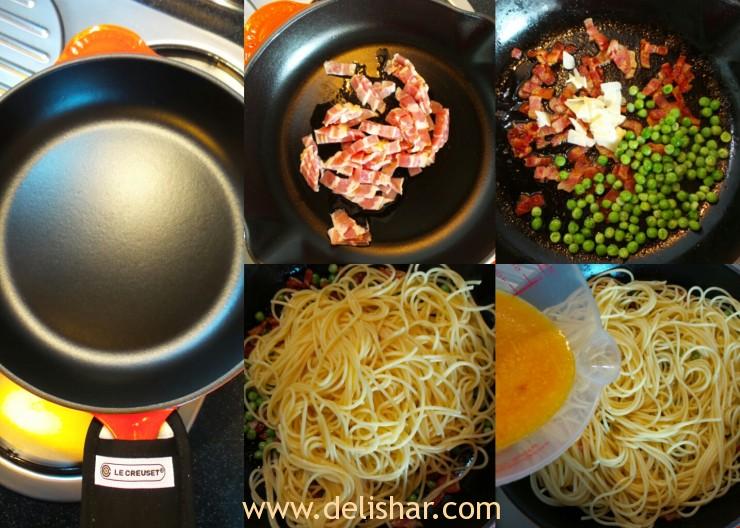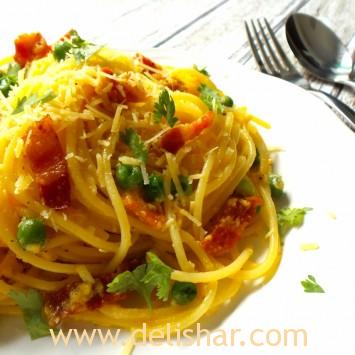 Spaghetti alla Carbonara
Ingredients
2

servings spaghetti

2

large eggs

4

slices

bacon

sliced into 1/4 inch pieces

1/2

cup

freshly grated Parmesan cheese

1/4

cup

frozen peas

thawed

1

tbsp

olive oil

2

cloves

garlic

minced

Salt and black pepper

Flat leaf parsley to garnish

More Parmesan cheese to top
Instructions
Bring a large pot of water to boil, season with salt.

Cook your spaghetti just shy of al dente.

Add bacon and olive oil into your cold skillet.

Heat on medium low, cook until fat renders and bacon is crispy.

Lower heat to low, add garlic and peas.

Cook for 30 seconds.

Remove skillet from heat.

Your pasta should be ready now.

Reserve 1/2 cup pasta cooking liquid.

Drain pasta.

Add your cooked pasta and 1/4 cup of reserved pasta liquid into skillet.

Toss to coat.

Beat eggs and Parmesan cheese together in a cup/bowl.

Pour egg mixture onto spaghetti, stirring quickly to coat so as to not scramble eggs.

The residual heat will cook the eggs, and thicken the sauce.

Add more reserved pasta liquid until desired consistency.

Season with salt and pepper to taste.

Serve garnished with more Parmesan cheese and flat leaf parsley
Notes
I used my 26cm Le Creuset skillet to make this meal.
Do season liberally with fresh cracked black pepper.
Watch the salt as the bacon and pasta are already salty.
Substitute turkey bacon if you don't eat pork.
However, then you might need a drizzle more olive oil.