It is one pot meals like this one that makes life's demands much more manageable. As much as I want to cook up a feast on most days, there are days where there seems to be absolutely no time to even take a short break. Let alone preparing, cooking, then cleaning up after the whole family. And such days usually falls on a Sunday.
Sunday is the day the husband goes for his softball game, it is also the day that my helper goes on her well-deserved day off. The kids has a short 1.5 hour phonic class in the morning, so I usually drop them off, then go to the supermarket to buy stuff I need for lunch and dinner. Get back home, get lunch ready, and I have to rush off to go buy fresh pressed juice for the girls before picking them up. Once home, we have lunch, clean up, and I'll have to keep them busy with some activities for a while before getting them ready for naps.
Most of the time it's a "get back to your room and nap!" or "Mummy, I just want to sleep with my eyes open." or the girls will be driving each other up the wall and I have to step in to break up fights. In between that, if I'm lucky I get some work in. If not I'll be cleaning up closets/hidden areas where my helper chucks stuff away or clean up nooks and crannies covered in dust, settling bills, mails etc. Then in no time at all, prepare dinner. If you don't know yet, we eat dinner very early. Sometime between 4.30pm to 5pm. Plus the husband will be back around 4pm and usually famished. However, as much as I am kept very busy on Sunday, I love that I get to spend quality alone time with my kids. And for that, I will not trade anything for. 🙂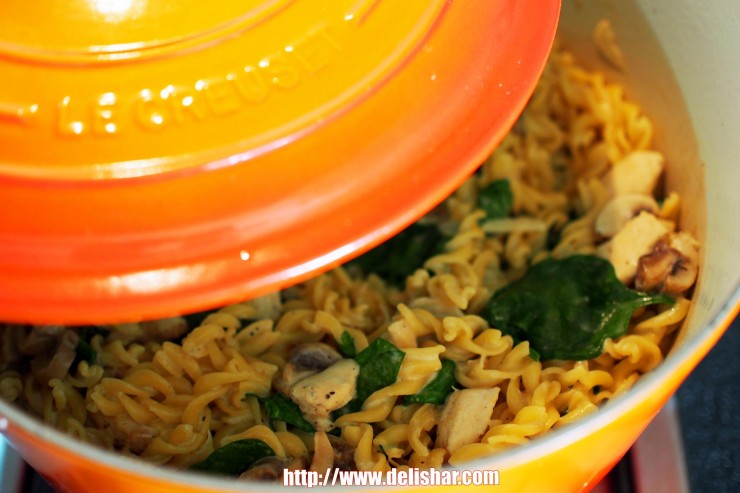 So such a meal is really a life-saver! Again, no heavy cream was used to get the creamy consistency of the pasta sauce. The low-fat milk reduces beautifully and coats each pasta nicely. By using low fat milk instead of heavy or double cream, it reduces the calorie and fat intake, making this meal a healthier alternative. Here's a little peek into what I saw when I removed my cover. Dinner was ready in no time at all, with effort close to none. Haha! It was so easy, I almost felt guilty and a little embarrassed for serving it to the family. But when I hear the "Mmmm", "Yummm", and "Ahhh" coming from the kids and the husband. I knew this is another one pot winner!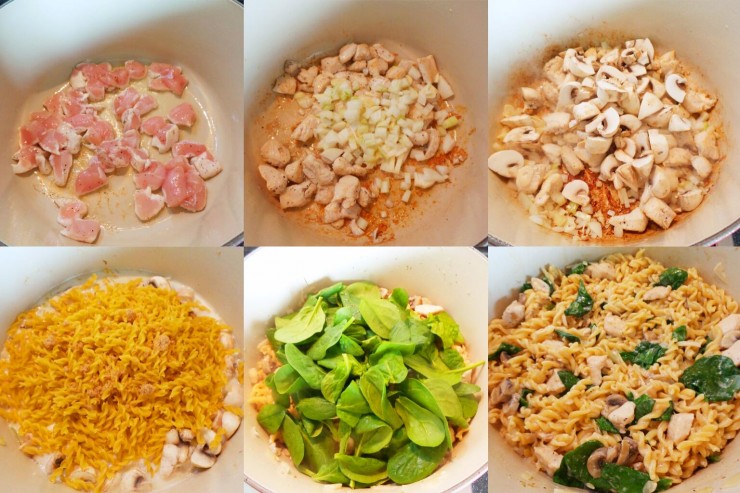 One Pot Chicken Mushroom Pasta (Serves 4)
200g spiral pasta, uncooked
2 chicken breast, cubed
2 cups baby spinach
1 chicken bullion cube
125g button mushrooms, sliced
650ml milk
1/2 yellow onion, diced
3 cloves garlic, minced
2 tbsp olive oil
Salt and pepper to taste
Method
Season chicken with salt and pepper.
Heat pot, then when it's hot, add oil.
Saute chicken for a minute then add onion.
Continue to cook until onion is soft, then add garlic, and mushrooms.
Saute for another minute and add pasta.
Pour in milk, add bullion cube, and give it a stir.
Remember to scrap the bottom of the pan to release all that flavourful goodness!
Bring to boil, give it another stir.
Lower heat to simmer, cover and cook for 6-7 minutes.
Add spinach, give it a stir, and allow to cook for another 1-2 minutes.
Or until spinach has wilted and pasta cooked through.
Season with salt and pepper if needed.
Serve immediately.
PS. Not sure why my Recipe Card isn't working. I'm sorting it out with the support team. Meanwhile, you can still use the print button at the end of this post to customise printing. 🙂