On the same day that I baked myself some Jam filled Chia Muffins, I baked something richer, and definitely more comforting for my co-workers at work. There is nothing more yummy than a good butter cake. Wait, correction. There is something more yummy! A marbled butter cake! Fluffly buttery cake made even better with good quality cocoa swirled in the mix!
It was hard to keep my hands off this cake. I had to get it out of the house, and share the love the very next day! The cakes were gone in no time at all when I displayed a container worth of sliced up cakes for the teachers to enjoy with their tea. I'm really glad that they all enjoyed it, and they sure deserved a little pampering for the work they are doing with the students!
As much as I'm in love with SK Ng's butter cake, this is a simpler version that does not require egg separation but still yields a light fluffy cake. So yay to less work! But don't expect to get the same texture as egg separation cake! lol! The cake taste better the next day, after allowing all the goodness of the ingredients marry together over night. My advise when making butter cake. Do NOT use cheap butter, they tend to taste artificial. Use a brand that you like!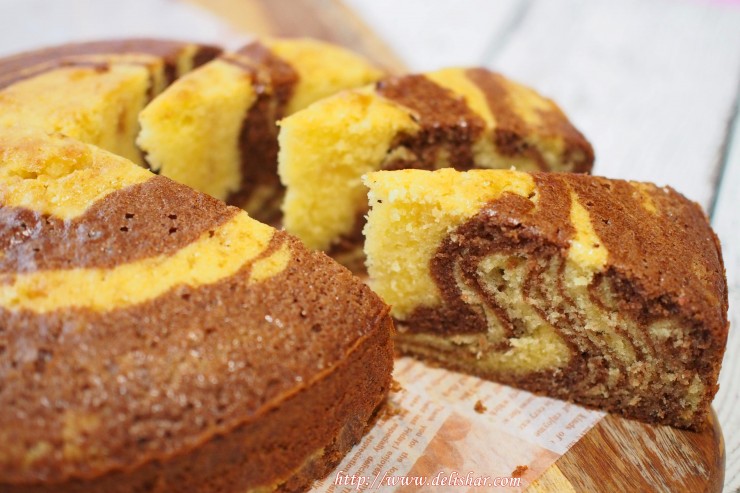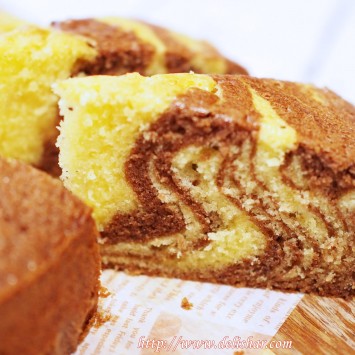 Marble Butter Cake
Makes an 8 inch round cake
Ingredients
250

g

unsalted butter

room temperature (1 cup + 2 tbsp)

180

g

caster sugar

about 3/4 cup

4

eggs

large or A

1

tsp

vanilla extract

1/2

tsp

salt

230

g

plain or cake flour

sifted (1 3/4 cup + 1 tbsp)

1

and 1/2tsp baking powder

sifted

1/4

cup

milk

4 tbsp
Cocoa paste
1

tbsp

cocoa powder

1/2

tsp

espresso coffee powder

optional

1

tbsp

heated milk
Instructions
Chocolate Paste
Mix everything together until combined.
Cake
Preheat oven to 170C.

Grease and line baking tin.

Beat butter, sugar, salt, and vanilla in mixer bowl until light and fluffy.

Add one egg at a time, and allow to beat until combined before adding the next.

Increase speed to high, and beat for 1 minute.

Sift flour and baking powder together.

Alternately beat in milk and flour, until just combined.

Remove 250g of plain batter in another clean mixing bowl, then fold in cocoa paste.

Spoon the two batters alternately into the middle of the prepared baking tin.

Tap the pan on countertop a few times to remove any trapped air bubbles.

Bake on middle rack, at preheated oven at 170c for 50-55mins or until a skewer inserted come out clean.

Allow to cool for 10 minutes in pan before de-moulding.

Cool completely before slicing.