Can you believe that I made this whole meal all in one machine? That means less clean up, no poaching the chicken in a large pot of hot water, no hand mincing of herb (My hands does not have to smell like shallot and garlic!), but still the same delicious meal! From chopping of the spices to steaming a whole chicken, making of the chicken rice, and you can make the chilli dipping sauce with this machine too!
If you are thinking of that one brand of machine that may break your bank, then you are wrong. Well, partly right and wrong. Right because it is also a multi-function cooking machine that allows you to do most of your prep work to cooking with the machine itself. Wrong because it's not the machine you are thinking of, and it's definitely not going to cost you S$2500 or more to own one. This cooking machine I'm talking about is a new kitchen machine that is coming to Singapore very soon.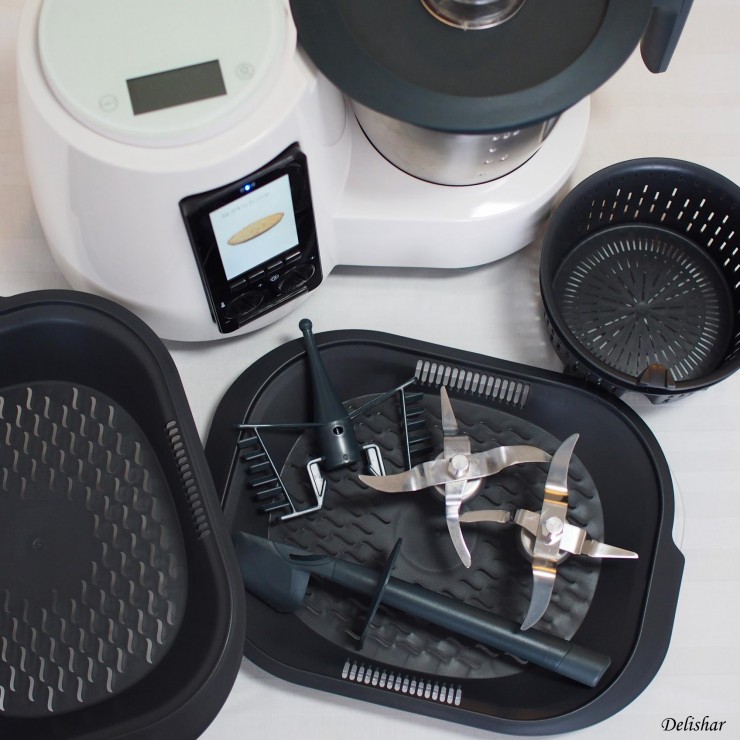 This is the Bellini SuperCook Kitchen Master, a German engineered cooking machine that will be available in SG soon. Both sales and service centre will be located in Singapore for your convenience. Plus, it's only going to be retailing at almost half of what you will pay for competing brand!
Here are the Specifications of the Bellini SuperCook:
2 Liters Stainless Steel Jar
13 functions including steaming, blending, kneading, pulverising and chopping
Cooking temperature: 40 ° – 130 °C, in 5 °C steps
1000W heating for cooking, 500W for mixing
10 speeds + turbo mixing functions
Libra Weighing scale
Standard accessories: Vapore steam trays, measuring cup, 
stainless steel knife (Sharp), 
stainless steel knife (Blunt),
stainless steel jar, cooking basket, whisk paddle, spatula, recipe book, Yumi App with SD card.
Yumi Control System with 36 installed recipes collection and access to over 3800 free online recipes that you can download and save on the system.
Wifi synchronisation between the Yumi Control System and SuperCook Yumi App on your mobile phone. Your phone would then guide you through the precise steps of cooking your favourite dish. You can either create your own recipes and upload them or you can download the free recipes and use them at your convenience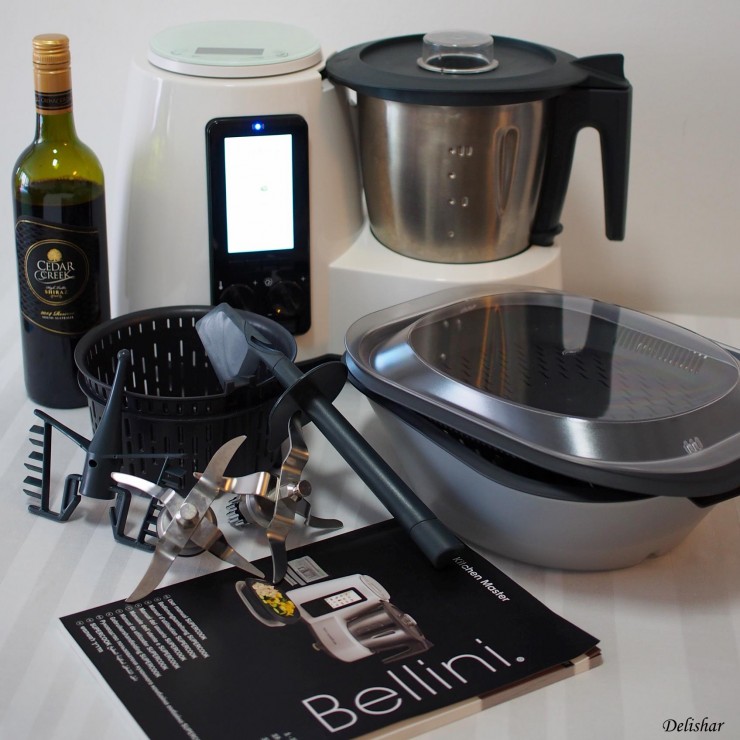 For comparison sake, I placed a bottle of wine beside the machine to let you have a visual of the size of the machine. No, it's not because I was drinking while cooking. But then again, it's not wrong to have a little drink, dance around, and be merry while cooking. Am I right, or am I right? So as you can see, it comes with 2 Vapore steam trays. A shallow tray and one that is deeper. In this recipe, I'm using the deeper tray for my whole chicken. You could stack the shallow tray on top and steam some vegetable for this meal as well.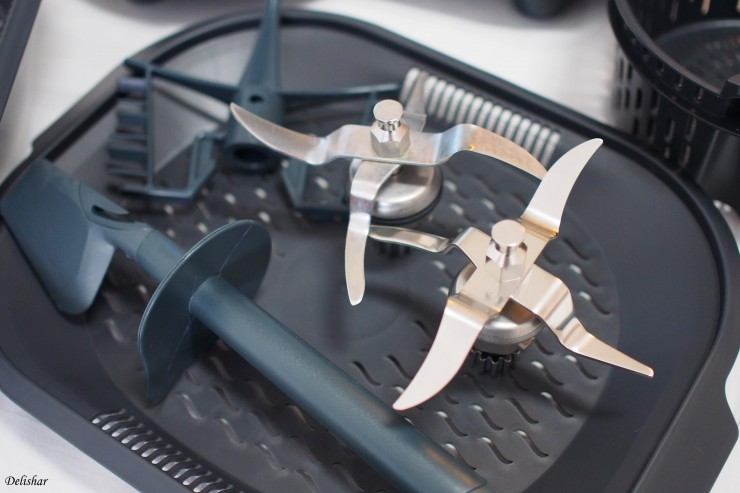 The 2 blades that comes with the standard package are the blunt blade that acts like your cooking spatula you use to saute food, and the knife blade for food processing. These blades will be your personal sous chef, doing all your chopping, mincing, mixing, and sautéing for you. It comes with a whisk paddle for you to whip up some gorgeous meringue too! You see that little hook at back of the spatula there? It's for you to slide it into the basket to pick it up without burning yourself. Kudos to paying attention to such details!
You can pretty much do everything in this machine. With the exception of deep-frying, which to me wasn't a limitation since the society is moving towards healthier eating without all the deep-fried process food. I was pretty impressed with what this machine can do. However, it takes a little getting used to. Such as how much time to set for cooking, and what temperature setting to use. But once you get the hang of that, using this machine will be easy peasy. Oh, did I also mention that I think this machine will be great at making baby food? Just chop, cook, and puree.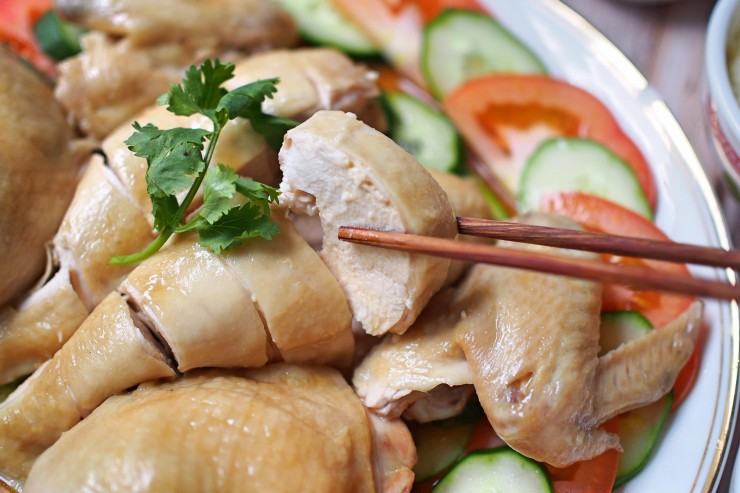 So back to this recipe, I understand how important it is to use the 'essence' of the chicken to make the chicken rice. Thank goodness the SuperCook comes with a tray to catch all the lovely chicken essence released while it steams. I was able to collect a good amount of it, and topped up some chicken broth to steam the fragrant chicken rice. Which was perfect because the chicken needed time to cool before I was able to chop it up into pieces to serve. As you can see, the steamed chicken turned out to be succulent and moist, yes even the breast was nice and moist!
Don't worry if you do not have the SuperCook, yet. I'll include an adaptation of this recipe in the note section of the recipe card. The Bellini SuperCook Kitchen Master will be available in Singapore sometime between late February to March. If you are interested to learn more about his machine, please go to SGSuperCook.com to register your interest, and like their Facebook Page to keep abreast to tips, and promotions.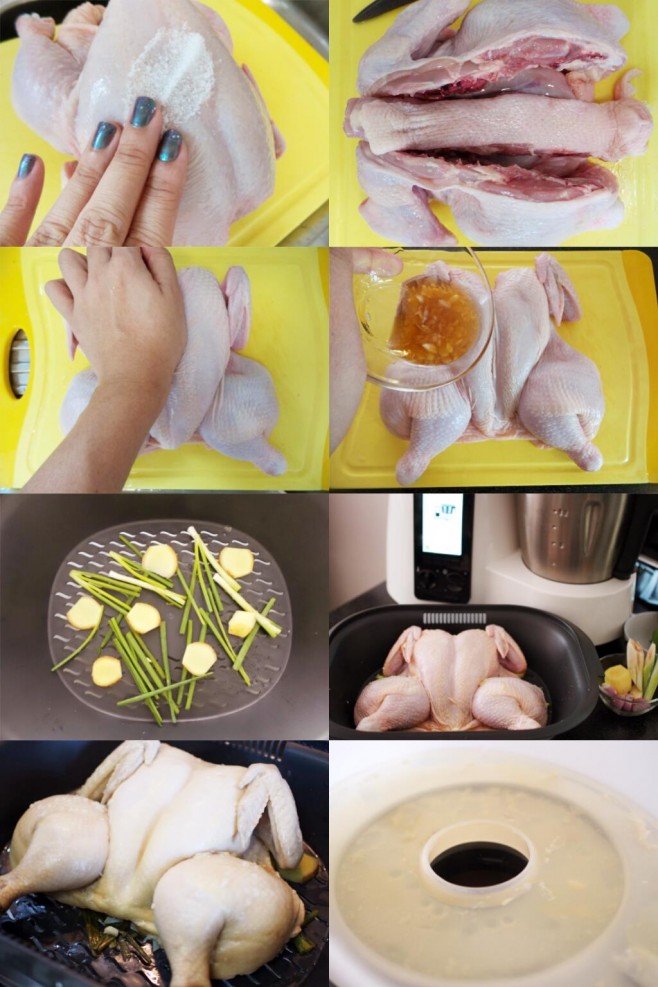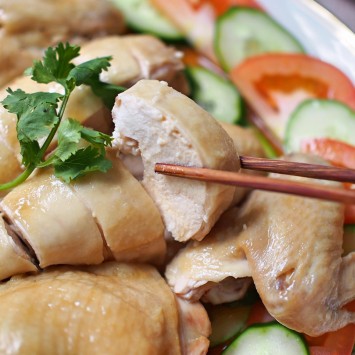 Hainanese Steamed Chicken
Ingredients
Hainanese Steamed Chicken
1

kg

whole chicken

1

tbsp

chinese cooking wine

1

tsp

sesame oil

1-2

bunch spring onion

5-6

slices

of ginger

2

cloves

garlic

minced

1/2

tsp

salt

1.5

litres water

1

tsp

salt

2

tsp

sesame oil for brushing
Sauce to drizzle
1

tsp

sesame oil

1-2

tbsp

soy sauce

to taste

4

tbsp

chicken stock / left over water from steaming chicken

1

tsp

sugar
Instructions
Hainanese Steamed Chicken
Rinse and clean chicken.

Remove head and feet using your kitchen shears.

Lay chicken breast side down.

Using your kitchen shears, cut along backbone of chicken and discard (or save it to make chicken broth)

Flip chicken over, breast side up, spread it open, and using your palm push onto the middle of the chicken breast to break breastbone.

In a mixing bowl, add wine, 1 tsp sesame oil, garlic, and salt.

Rub the wine mixture on the cavity and outside of chicken.

Place the deeper vapore tray on top of the catchment tray.

Lay out the spring onions and ginger on the vapore tray, then place chicken breast side up on top of the spring onions and ginger. Cover tray.

Add 1.5L of water into the stainless steel jar with knife blade, and add 1 tsp salt.

Cover and set temperature to 125C for 45 minutes, speed 2.

The machine will start counting down.

At the 36 minute mark, remove the top measuring cup of the machine, and place the vapore tray on top. Be careful of the steam.

Allow to steam for 35 minutes or until chicken is no longer pink. About 35-40 minutes.

Remove chicken from vapore tray, reserve jus collected in the catchment tray.

Brush on some sesame oil on the chicken skin.

Allow chicken to cool for 15 minutes before chopping.
Sauce to drizzle
Mix all the ingredients in a mixing bowl and drizzle over chicken to serve.
Notes
Prepare chicken the same way, but place seasoned chicken on stainless steel plate.
Steam over high heat for 35-40 minutes.
Drain and reserve all the jus collected on the plate for later use.
Brush on some sesame oil on the chicken skin.
Allow to cool for 15 minutes before chopping.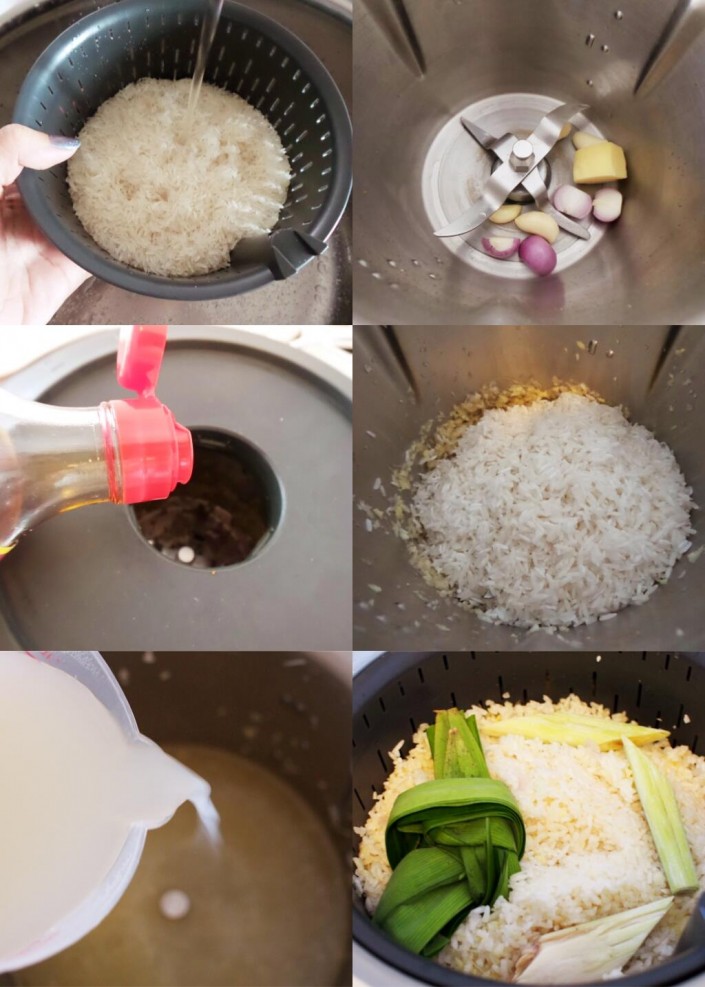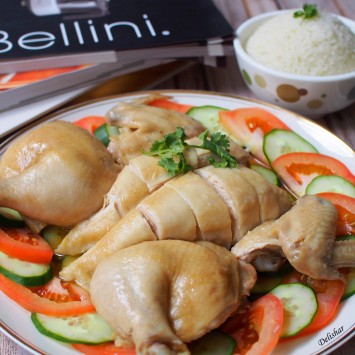 Hainanese Chicken Rice
Ingredients
Chicken Rice
400

g

rice

Reserved chicken jus / essence + enough chicken stock to make 1 liter

2

tsp

sesame oil

4

shallots

5

cloves

garlic

1

thumb ginger

peeled

2

pandan leaves

knotted

1

lemongrass

bruised and cut into parts

salt to taste
Chilli Sauce
3

chilli padi

seeded

4

cloves

garlic

1

inch

thumb ginger

¼

teaspoon

sugar

4-5

tablespoon

chicken broth
Instructions
Chicken Rice
Rinse rice in rice basket.

Add garlic, shallots, and ginger into the jar with knife blade on.

Process at speed 6 for 20 seconds, scrap down with spatula and process again at speed 6 for 10 seconds.

Scrap down sides with spatula, add sesame oil.

Saute at 100C, speed 2 for 2 minutes.

Add rice, season with salt, and saute at 100C, speed 2 for 2 minutes.

Pour rice into rice basket.

Pour the reserved chicken jus/essence and top up with enough chicken stock till 1 liter mark.

Insert rice basket into jar, top with lemongrass, and pandan leaves.

Then cook at 125C, speed 2, 18 minutes or until rice is done.

Remove rice basket and set it on a plate to rest.

The rice will look slightly wet at first but will firm up when rested.
Chilli Sauce
Blend together garlic all the ingredients on speed 6, 20-30 seconds.
Notes
Process garlic, ginger, and shallot until you get a rough paste.
Saute spices with sesame oil in a frying pan.
Add rice and saute for 2-3 minutes.
Transfer rice to rice cooker and add enough reserved jus + chicken stock to cook rice.
Top with lemongrass, and pandan leaves.
Cook as per rice cooker setting.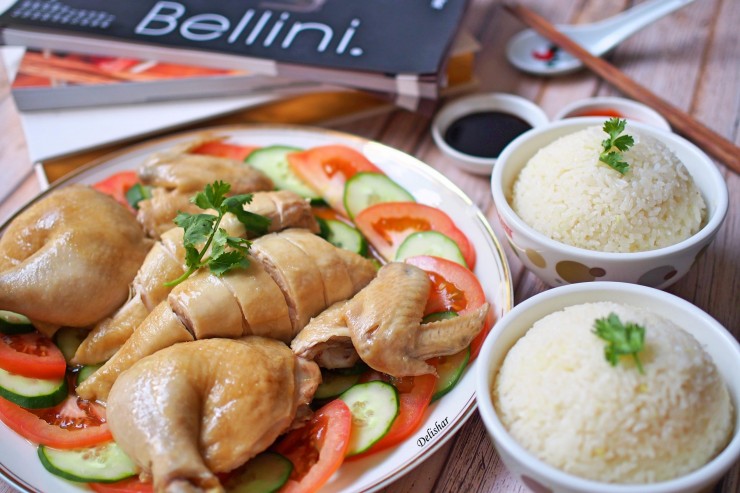 Disclaimer: While this review was a made possible by SGSuperCook.com. All the above opinions are of my own.