The kids could not wait for the morning to come, so that they can enjoy these muffins I baked for breakfast. They kept coming out of their room to tell me that they are too hungry to sleep, and will need to have a muffin to fill up their tummy. All puppy eyes, sweet voices, and super cutesy expressions… I caved and gave the girls 1/2 a muffin each. The husband too, sneaked 2 in his belly just before he went to bed. Naughty naughty!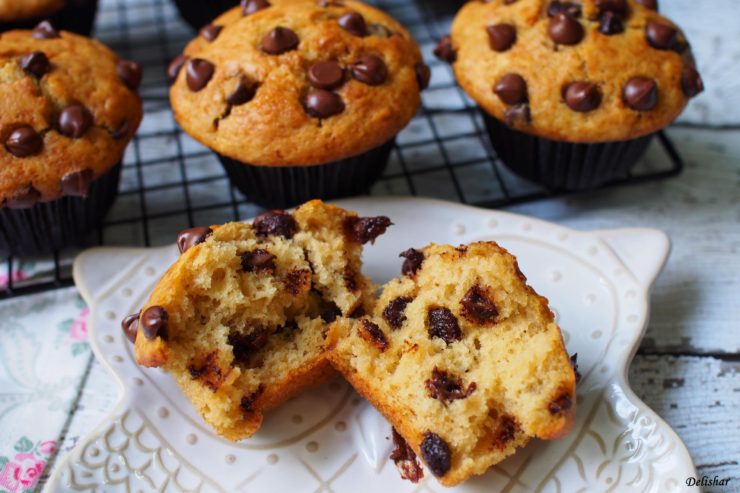 I shouldn't be complaining much, because I had one, right after it came out of the oven. I mean, I have to taste it right?! Also had another after I took pictures, because it's already torn apart for pictures, and who can resist those little chocolate chips in there?! Come on, don't judge. 😛
The recipe yield moist muffins because of the buttermilk used, and it has a slight caramel taste because of the brown sugar added instead of just castor sugar. By the 2nd day, my batch of muffins were all wiped out! The girls were all smiles in the morning and all chocolate faced! What a priceless image of them. Come to think of it, I should have taken some pictures to share with all of you. Never mind, next time. 🙂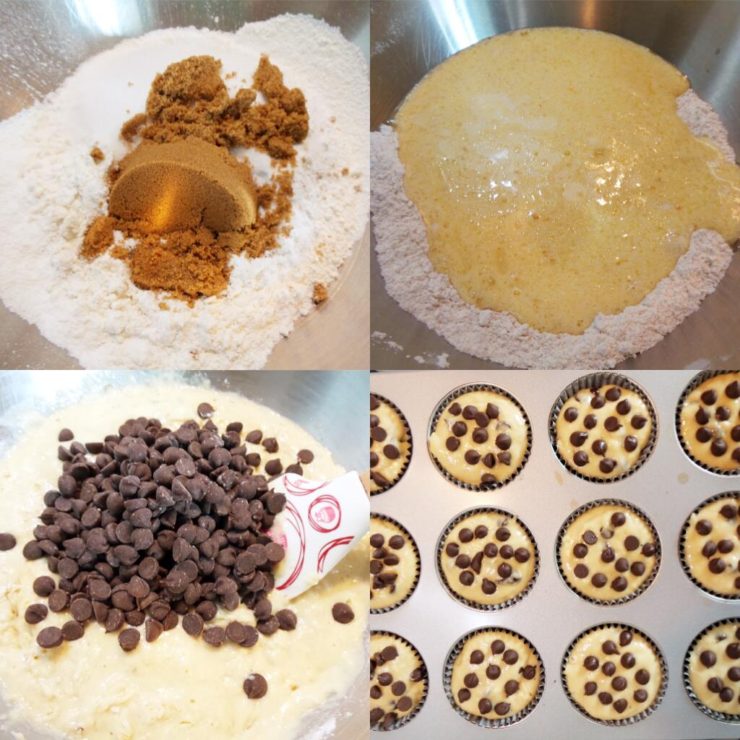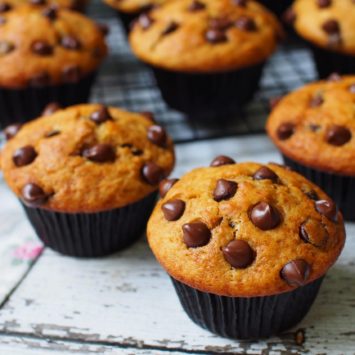 Chocolate Chips Muffins
Ingredients
2

& 1/2 cups

308g cake flour

2

tsp

baking powder

1

tsp

baking soda

1/4

tsp

salt

1/2

cup

118ml vegetable oil / melted butter

1/3

cup

67g brown sugar

1/3

cup

75g castor sugar

2

large eggs

1

cup

250ml buttermilk

1

tbsp

vanilla extract

1

& 1/2 cup

275g chocolate chips
Instructions
Preheat oven to 200C.

Line your muffin tray.

In a large mixing bowl, sift together baking soda, baking powder, flour, and salt.

Whisk in brown and castor sugar.

Then add your wet ingredients, eggs, buttermilk, oil, and vanilla extract.

Mix until almost combined and still lumpy.

Fold in 1 cup of chocolate chips, make sure not to over-mix batter.

It should still appear lumpy.

Fill liners till almost full, and top with the other 1/2 cup of chocolate chips.

Bake at 200C for 18-22 minutes or until skewer comes out clean. (Mine was about 20 minutes)

Let cool in pan for 5-10 minutes, then transfer to wire rack to cool completely.
Notes
If you have no cake flour, you can use plain flour too.
Mix 1 tbsp lemon juice or white vinegar to 1 cup of fresh milk to make your own buttermilk. Let it sit out at room temp for 5-10 minutes until curdled.
Adapted from little sweet baker