I mean, how can you say no to a generous amount of melted cheese atop spicy caramelised chicken chunks?! It's like comfort food taken to a whole new level! Not to mention that it's so darn easy to make it! If you are into spicy food, like I am… then this is definitely for you! If you aren't too adventurous when it comes to spicy food, just adjust the amount of chilli powder to taste.
The best way to eat this dish is with a pair of chopsticks, or fork, and when it is piping hot out of the oven. The cheese is melted into this absolutely delicious golden lava, stringy beyond believe. And as you grab a piece of chicken and pull it away from the dish, you twirl your chopsticks and let the melted cheese wrap itself around the piece of meat. Then put it in your mouth and hear yourself go "Mmmmm…" as you close your eyes and enjoy the foodgasm.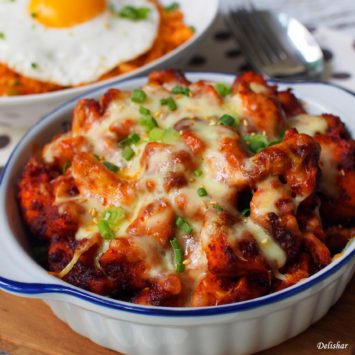 I'm not exaggerating the whole experience, just re-enacting the dinner scene again is getting my mouth watering uncontrollably. The cheese kind of works as the cooling agent to balance off the heat in this dish. I served this with KimChi fried rice topped with a sunny side up that night, and the meal was a winner through and through!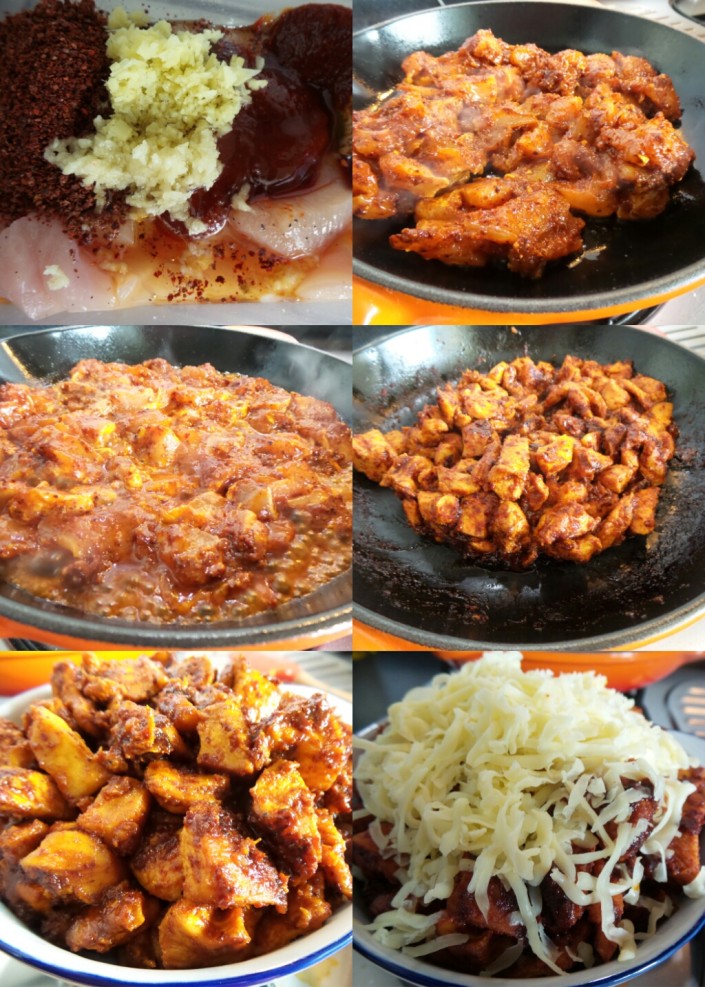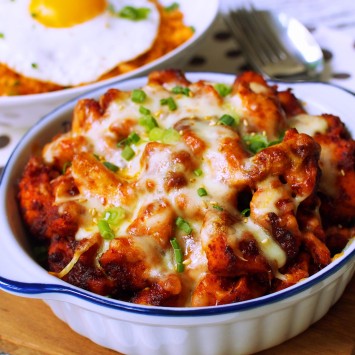 Korean Fire Chicken (Chijeu-buldak)
Ingredients
450

g

chicken breast

cut into 1 inch cubes

1/4

cup

Gochugaru

Korean chilli flakes/powder

2

tbsp

gochujang

Korean hot pepper paste

2

tsp

soy sauce

1

tbsp

vegetable or corn oil

2

tsp

sesame oil

1/4

tsp

ground black pepper

2.5

tbsp

honey

3

cloves

garlic

minced

1

tsp

grated ginger

220

g

shredded mozzarella cheese

3

tbsp

water
Instructions
In a bowl, combine gochugaru, gochujang, soy sauce, sesame oil, ground black pepper, honey, garlic, and ginger in a bowl.

Mix into a paste.

Add the chicken and mix well, set aside.

Heat up a skillet with vegetable oil.

Place chicken into skillet. (I'm using my Le Creuset 26cm skillet)

Use water to get the last of the sauce in mixing bowl into the pan.

Cover and cook over medium to medium-high heat for 10 minutes. If you use a normal frying pan, it will take 7 to 8 minutes. Check to be sure not to burn the chicken.

Uncover, and turn over the chicken.

Reduce heat to low.

Cover and allow to cook for another 5-10 minutes, or until chicken is cooked through.

Pre-heat the oven broiler to melt & gratinate cheese.

Sprinkle on the cheese over the top.

Place in oven for a few minutes until the cheese is melted and bubbly.