In my previous bread post, I made bread for the first time. I shared that my youngest girl fell in love with Pandesal (Filipino Bread Rolls), so I made it for her even though I really do not like handling dough. I was telling my friend the other day that it could be because bread dough reminds me of playdoh. And I've picked up too much playdoh after the girls that I have developed a phobia towards it.
However, I love my family too much to deprive them of what they would enjoy. My girls and the husband are lovers of bread, and I have put off making bread long enough. I guess it's time to pay my dues. Even so, I'm finding trying to find the most efficient/easiest way to make bread. Lol! I want to handle as little of the dough as possible, with the shortest amount of proofing time needed. So when I came across this recipe, I was over the moon!
To be honest, I probably took about 35 minutes to complete the recipe. Perhaps it's because I was sort of taking my time to shape the bread rolls. But I can see how it can really be done in 30 minutes if you are really fast and efficient in your kitchen. The dough comes together in a minute or so in the mixer. The recipe is pretty straight-forward and requires very simple ingredients. It's best to consume the bread the same day. Half the recipe if you are making for a family of 4, that will yield about 6 dinner rolls.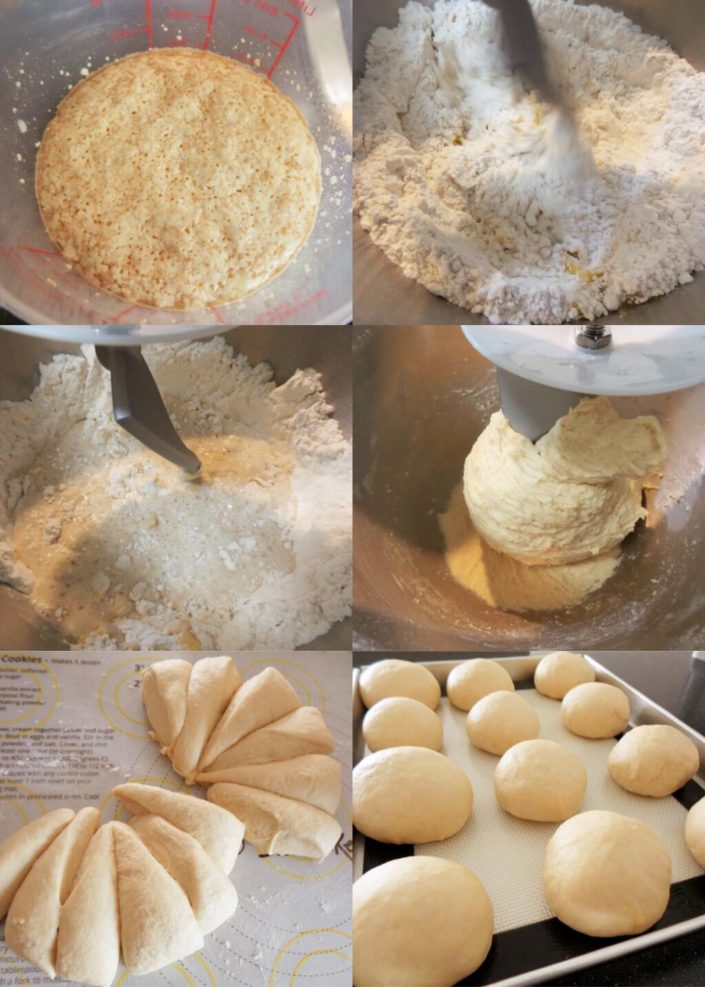 30 Minutes Rapid Rolls
Ingredients
3

& 1/4 cup

416g + 1/4 cup (32g) bread flour or all purpose flour

1

cup

warm milk

about 43C

2

tbsp

16g instant yeast

4

tbsp

56g sugar

1/2

tsp

salt

1

egg

1/4

cup

57g melted butter

2

tbsp

melted butter
Instructions
In a bowl or measuring cup, add warm milk, sprinkle sugar, and yeast over warm milk. (This is to make sure that the yeast is still good)

Stir to combine, and allow to stand for 5 minutes.

Meanwhile get all the other stuff ready.

Preheat oven to 200C.

Lightly grease your baking tray.

In your mixer bowl with dough hook attached, add 3 1/4 cup flour, and salt.

On your lowest setting mix in egg and melted butter.

Then pour in your frothy yeast mixture.

Allow to mix until dough comes together, and sides of bowl is clean. Dough will be sticky.

Add a little more flour tablespoon at a time if needed, I used a total of 3&1/4 cup flour.

Tip dough out on lightly floured surface, and divide into 12 pieces with well floured hands.

Shape into 12 rolls.

Place on baking tin, covered with damp tea towel, and allow to rest for 10 minutes.

Bake for 8-12 minutes on center rack or until lightly golden brown.

Remove from oven and immediately brush with melted butter.
Notes
Remember not to use yeast that are old or close to expiration date.
If you are using rapid rise yeast, mix it with warm milk and sugar, but allow to rest until frothy (5-10 minutes)
Adapted from Kate at i heart eating