Last week was an extremely busy week for me, with a lot of meetings and errands to run. My helper has been a great help in making our dinner when I can't get back home in time to make it myself. However, I will feel really uneasy if I can't cook for my family. Lucky for me, Mizkan had sent me samples of their incredibly delicious and ready to use soup base for me to try out.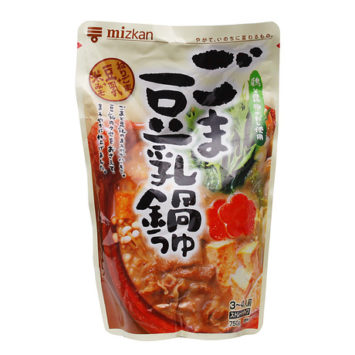 Took the opportunity to try out their Goma Tonyu Nabe (Sesame and Soymilk Soup Base) and made the family a quick, easy, and super delish dinner. If you have been following my blog, you'd know that the husband gives me 'thank you for the wonderful meal' kisses if he really likes the meal I made for him that night. This recipe was one of those that was awarded one of those kisses. I have Mizkan to thank for that!
The soup base was rich and creamy, with a tad bit of sweetness to it. Poaching the salmon (got mine from The Alaska Guys) in it together with the ginger gives it that fresh lift. The salmon was absolutely delightful. Flavourful, moist, tender, and perfectly flaky. It was such an enjoyable experience to flake the salmon. I loved so delicate it felt, the warm between my fingers, the aroma, and how visually satisfying to watch it just slides off in perfect flakes.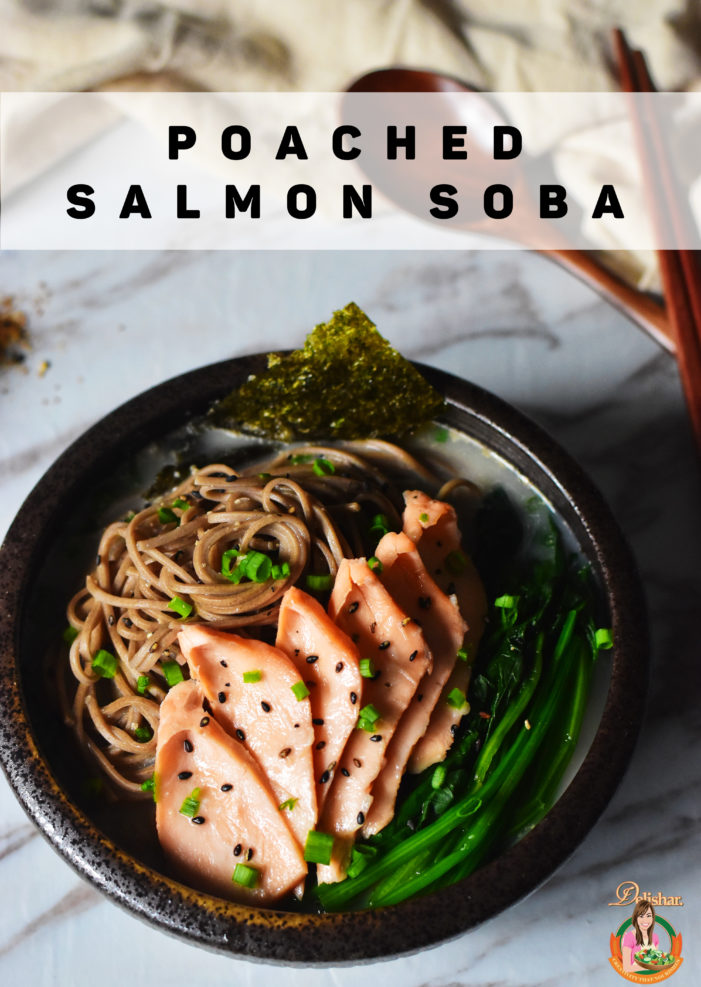 The recipe took me barely over 20 minutes to make with very little preparation work needed. Most of the time was spent waiting for the salmon to cool off enough for me to handle. Feel free to use soba, udon, or ramen noodles to make this meal.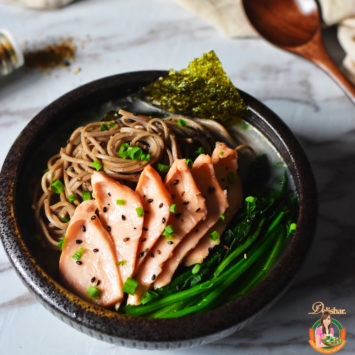 Poached Salmon Soba
Ingredients
3

salmon fillets

about 750-800g, I used coho salmon from The Alaska Guys

2

packs of Mizkan Goma Tonyu Nabe Soup Base

4

servings or soba noodles or fresh ramen noodles

6

slices

of old ginger

Bunch of Chinese spinach

root removed and chop into 2 inch pieces

2

tsp

sesame oil

Sesame seeds to garnish

Chopped spring onions to garnish
Instructions
Bring broth to boil together with ginger slices.

Bring a pot of water to boil, season with salt, and blanch spinach.

Set aside for use later.

In the same pot of water, cook soba/ramen until al dente.

Drain noodles and toss in sesame oil.

When the broth is boiling, gently add salmon and bring back up to a boil.

Immediately reduce heat to low, and allow salmon to poach for 5-6 minutes.

Turn off heat.

Carefully remove salmon to a plate and allow to cool before flaking it.

Plate soba in a bowl, top with flaked poached salmon, spinach, and ladle hot soup over noodles.

Garnish with sesame seeds and chopped spring onions.
Notes
Mizkan's Goma Tonyu Nabe Soup Base is also known as Sesame and Soymilk Nabe.
They are sold in major supermarkets.