Day 26 of Whole 30: To be honest, I'm quite disappointed that that legendary tiger blood is not flowing through my body nor the husband's. He is always telling me how tired he feels. I wonder if it's because his body is actually burning fats and glucose from the food we eat rather than the sugar that we consume in our normal diet.
He did say that although he isn't a bundle of energy, he feels like his body doesn't crash like it used to (from the sugar and extra caffeine). He also feels more mellow and less anxious as compared to before Whole 30. Perhaps mellow Devo is a tired Devo?
I think it'll be helpful to compile a list of grocers that sells Whole 30 compliant products. Yeah, I'll do just that when I reflect back on the program after day 30. This way it'll make your planning easier if you want to go on the program. 🙂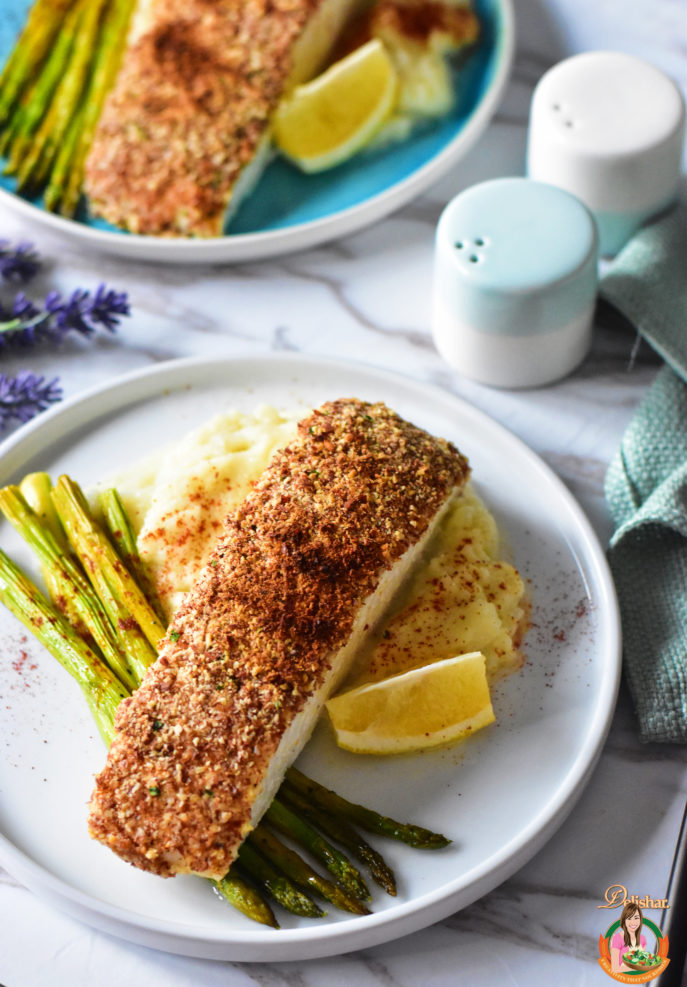 Let's talk about this recipe. I was a little lazy to pan-fry my fish, and I really didn't want my kitchen to be greasy. So I chose to bake it instead. Usually, I would have coated the fish with crushed cornflakes. But since it isn't whole 30 compliant, I had to think of an alternative.
I open up my pantry, and my packet of almond meal was staring right at me. I grabbed it and proceeded to doctor it up with spices. Brush on some ghee on my wild caught Alaskan Halibut to help the topping adhere to the fish. Baked both the fish and asparagus together. While the oven does it's magic, I worked on the cauliflower mash.
The whole meal was really good! I liked the almond crust and meaty halibut best, while the husband and kids were all over the cauliflower mash. The husband asked if it was mash potatoes, he said he couldn't tell the difference. The girls could not differential either, all they said was,"Mmmm! Mash potatoes!" and was shoveling spoonfuls in their darling little faces.
Oh, I made a recipe video to show you have this meal was put together. I'm still learning how to shoot cooking videos, so any feedback and tips will be helpful. 🙂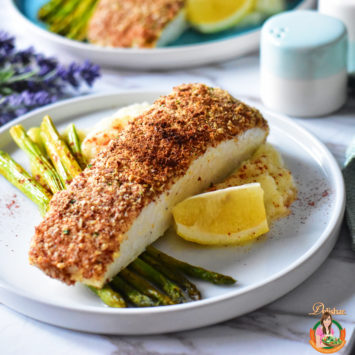 Almond Crusted Halibut with Cauliflower Mash
Ingredients
Almond crust
1/2

cup

8 tbsp almond meal

1

tsp

garlic powder

1

tsp

onion powder

1

tsp

smoked paprika

1

tsp

parsley flakes

Zest of 1 lemon
Halibut
4

fillets of wild caught halibut

I got mine from The Alaska Guys

1

tbsp

ghee

Salt and black pepper
Roasted asparagus
500

g

asparagus

tough ends trimmed

2

tbsp

olive oil

Salt and black pepper
Cauliflower Mash
1

kg

cauliflower

cut into florets

3

cloves

garlic

1

tbsp

ghee

Salt and black pepper
Instructions
Almond Crusted Halibut
Preheat oven to 200C.

Mix together all the ingredients for almond crust.

Place fish on parchment paper, and brush the top with ghee.

Spoon 2 tbsp of almond topping on top of fish, and pat it to spread it across the top evenly.

Bake 10-12 minutes at 200C.
Roasted Asparagus
Place asparagus on baking tray, single layer.

Drizzle olive oil, then season with salt and pepper.

Shake pan to coat asparagus with oil and seasoning.

Bake for 18-20 minutes at 200C.
Cauliflower Mash
Bring a large pot of water to boil, and season with salt.

Add cauliflower and garlic.

Cover and cook for 12 - 15 minutes, until cauliflower is tender.

Drain well, and return to pot pan.

Add ghee, season with black pepper & more salt (if needed).

Using a stick/immersion blender, blend until smooth and creamy.
To serve
Plate up and serve with lemon wedge.