While grocery shopping, I saw some really pretty wild caught scallops that inspired this meal. I was planning to make pumpkin soup but quickly deviated from the original plan to make this ultra luscious and velvety pumpkin puree instead. So glad I did it though! I swear it was so delish and so easy to put together too! To pair, I made a low-carb version of couscous made using cauliflower and seasoned it with fresh herbs with a touch of citrus. The star of the meal is the sweet, meaty, and tender pan-seared scallops drizzled with browned butter that we can't stop eating!
I know, I know… Keto folks will start saying that pumpkin is high in carbs. However, as with all ingredients, it's all about the serving size. This recipe works out to be about 12g of total carbs, bearing in mind serving size. Do watch your serving size: 50g (1/4 cup) of pumpkin puree, 100g (1 cup) cauliflower couscous, and 125g scallops = Total Carbohydrates: 12.26 g, and 3.2 g Fiber. We had leftover pumpkin puree & cauliflower couscous from this recipe for me to have lunch the next day.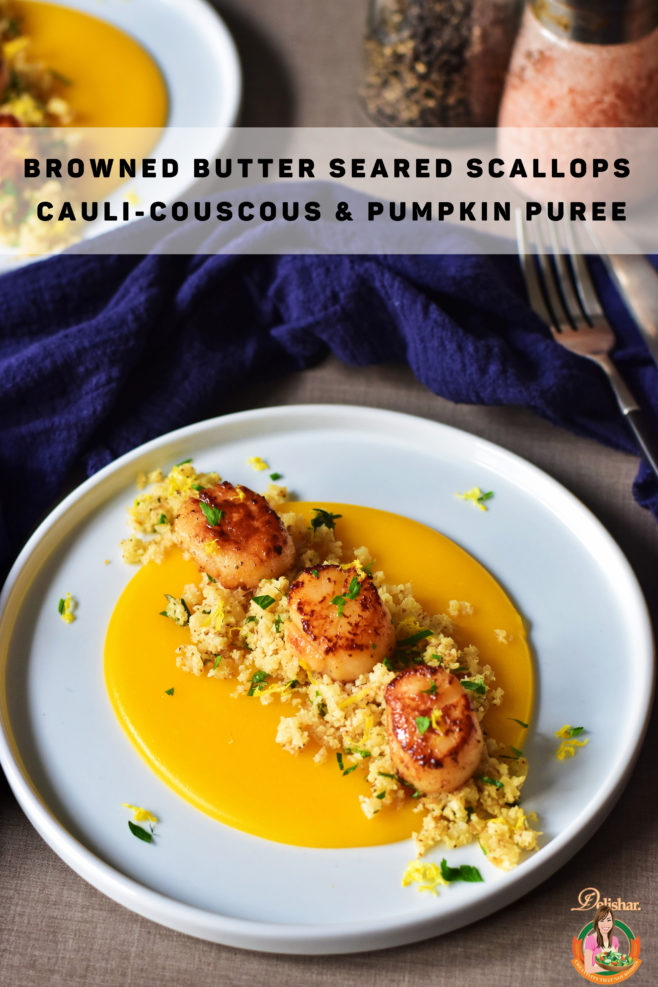 This recipe consists of 3 different recipes/dishes put together. The pan-seared scallops with browned butter sauce, the silky pumpkin puree, and the lemon parsley cauliflower-couscous. Feel free to deconstruct it and pair it with something else that you fancy.
The cauliflower couscous works very well as a staple on its own. Pairs beautifully with any kind of protein, especially seafood. Don't be intimidated by the use of Xanthan Gum in this recipe. The Xanthan gum helps bind the puree together and give it a silky gooey texture. It'll work without Xanthan as well. This is my kind of perfect low-carb meal and the colours on the plate are just visually very appealing!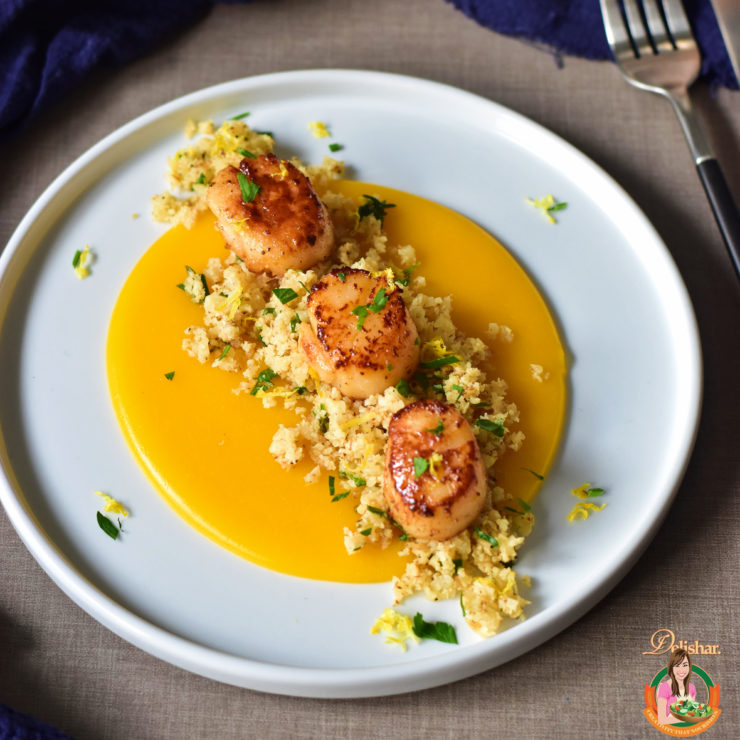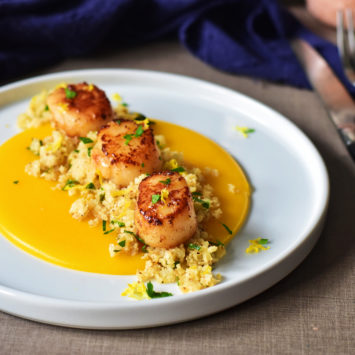 Browned Butter Scallops on Cauli-couscous & Pumpkin Puree
Ingredients
Pumpkin Puree
500

g

pumpkin

peeled and seeded (Butternut if you aren't concern about carb count)

1/4

tsp

Xanthan gum

optional

Salt to taste
Lemon Parsley Cauli-Couscous
500

g

Cauliflower

3

tbsp

chopped italian parsley

1-2

tbsp

lemon juice

Zest of 1 lemon

2

tbsp

olive oil
Pan Seared Scallops
500

g

Wild Caught Large Scallops

2

tbsp

olive oil

Salt & Pepper to taste

3

tbsp

butter

for browned butter
Instructions
Pumpkin Puree
Slice pumpkin into thin slices and steam over high heat for 10 minutes until soft and tender.

Drain any excess liquid and transfer to blender.

Season with salt, add Xanthan gum and blend until pureed.

Pour the puree through a sieve to remove larger lumps.

Use a spoon to push the puree through the sieve.
Lemon Parsley Cauli-Couscous
Clean cauliflower, remove stalk, and separate into florets.

Using a food processor, process florets into the size of couscous.

Heat pan on high heat with oil.

Stir-fry cauliflower until dried and slightly brown. (About 8 minutes)

Season with salt and black pepper.

Remove from heat, stir in chopped parsley, lemon juice, and 1-2 tsp lemon zest.

Save some lemon zest for garnish later.
Pan Seared Scallops
Pat dry scallops with kitchen towel.

Season generously with salt and black pepper.

In a pan over medium-high heat, add olive oil.

When oil is heated, add scallops on by one, taking care not to overcrowd the pan.

You might have to work in batches.

Allow to cook for about 2 minutes untouched. This will give the scallops a golden crust.

Flip and cook for another 1-2 minutes, do not over cook it.

In another smaller clean pan, melt butter over medium heat.

Allow to cook until slightly browned and smell nutty.

Remove from heat immediately and transfer into a bowl.
Putting it together
Ladle the puree on the plate, using the back of the ladle to spread the puree in a circular motion.

My ladle is small about 1/4 cup.

Top with cauli-couscous & scallops.

Spoon browned butter over scallops.

Garnish with reserved lemon zest.
Notes
Xanthan helps bind the puree and give a more gooey texture. But this is absolutely optional.
Paleo & Whole 30: Strain the browned butter to remove milk solids. This will give you browned ghee.
Keto: Watch serving size 50g of pumpkin puree, 100g cauliflower couscous, and 125g scallops =
Total Carbohydrates: 12.26 g, 3.2 g Fiber