The first time I saw this dish was at my work place canteen. "How smart!", I thought to myself. Sure I have made a couple of macaroni recipes: 3 Cheese Loaded Mac & Cheese, Chicken & Broccoli Mac, Chicken & Lemongrass Macaroni Soup, and the most recent Sloppy Joes Macaroni Casserole. But a hot and spicy fusion style stir-fried elbow pasta is just genius!
I ordered a plate, and asked the store owner how it was made. She shared that it was stir-fried with some sambal and tomato sauce. Of course, for $2 there was only macaroni and some peas on my plate, but it bought me some inspiration as well!
I made my girls' portion without the sambal and added a little more tomato sauce/ketchup. At first my eldest didn't want to to have anything to do with it, as it was something unfamiliar to her. (She is quite a picky eater and not very adventurous with new food) I reminded her not to be picky about food and the importance of trying something at least once, then I walked away and left her to it.
A few moments later, I heard her going "Mmm mmmm yummy yummy yummy!". Followed by her running over to me saying, "I like it mom! It's so yummy! Thank you for making it for me. I want you to make again tomorrow, please. :)". Music to my ears I tell you! And yes my lovely darling, mummy will be more than glad to make it for you again. Maybe not the next day, but very soon. 🙂
In celebration of Le Creuset's 90th anniversary, I am hosting a 5 pcs Le Creuset Skillet Bundle giveaway worth $572! To take part in this giveaway, simply complete the rafflecopter found on THIS POST. This giveaway is made possible by the good people at Le Creuset.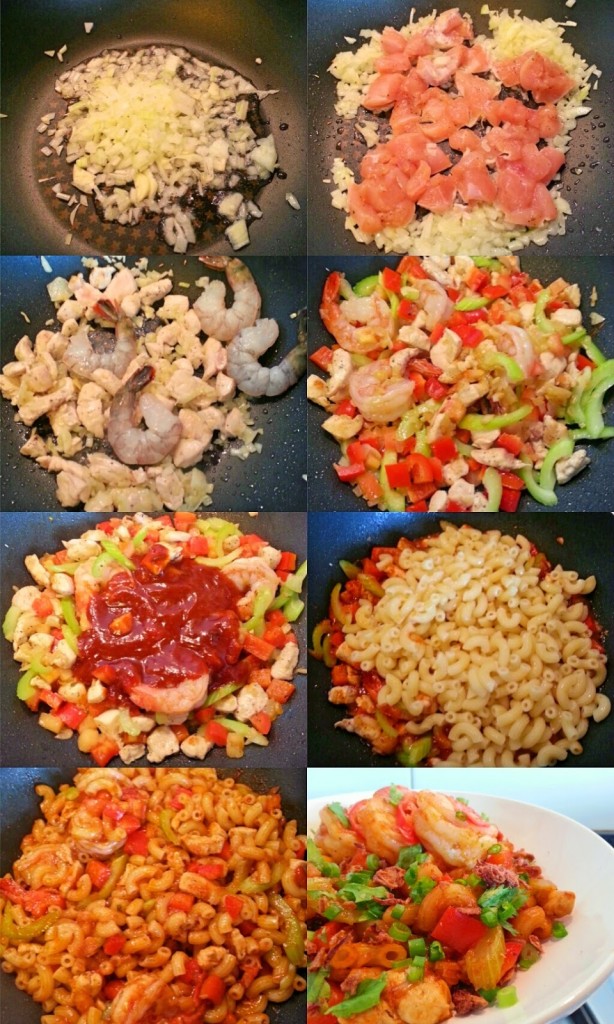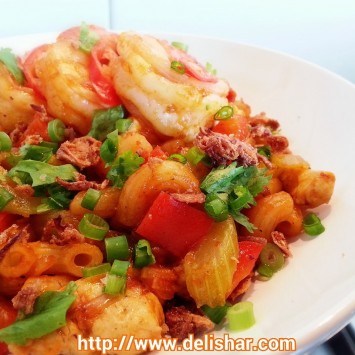 Macaroni Goreng
Ingredients
2

small chicken breast

cubed (about 200-250g)

8-10

tiger prawns

250

g

macaroni

1/2

red pepper

diced

1 to

mato

diced

2-3

stalks celery

chopped/diced

1/2

med yellow onion

minced

3

cloves

garlic

minced

3-4

tbsp

chilli paste or to taste

I used Singlong's nasi lemak sambal chilli

3-4

tbsp

ketchup

2

tbsp

oyster sauce

2-3

tbsp

oil

2-4

tbsp

water

2-3

tsp

sugar or to taste

Salt and pepper to taste

Chopped coriander and spring onion to garnish

Fried shallot to garnish
Instructions
Season chicken with salt and pepper.

In a large pot of boiling water, season with salt, and cook macaroni just shy of al-dente.

Drain and set aside.

Heat pan or wok on med high, add oil.

Add garlic and onion, stir-fry until onion is translucent.

Add chicken and stir-fry until almost cooked.

Add prawns and stir-fry for a minute.

Then add celery, and red pepper. Stir-fry for another minute.

Add in ketchup, oyster sauce, chilli paste, and 2 tbsp of water.

Stir-fry until combined.

Add in the drained macaroni, and toss to combine.

Add some water if too dry.

Season with sugar. (This helps to balance the sourness and saltiness of the other sauces.)

Season with salt (if needed) and pepper to taste.

Garnish before serving.
Notes
Add sambal chilli tablespoon at a time and adjust to taste.
We have a pretty high tolerance for spiciness so adjust to your family's spice tolerance.