I love my Tom Yum. Whether it's in the from of Fried Tom Yum Spaghetti, Baked Tom Yum Crispy Wings, Tom Yum Hor Fun, Tom Yum Chicken Pizza, Tom Yum Fried Rice, or regular Tom Yum Goong. Basically, anything I can Tom Yum with I will. I mean, the flavours of the Tom Yum is so robust, it's almost impossible not to love. Well, unlike you are one who doesn't take spicy food. But you sure is missing out on some good stuff!
This recipe is so easy that I'm almost embarrass to share it. However, because of it's simplicity, it's a waste not to! The recipe needs only 2 ingredients! Well, 3 if you consider a splash of water to thin out the paste. I use Holly Farm tom yum paste. You can get it at NTUC or Cold Storage, picture attached. Or use your preferred tom yum paste. If you are a purist, then make your paste from scratch. 🙂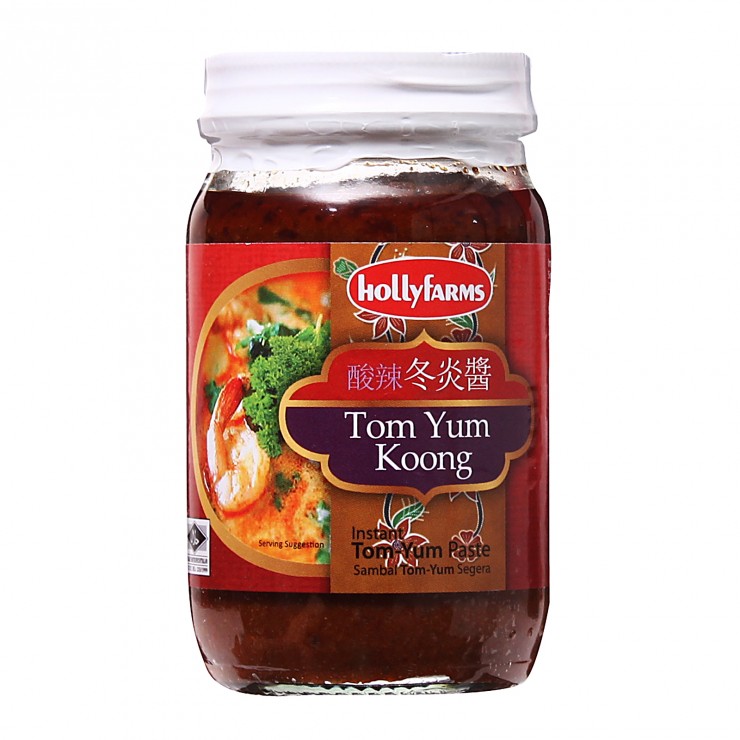 After baking the chicken legs, I decided to shred it up, and serve it in a wrap. As I had quite a few Mission 6 grain wraps in my chiller, since my last Caramel Chicken Wraps. Plus I had some napa cabbage that I need to use. So what I did was chop the napa cabbage up, harvest from home grown basil leaves, coriander leaves, and ribbon a carrot using my veggie peeler. I served my wraps with a light drizzle of mayo, then sriracha, and finally a spritz of zesty lime juice. It was so good! So simple, but so freaking satisfyingly good!!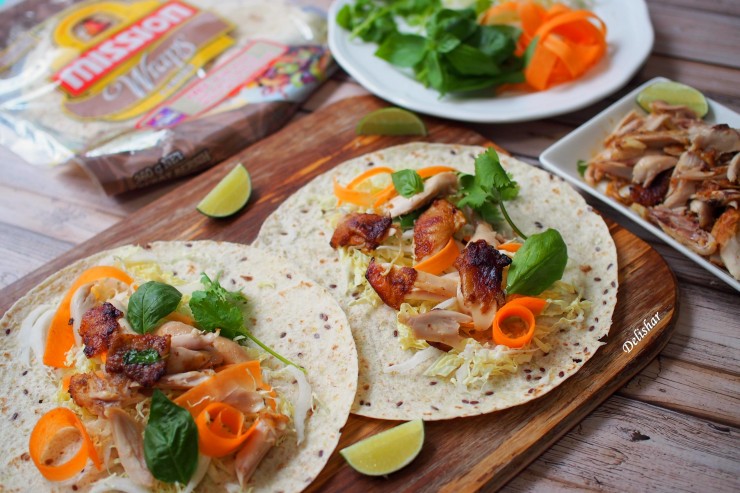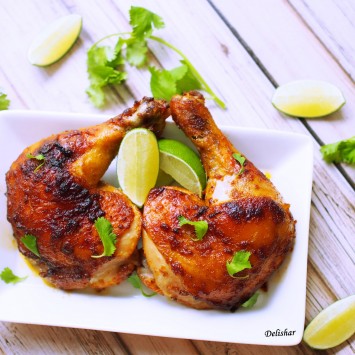 Baked Tom Yum Chicken Legs
Ingredients
2

chicken legs

2

tbsp

tom yum paste

I used Hollyfarms

splash of hot water
Instructions
Mix tom yum paste with a splash of hot water to thin out consistency.

Rub the marinade all over the chicken legs.

Place chicken legs in remaining marinade, then allow to marinate for 1 hour to 24 hours.

Preheat oven to 200C.

Place marinated chicken leg on greased non-stick baking pan.

Give it a light spray of cooking oil. (optional)

Bake for 30-40minutes or until done.

Allow to sit for 5-10 minutes before serving.