After all that Chinese New Year goodies binge, I decided on making a healthier version of muffins. I made some oil-free muffins made with oat flour, coconut sugar, dark chocolate, bananas, and walnuts for the family to snack on. Be sure to use overly ripe bananas whenever you are using it for baking as it is much sweeter and has a better consistency. If you do not have coconut sugar, you can always substitute it with brown sugar.
The greek yogurt and bananas used in the recipe kept the muffins moist. The crumbs of these muffins are unlike those that are tender and will fall apart or crumble. These muffins are still moist but has a denser texture. Nonetheless, the girls still enjoyed their share of muffins. Can't really go wrong with bananas, walnuts, cinnamon, and chocolate can we? Granted, it isn't the same texture of muffins that you are probably used too, but you'll definitely feel much better eating one or even two. 🙂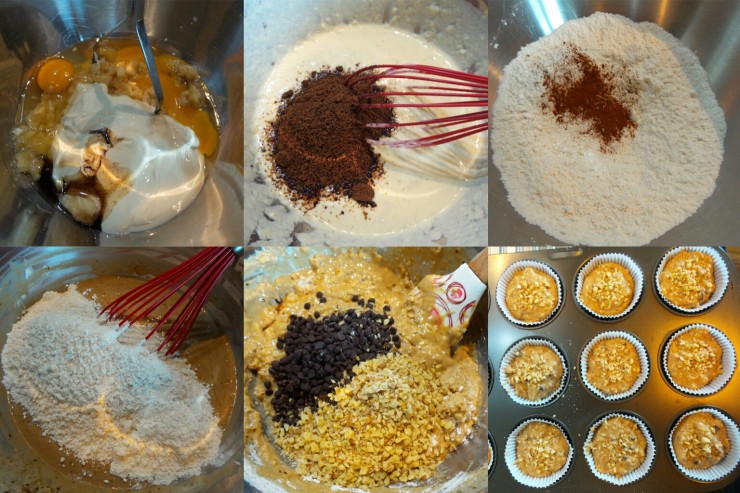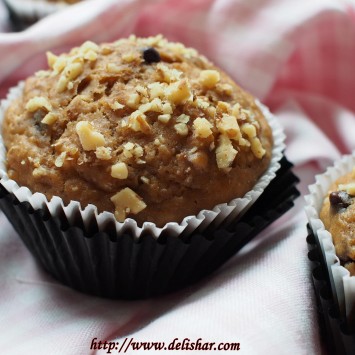 Chocolate Chips Banana Walnut Muffins (Oil-free)
Ingredients
3

ripe bananas

mashed

1

cup

285g greek yogurt

2

large eggs

½

cup

coconut sugar

or brown sugar

1

cup

90g oat flour

1

cup

98g whole wheat pastry flour

½

tsp.

baking soda

1½

tsp.

baking powder

2

tsp.

cinnamon

½

tsp.

salt

½

tsp.

vanilla extract

½

cup

82g mini chocolate chips, divided

½

cup

65g chopped walnuts, divided
Instructions
Preheat oven to 350F/175C.

Line a 12 cup muffin tray with parchment liners.

Spray with non-stick spray if you are using regular paper liners or it will stick.

In a large bowl, combine masged banana, sugar, yogurt, vanilla extract and eggs.

Mix to combine.

In a separate bowl, combine oat flour, wholewheat pastry flour, baking soda, baking powder, cinnamon, and salt. Whisk to combine.

Add dry ingredients to wet ingredients in 3 batches.

Mix until just combined.

Fold in ¼ cup crushed walnuts and ¼ cup mini chocolate chips.

Fill muffin cups to 3/4 full.

Top each muffin with remaining chocolate chips and walnuts.

Bake 15-18 minutes, or until toothpick inserted comes out clean.
Notes
You can process rolled oats in food processor to get oat flour.
Or you can substitute plain flour if you do not have oats / oat flour.
Adapted from withpeanutbutterontop