Back and armed with another zucchini snack recipe! This one is a winner! Soft, moist, decadent but without all that guilt. The kids loved it, and the husband loved it. I had a bite of it and loved the texture, that deep cocoa taste, and that perfect hint of sweetness to balance out the bitterness of the cocoa.
Why just a little bite? To be completely honest, I'm not a big fan of wheat. I suspect that I could be intolerant to it. Hence, my body has never been drawn to food with wheat in it, and the hives that usually occur a few hours after I consume something with wheat in it.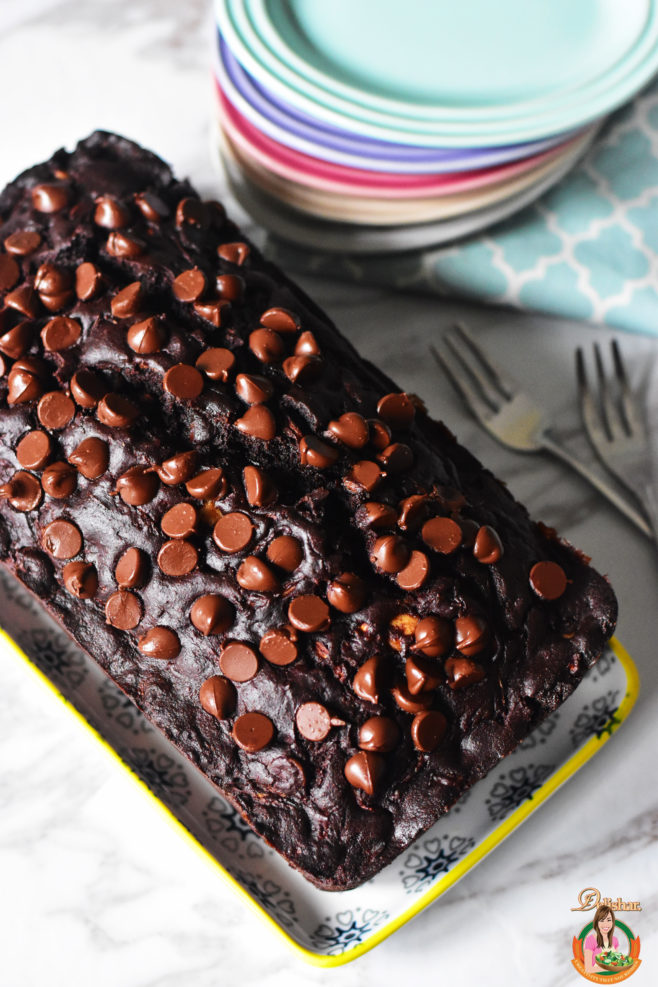 But nonetheless, the husband and kids aren't showing signs of intolerance. Only signs of intolerance when I don't bake for them. lol! I'd rather bake for them than have them consume store-bought baked products. At least I know what is going into the baked goods.
For this recipe, I used organic coconut sugar, greek yogurt, coconut oil, free range eggs, whole wheat pastry flour, and loaded it up with shredded zucchini. Threw in some semi-sweet dark chocolate chips and peanut butter chips as a treat. I get some people leaving doubtful comments on fb when I shared my previous recipe. "Zucchini?" Yes, it's not a new concept. Think carrots in carrot cake, similar idea.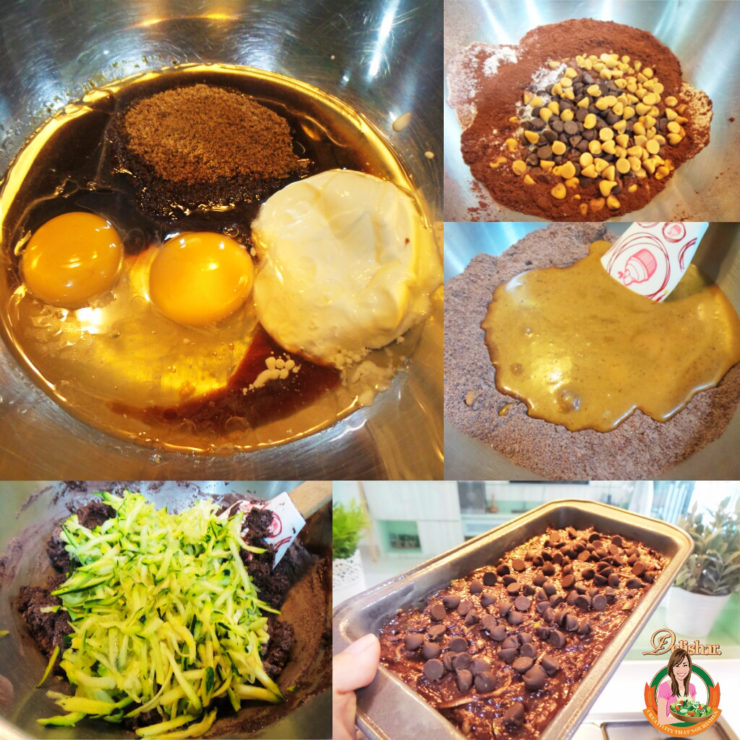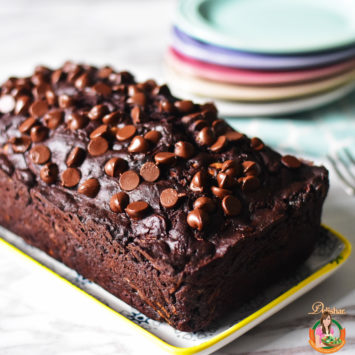 Chocolate Whole Wheat Zucchini Bread
Ingredients
1

cup

96g whole wheat pastry flour

1/2

cup

50g cocoa powder, sifted

1/2

tsp

baking soda

1/2

tsp

baking powder

1/4

tsp

salt

1/2

cup

semi sweet chocolate chips

1/4 cup reserved for topping

1/4

cup

peanut butter chips

1/4

cup

coconut oil

1/2

cup

coconut sugar

1/4

cup

greek yogurt

2

large eggs

1

tsp

vanilla extract

2

cups

230g shredded zucchini, lightly squeezed and drained
Instructions
Preheat oven to 180C.

Spray loaf pan with cooking spray or brush with coconut oil.

In a mixing bowl, mix flour, cocoa powder, baking powder, baking soda, salt, chocolate chips, and peanut butter chips together.

In another bowl, mix coconut oil, yogurt, coconut sugar, eggs, and vanilla extract.

Pour wet ingredients into dry ingredients and mix with a spatula until almost mixed through but still lumpy.

Fold in shredded zucchini until combined.

Transfer batter into prepared loaf pan.

Top with reserved chocolate chips.

Bake for 45-50 minutes at 180C or until skewer inserted comes out clean.

Allow to cool in pan for 10 minutes then transfer to cool completely on a wire rack.
Notes
Keep it air-tight container. Consume within 2 days if kept at room temp. Bread can be kept chilled up to 4 days. Bring to room temp before consuming.