Ingredients
250g minced beef
1 large zucchini, sliced thinly, I used a mandoline to get about 1/8 inch thickness
1 small yellow onion, chopped
2 cloves garlic, minced
1 carrot, shredded
1 stalk celery, chopped
1 tsp dried basil
1 tsp dried oregano leaves
1/2 tsp dried parsley
1 tbsp tomato paste
1 can diced tomatoes (I like Hunt's)
1 cup low-fat cottage cheese
1/4 cup chopped fresh parsley
1 egg
2 cup shredded mozzarella & cheddar cheese mixed, divided
1/8 cup of Parmesan cheese
1 tbsp EVOO
Salt and pepper to taste
Cut of the ends of the zucchini, I cut it into half so that it fits my casserole better.
Use a mandoline or slice it into thin slices.
Lay it out on a baking sheet and sprinkle with salt.
Let it rest for 5-10 minutes, while you get the other ingredients ready.
Salting the zucchini draws out the moisture so that you lasagna will not be overly wet.
I forgotten to take pictures while making the meat sauce. So here is the end product.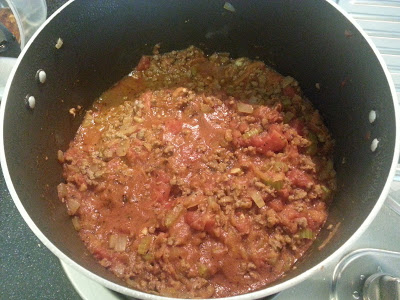 Heat oil, sauteed garlic, onion until onion turns translucent.
Brown meat. Add in the spices (oregano, basil, dried parsley, 1/2 tsp of salt, 1/4 tsp pepper)
Add the celery and carrot and stir fry for a minute.
Pour in diced tomatoes, and stir in tomato paste.
When the sauce starts to boil, lower heat, cover, and let it simmer for 10 mins. Do not add water! Stir every now and then.
Preheat oven at 180*C.
Now blot off the water on the zucchini with a paper towel.
Use a grill or a pan, spray a tiny bit of oil.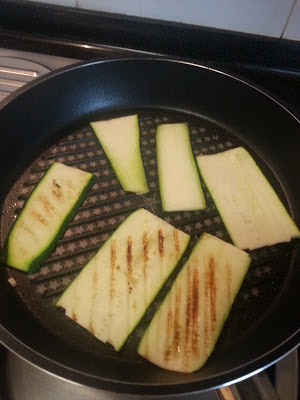 Grill both sides. About 2 mins on each side.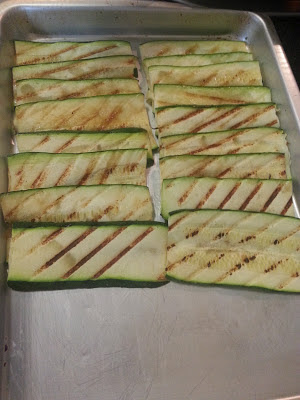 Lay it out to cool for layering.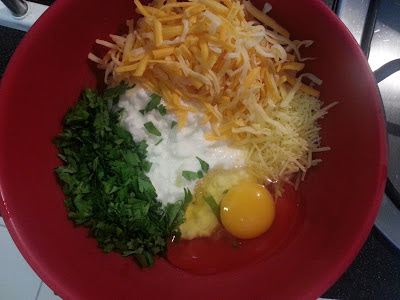 Now the cheese… Mix the cottage cheese, 1 cup of mozza & cheddar cheese, Parmesan cheese, chopped parsley, salt, and pepper in a bowl.
Time to layer!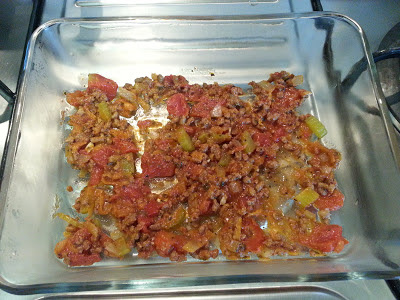 Meat sauce first.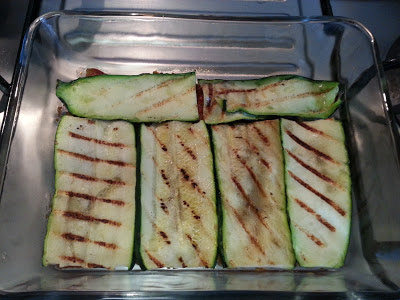 Zucchini next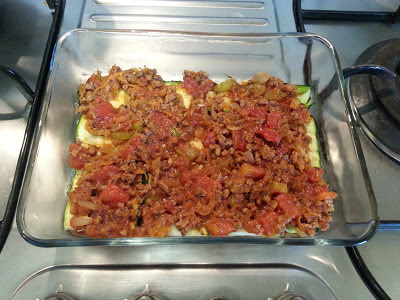 Meat again.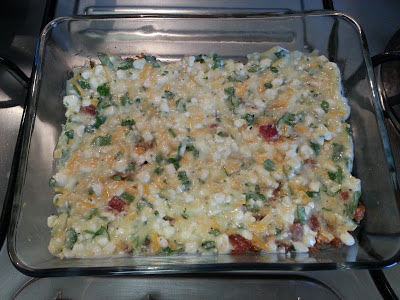 Cheese mixture.
Zucchini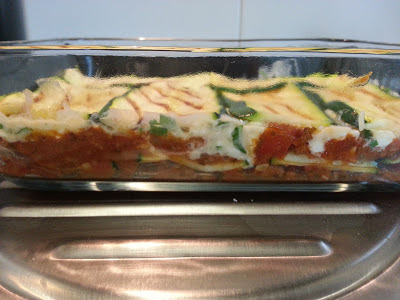 Continue layering until done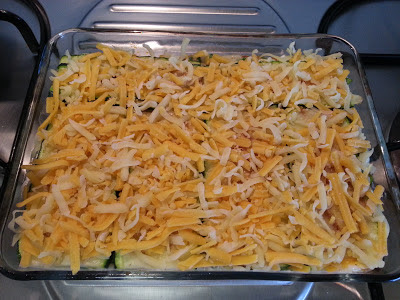 When done with layering, sprinkle the remaining 1 cup of cheese on top.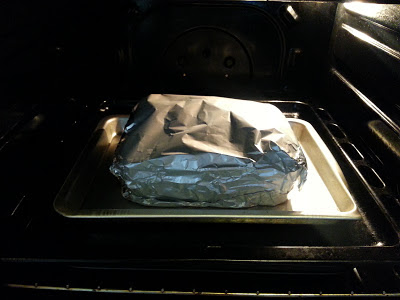 Tent with foil, make sure it doesn't touch the cheese. Bake for 30 mins.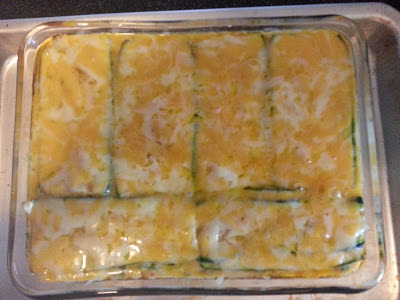 After 30 mins, remove foil. It should look like this.
Bake uncovered for another 20 minutes.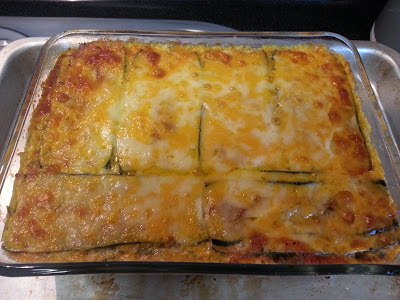 Done!
Let it sit for 10-15 minutes before cutting into it.
Garnish with fresh basil.
I use low fat cottage cheese because it is lower in calories compared to ricotta. Both are equally tasty. 🙂 For a vegetarian option, replace minced beef with mushrooms.