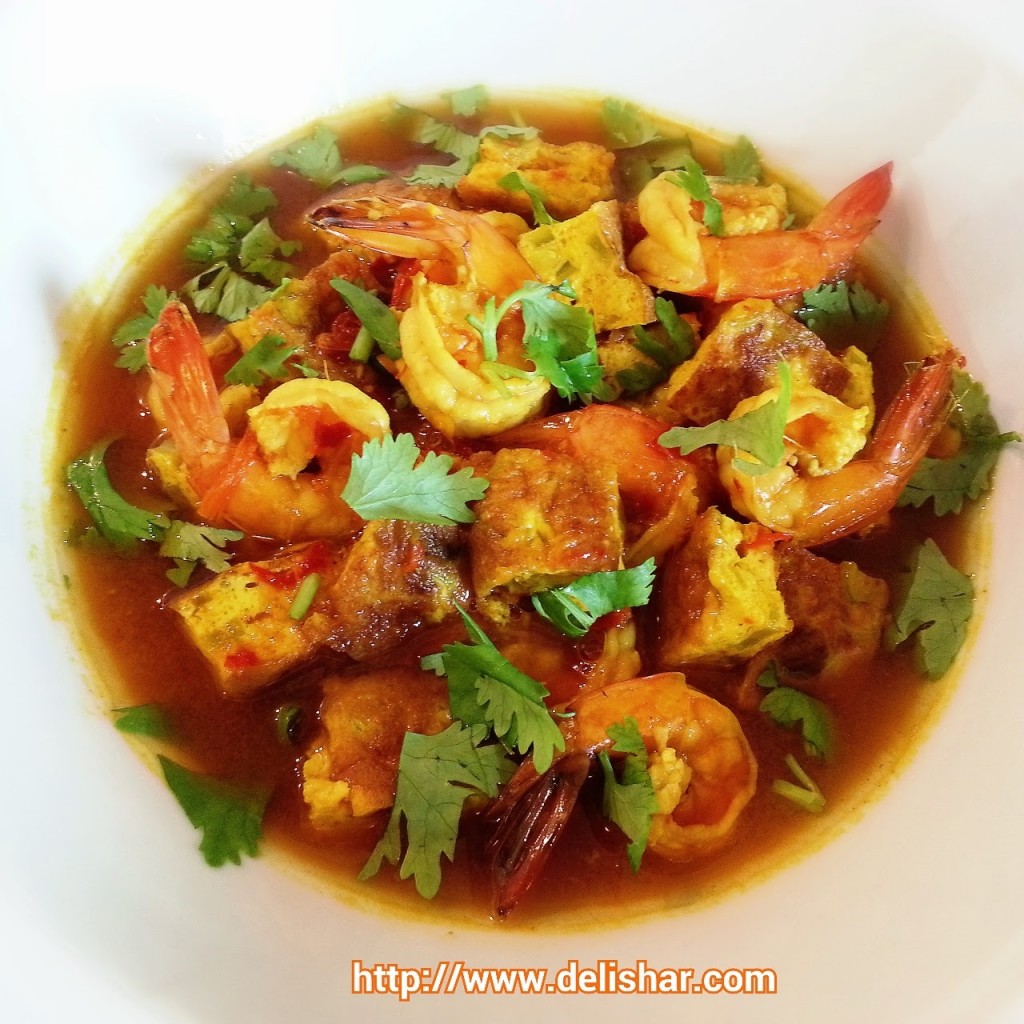 I first had this dish at one of the local Thai restaurant and I was immediately in love with it! It isn't a dish that you can commonly see on Thai restaurant menus. My Thai teacher told me that it is a southern Thai dish, and is actually a curry without coconut milk. I suppose it's a much healthier curry, in that sense. I love how the saltiness, sweetness, and sourness comes together in this dish. It was almost like a party in my mouth! Thais used a strong smelling vegetable called Cha-om to make the omelette, I was told that it is only for sale at one store in Golden Mile Complex. Since it is not widely available, and it can be quite subjective to many's taste-buds, I substituted it to french beans or you can use long beans too. It would be best if you can use a mortar and pestle to prepare the curry paste instead of using a blender like me, because I do not own one. Omit the 2 tbsp of water of you are using a mortar and pestle. If you do try this recipe, let me know what you think.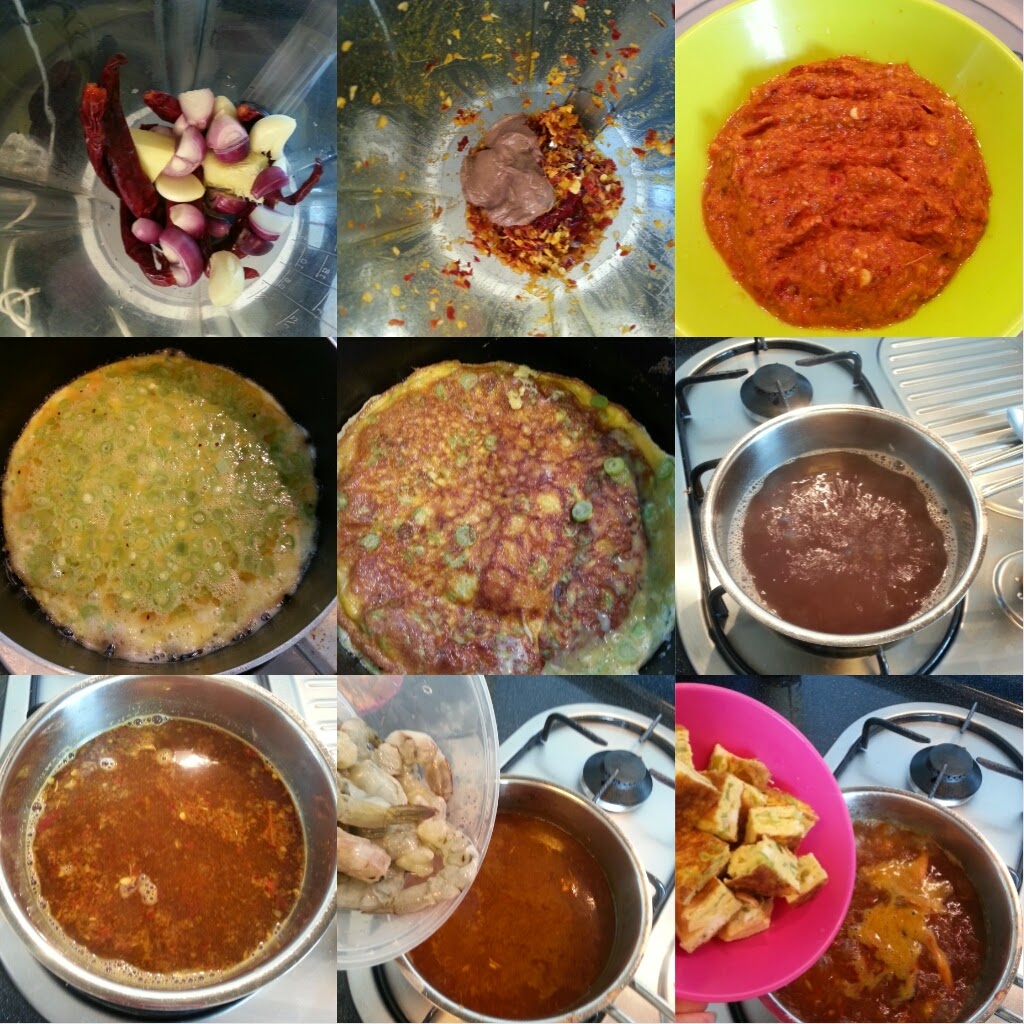 Ingredients (Serves 3-4) adapted from She Shimmers
Curry paste
4 shallots
3 cloves garlic
10 dried chilli, soaked in hot water to rehydrate
1 tbsp sprimp paste
1 inch thumb ginger
2 tsp turmeric powder
2 tbsp water
Add everything except shrimp paste into blender and blend.
When it is almost combined, add shrimp paste, and blend.
You will need to scrape the sides of the blender a few times.
Remove paste and set aside.
Omelette
2 eggs
1/2 cup thinly chopped french beans
1 tsp soy sauce
dash of white pepper
1 tbsp oil
Beat eggs, soy sauce, french beans, and pepper together.
In a non-stick sauce pan, heat pan on med with oil.
I used a sauce pan so that the omelette is thick when cut.
Add egg mixture, cover for 1-2 mins, flip and cook the other side for 1 min or 2.
Gaeng Som
12 shrimps, peeled and cleaned
1 cup of cubed omelette
2 cups chicken stock
3 tbsp of prepared curry paste
1 tbsp palm sugar
2 tbsp fish sauce
juice of 1 lime
1/4 cup tamarind juice
Chopped parsley for garnishing
Bring chicken stock to boil.
Add curry paste, palm sugar, fish sauce, tamarind juice.
Add shirmp and cook for a min.
Add omelette, and juice of lime.
Remove from heat, and garnish.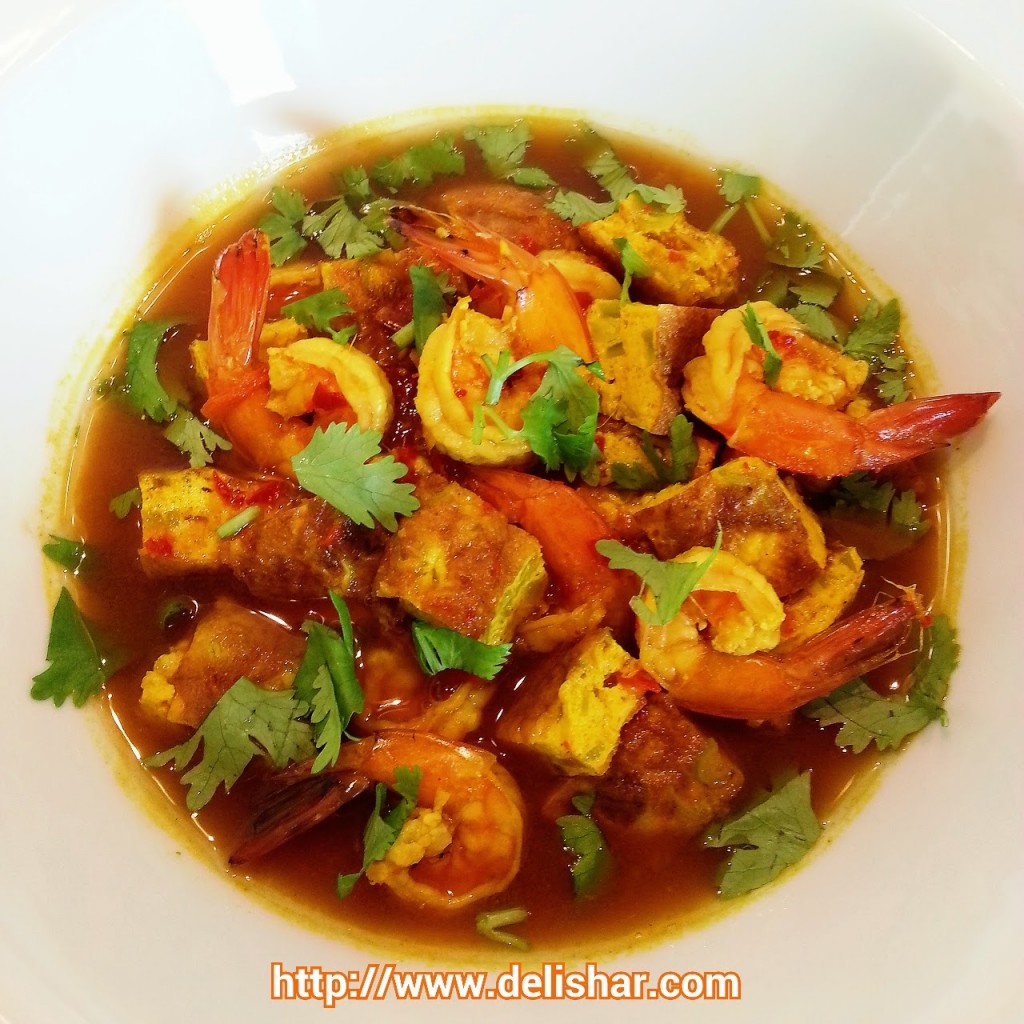 Serve with steamed rice.
I hope you will like it as much as I did!
Bon appetit!!