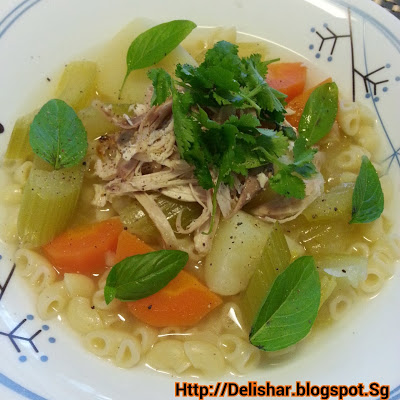 Who doesn't like a super simple comfort food?! My girl and hubby was feeling a little under the weather after we came back from our trip, so the hubs requested for me to make him this. However, this soup has a little Asian twist to it. Ginger and lemongrass was added for the extra soothing benefits, and it was a bonus that it added so much more flavour to the broth. Ginger has anti-inflammatory properties, can help sooth tummy problems, relieves nausea, and fight sore throat & nose congestion. What's more it improves the absorption and assimilation of essential nutrients in the body. Lemongrass contains anti-microbial and anti-bacterial, can help relieve aches and pains, being down fever, promotes better digestion, and has cancer-fighting anti oxidant. The fresh basil gives the whole meal an extra oomph~! Basil also has great health benefits, as it is an anti-inflammatory, rich in anti-oxidant, and the best part is that it has anti-aging properties! It was an instant hit, and hubs wants me to put this on a weekly rotating menu. Great meal to serve on a cold weather day too!
Ingredients (Serves 4)
1 med yellow onion, roots removed and halved
2-3 stalks celery, sliced
2 med carrot, cut to 1 inch pieces
2 russet potatoes, cut to 1.5 inch pieces
1 inch thumb old ginger, sliced
3 cloves garlic
2 lemongrass, bruised
5 cups chicken stock
1 bay leaf
4 servings of macaroni, cooked in salted water till al dente
1 cup shredded rotisserie chicken
handful of basil leaves
Parsley for garnishing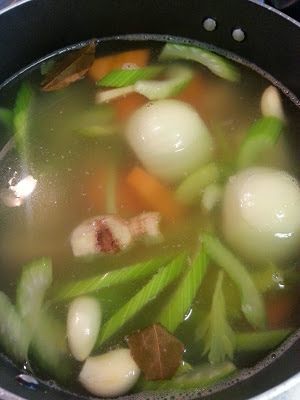 Bring chicken stock to a boil.
Add celery, onion, potato, carrot, garlic, bay leaf, lemongrass, and ginger.
Bring to boil.
Lower heat, allow to simmer for 25 mins or until potatoes and carrot are tender and can be easily pierce through by a fork.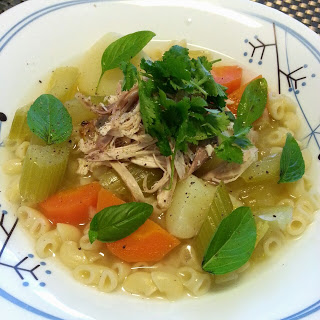 Remove garlic, onion, bay leaf, and lemongrass.
Serve with cooked macaroni, topped with 1/4 cup shredded chicken, and a little black pepper.
Garnish with fresh basil, and parsley.
Bon appetit!!