Nasi Lemak or Coconut milk rice is a commonly found popular breakfast and/or late night supper meal. It's roots originated from the Malay cuisine, but is also very popular within the Chinese community. They can be easily differentiated by the accompanying side dishes that completes the meal.
Whenever I visit a Malay hawker for my Nasi Lemak, my choices are usually limited to 2 or 3. Coconut rice, thin triangular slices of fried egg or hard boiled egg, sambal chilli, and a choice of meat (fried chicken, fried fish, sambal anchovies with peanut, and sometimes curry/rendang beef/chicken/mutton). Some stores wrap them up or serve you on banana leaf too.
The Chinese hawkers would have a vary of choices, very much like the mixed vegetable rice style where you pick out the side dishes. Dishes are usually deep fried (chicken, luncheon meat, hot dog, fish cake, otah etc…), with 2 to 3 types of stir-fried vegetables (cabbage, and long beans are the usual suspects). You order the rice, then pick out the dishes you want.
(Picture from: eggtoast)
This recipe gravitates towards the Chinese version of Nasi Lemak, and is a tad bit healthier as I used low-fat coconut milk instead of the full fat ones. My husband loves his Nasi Lemak but can be very picky about the texture of the rice, and fried egg. He commented that many of the hawker bought fried eggs turned out rubbery, or over cooked, which I tend to agree. And the rice are clumpy perhaps due to the quality of the rice, which makes a big difference in the finish product. I have yet to try to make my own Sambal or Sambal anchovies as the store bought seems much more convenient and cost efficient. I use Lee Wee Brothers's nasi lemak chilli, and their anchovies with peanut. I'm sure you can get nasi lemak chilli and anchovies pretty easily from Asian supermarkets if you do not live in Asia. Enough of the intro already, lets get cooking!
Ingredients (Serves 3-4)
Coconut Rice
2 cups long grain rice
1 pack(200ml) Low fat coconut milk
Water
1 pandan leaf (screw pine leaf), tie into a knot
pinch of salt
6 thin slices of old ginger
2 tbsp shallot, finely minced
Stir-fried Cabbage
5 cups cabbage, roughly chopped
1/2 cup carrot, shredded
2 cloves garlic, minced
1/4 cup chicken stock
salt and white pepper to taste
1 tbsp canola oil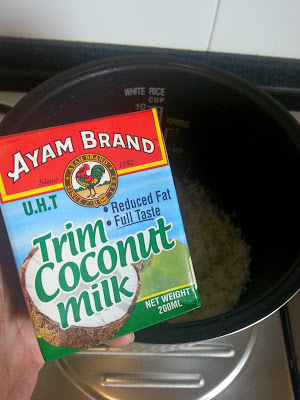 Wash rice, and add coconut milk.
Add salt, shallot, and ginger.
Top up with enough water to the marking indicated in your rice cooker for 2 cups of rice.
Put in the pandan leaf, and cook as per normal.
This is the brand of concentrated stock I like to use as it is low sodium, fat-free, and MSG-free.
All I need to do is add enough of the concentrated sauce and dissolve it in water.
To make the cabbage, heat oil on med high heat.
Saute garlic until fragrant.
Add the cabbage, and the chicken stock.
Then add the shredded carrot on top.
Cover and let it cook for 2 mins.
Uncover and stir-fry until stock is almost gone and vegetable tender.
Season with salt and white pepper to taste.
When the rice is ready, fish out the ginger slices, pandan leaf, and discard.
Fluff up the rice.
Serve with sambal anchovies with peanuts, a sunny side up fried egg, cabbage, pan-fried fish cake (or any other dish you fancy), and some sweet sambal chilli.
Bon appetit!!