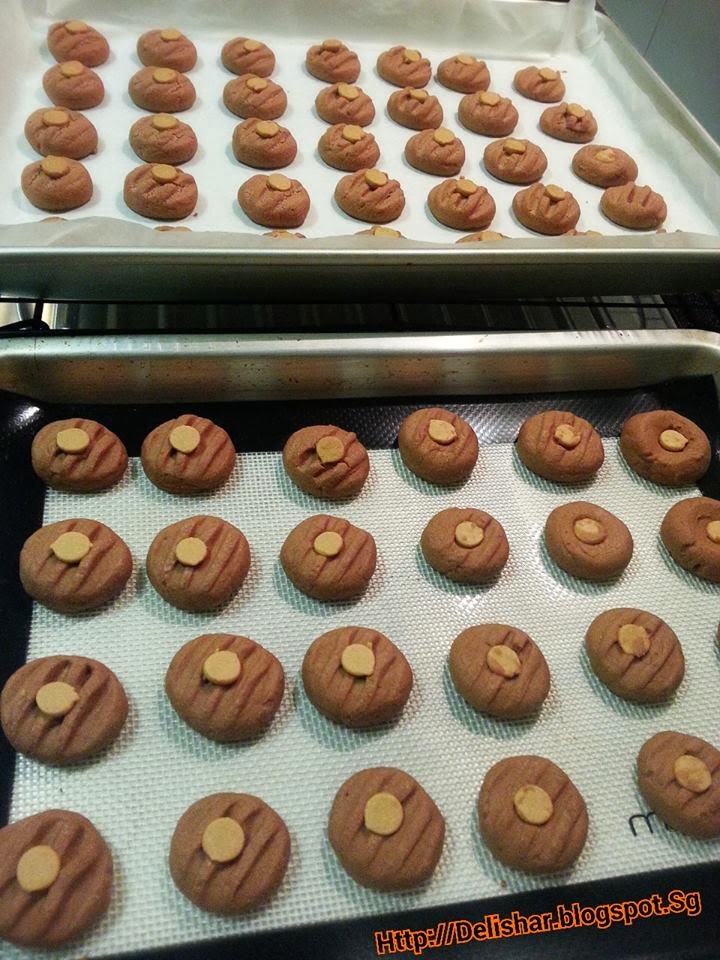 Peanut butter cup in the form of a cookie that literally just dissolve in your mouth! I wanted to clear the little bit of peanut butter chips I have in the fridge and was curious if using Top Flour will give me an even more delicate cookie, since it's often used as an ingredient for melt-in-mouth pastries and tarts. From what I understand, top flour has an even finer consistency than cake flour. If you have neither, you can also use plain flour. Perhaps it may not be as 'melty'… Try processing the flour in a food processor for a couple of minutes. There is no need to add salt as the peanut butter chips gives the salty balance that the cookie needs.
Ingredients (makes about 60 cookies)
125g unsalted butter, softened (I used SCS)
40g icing sugar, sieved
65g top flour
125g potato starch
2 tbsp unsweetened cocoa powder (Please try to use a good Dutch processed one)
1/8 cup Reese's peanut butter chips
Preheat oven to 170C.
Sieve top flour, potato starch, and cocoa powder together.
Using an electric mixer, cream icing sugar and butter together until light and fluffy.
Slowly add in flour mixture.
Mix until combined.
Roll dough into 2-3 cm balls and place on baking sheet lined with baking paper.
Dip fork into water to prevent sticking, and using the fork, press down cookie till about 1/4 inch thick.
Top each cookie dough with a peanut butter chip.
Bake for 15 mins on 170C.
Let cool for 5 mins before transferring to baking rack to cool completely before storing.
Bon appetit!!
I will be submitting this post to Best Recipes for Everyone Jan & Feb 2015 Event Theme: My Homemade Cookies organized by Fion of
XuanHom's Mom
and co-hosted by me,
Victoria Bakes