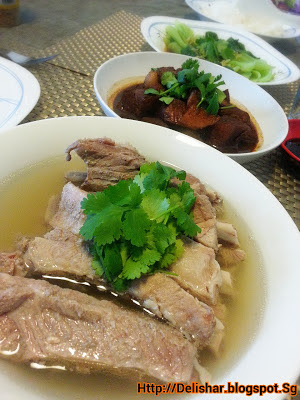 I don't know about you but I very much prefer the peppery garlicy version of BKT. There is something very comforting about drinking this soup… My grandma makes the best peppery soup base for her pig tripe soup and every time I have a bowl of peppery soup, it brings back a nice familiar childhood feeling. I personally doesn't enjoy eating innards but I do like the soup she made. My grandma is still around, but she doesn't make this soup anymore. I'm sure she would if we request for it, but it's a lot of work for her I'm sure now that she isn't in the best of health. Maybe it's time for me to be bringing her my version of a peppery pork rib soup. 🙂
My husband had his first BKT experience when I brought him to the famous one at Balastier. Needless to say, he fell in love with it almost instantly. Faster and harder than he fell for me. :/ It's quite amazing how something so yummy is actually so simple to make. 3 ingredients is all you need, and a trusty slow cooker to do the cooking for you. Just dump everything in, and go run your errands. Come home to a wonderful smelling home with ribs that falls off the bone, and meat that just melts in your mouth. Then wash everything down with the rich, peppery broth! Heavenly I tell you, just heavenly.
,
Ingredients (Serves 2-3)
8 prime ribs
1 pack of peppery BKT spice mix
3 whole garlic
Salt to taste
1.5L water
Place all the ingredients in slow cooker.
Season with salt to taste. I added about 1/2 tsp.
Cook on high for 3 hours, or low for 8 hours.
Sieve out oil before serving.
Bon appetit!!