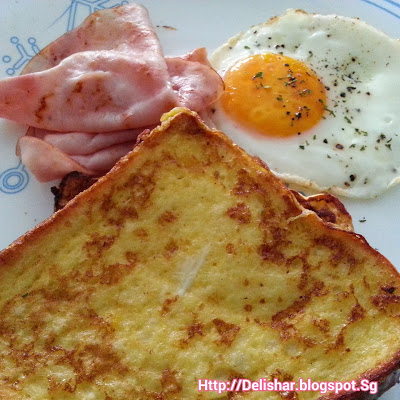 French toast needs no introduction… It's a pretty straight forward and very common meal. Serve it with sliced ham and a sunny side up for a complete breakfast! 🙂
Ingredients (Makes 5 toasts)
2 eggs, beaten
1 tbsp white sugar
3 tbsp milk
1 tsp cinnamon powder
5 slices of white bread
Butter for pan frying
Mix milk, sugar, cinnamon, and eggs in a shallow bowl.
Heat a little butter on med high heat in a non-stick pan.
Dip one side of the bread in egg mixture holding it for a sec, flip and do the same on the other side.
Pan fry it for a min or 2 until it is golden brown.
Continue until all the egg mixture is used up.
Serve with maple syrup or honey.
Bon appetit!!