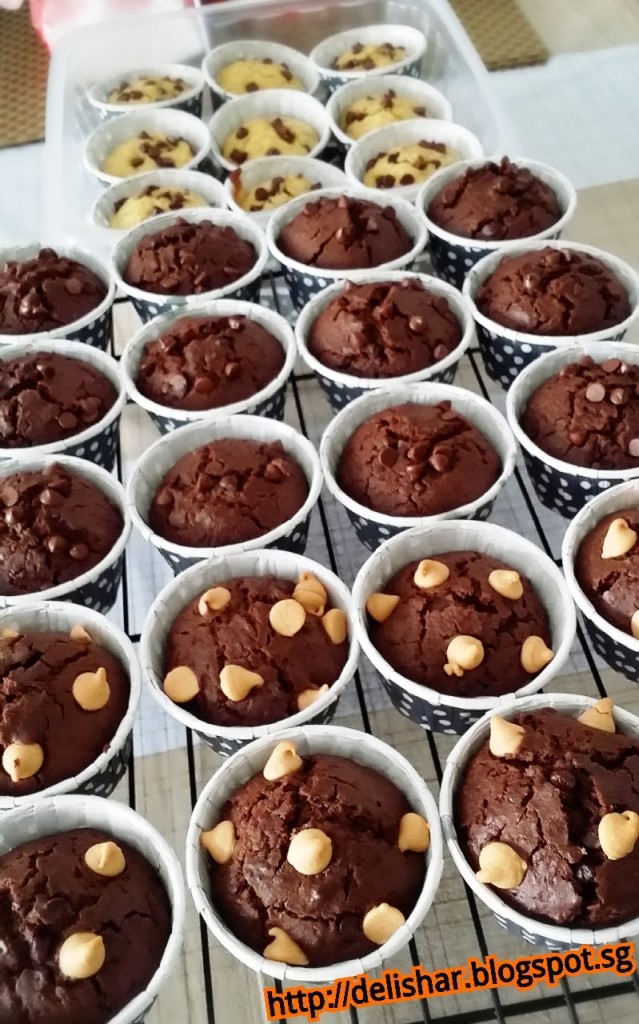 I made 2 batches of these Double Choc Muffins for V-day to give out to teachers and students at school. I thought it would be nice to spread a little love, and there is no better way than the love of food. Especially when they are home-made and from the heart. The reviews were really good and the people who ate it, liked it. It was a pretty straight forward recipe, I just topped some with peanut butter chips since I have half a packet laying in my fridge screaming to be used. I have to say chocolate and peanut butter does compliment each other very well. One thing to remember when making muffins is not to over mix, and we all have the tendency to do so. Just mix in the wet and dry until JUST combined, uniformed batter that is visibly lumpy with minimal mixing, or you will get a dense muffin.
Ingredients (Makes about 15)
2 cups all purpose flour
1 tbsp baking powder
3/4 cup caster sugar
3/4 cup unsweetened Dutch processed cocoa powder
1/2 tsp salt
1 1/4 cup milk
2 large eggs, lightly beaten
1/2 cup melted butter
1 tsp vanilla extract
1 cup semi sweet mini chocolate chips
1/8 cup semi sweet mini chocolate chips for topping
1/8 cup peanut butter chips for topping
Preheat oven to 175C.
Add flour, cocoa powder, baking powder, sugar, and salt in a large bowl.
Whisk until combined.
In another bowl combine milk, eggs, butter, and vanilla, mix till combined.
Add the wet ingredients into the dry ingredients.
Mix till just combined, just about 10 seconds.
Fold in 1 cup chocolate chips.
Fill muffin cups to about 2/3 to 3/4 full and top with chocolate chips & peanut butter chips.
Bake for 18-20 mins or until skewer comes out clean.
If you are making mini versions, then baking time needs to be adjusted. I baked mine for about 12-15 mins.
Let cool for 5 mins then remove from pan to cool on wire rack.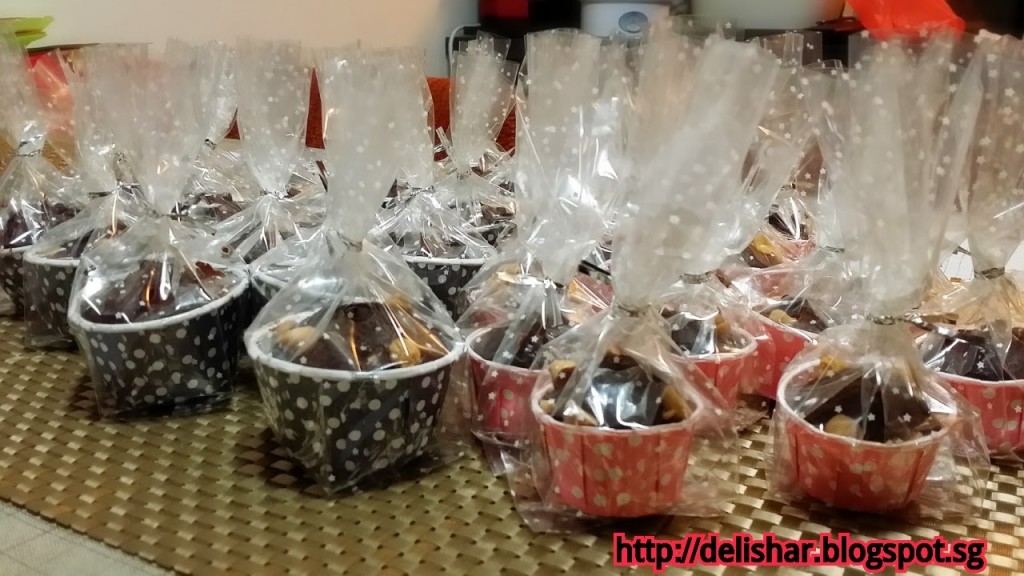 Bon appetit!!