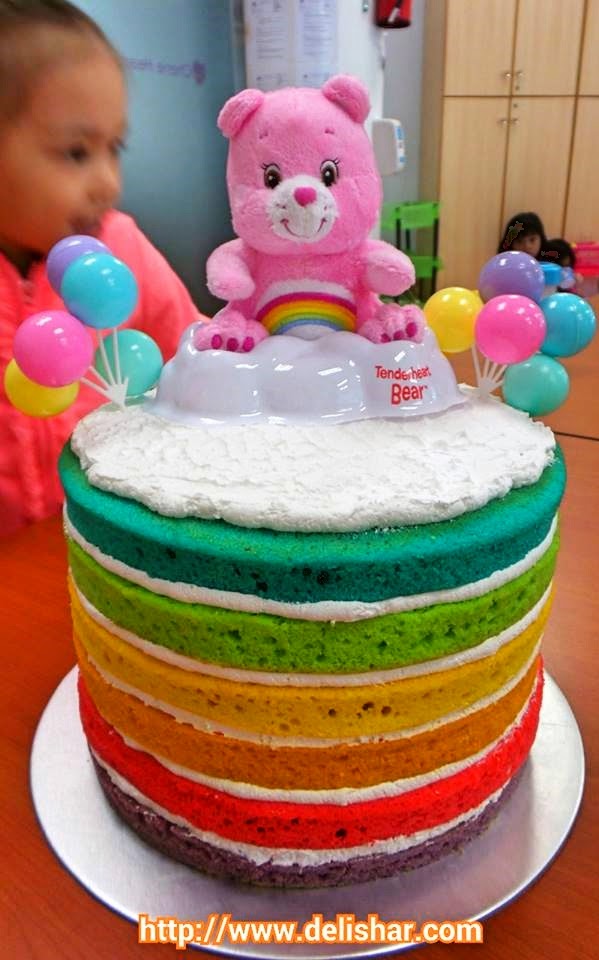 My youngest daughter just celebrated her 3rd birthday a month ago. It was a bitter-sweet occasion for me. On one hand, she is growing up happy and healthy, but on the other, she is no longer my little baby who only wants me to hold her all day and night. I'm probably going through 'Last Baby Syndrome'.
When I asked Peighton what kind of cake she wants for her birthday, she replied, "Ermmm…May I please, I want a bear bear rainbow cake!". In my head, I started planning… First quarter of the year is one of the busiest time for me at work. She will be celebrating her birthday on Tuesday at her childcare centre. On top of planning for that, I have to plan for one more cake the weekend before her birthday to celebrate with her lovely playmates living in our condo estate! I was pretty stressed up and overwhelmed because I had quite a lot of guidance planning and stuff I needed to do for work.
The collaboration with Naked Cakes was a true Godsend! The head baker, Chef Jane bakes these cakes from scratch and her baking background is nothing short of impressive. She graduated from one of the most prestigious culinary school, Le Cordon Bleu in Sydney. And during her time there, worked with many big names of the culinary world. Just last year, Chef Jane won the SCS competition with her amazing baking skills.
Naked Cakes sells everything you need to decorate your own cakes, from ganache, coloured fresh creams, toppers, sprinkles to fondants. They even have cake boxes, knives, and candles! You name it they probably have it! They bake the cakes for you, deliver it, and all you need to do is to decorate it. They even provide naked cupcakes and cookie doughs too! I love it that they have low sugar, dairy-free, and gluten-free options.
The best part of Naked Cakes is the after service they provide. There is a FOC service hotline to help you with your decorating / troubleshooting questions!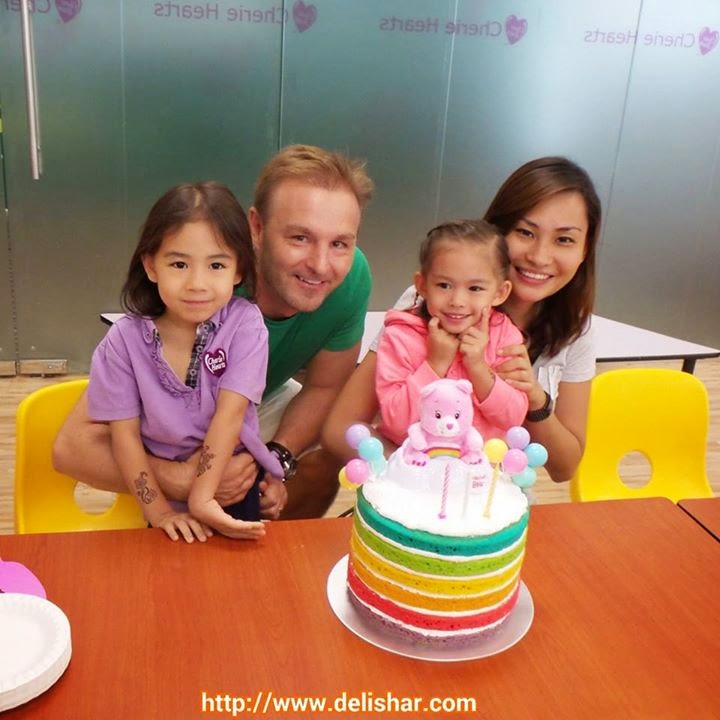 Naked Cakes came to my rescue by sending me a 10 inch rainbow cake to work with! My stress instantly vanished! LOL! I don't have to buy 6 x 10inch pans to bake my rainbow layers! And imaging the prep work and wash up! Phew!
I always thought that it is such a waste covering up a beautiful rainbow cake with frosting, so I bear it all! And that made decorating the cake a breeze! I'll show you how to build build this rainbow cake below.
Having tasted Jane's bakes before, I knew whatever she has on the menu is going to be delicious! And I was right, because kids don't lie when it comes to food. The rainbow cake was deliciously moist and not overly sweet! The children at Peighton's childcare centre kept coming back for 2nd or 3rd servings! Even the adults find it hard to say no to a 2nd piece! This is one of the best cakes I've eaten, to be honest.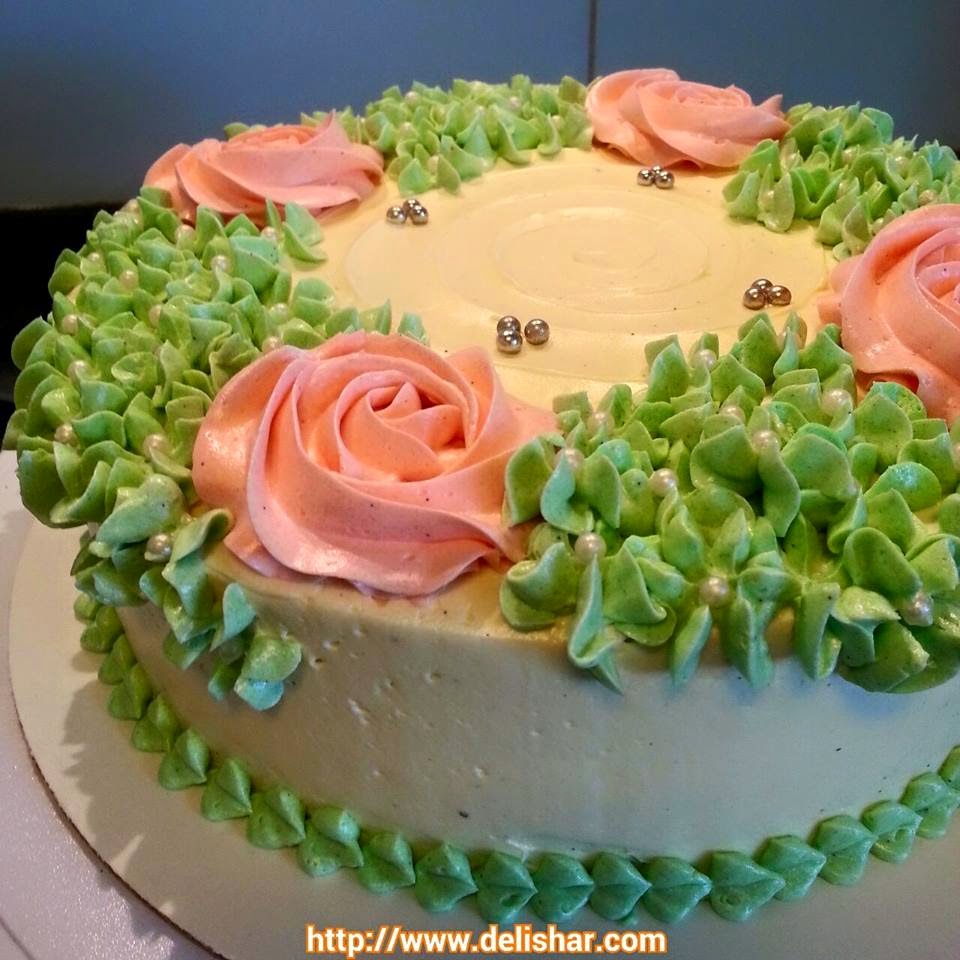 I got another premium chocolate cake from Naked Cakes and decorated it with Swiss Meringue Buttercream for her mini celebration with her playmates at our estate. The chocolate cake was dense, moist, decadent, rich, and very very delicious! The husband didn't want to share the left over, and kept it all to himself. Definitely packed full of chocolate in each bite! The texture of the cake reminds me of chocolate mud cake. Here is the recipe for SMBC used to decorate this cake. You can use this recipe to frost the cakes/cupcakes or topping cream, like I did for the rainbow cake.
Swiss Meringue Buttercream
6 large egg whites
1 1/2 cups sugar
454g unsalted butter, slightly firm (when pinched it should sink in but still be able to hold it's shape) I used Anchor brand
1/2 tsp salt
1 tsp vanilla extract
Place sugar and egg whites in a large heat proof bowl.
Whisk continuously over a double boiler (saucepan of simmering water, your bowl should not touch the water!) Make sure you whisk continuously, I would suggest a hand mixer. But if you are like me, and like to work (hard) for your dessert, hand whisk it.
Whisk and whisk until the mixture comes to a temperature of 160F or 70C.
Remove from heat and move mixture to stand mixer.
Whisk until mixture cools down, it can take about 10 minutes. This is when I took my butter out from the fridge and cut them to about 1 inch by 1 inch cubes.
When meringue is cooled, glossy, and formed firm peaks.
Change to paddle attachment, add in butter cube, one by one on medium speed, allowing butter to be combined before adding another.
Then add your salt and vanilla extract, beat until combined.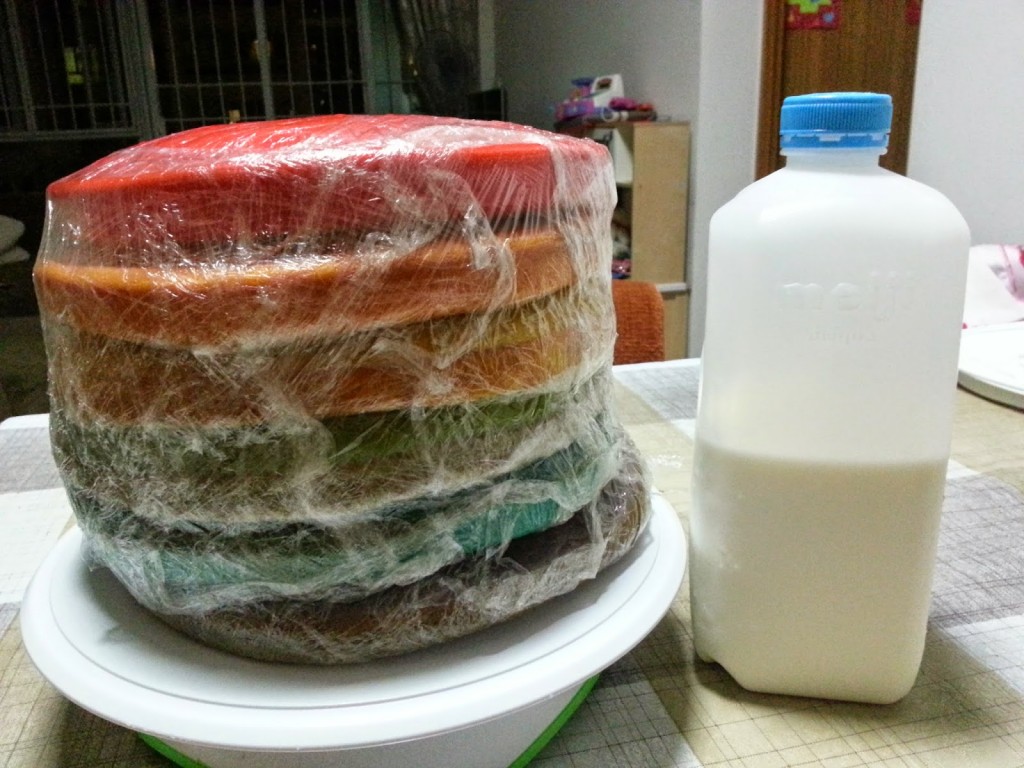 Although the cakes were already baked by Naked Cakes, there are still some work to be done. The cakes comes cling wrapped, and unleveled. So I have to level off the top of the cake, to have a straight and flat top.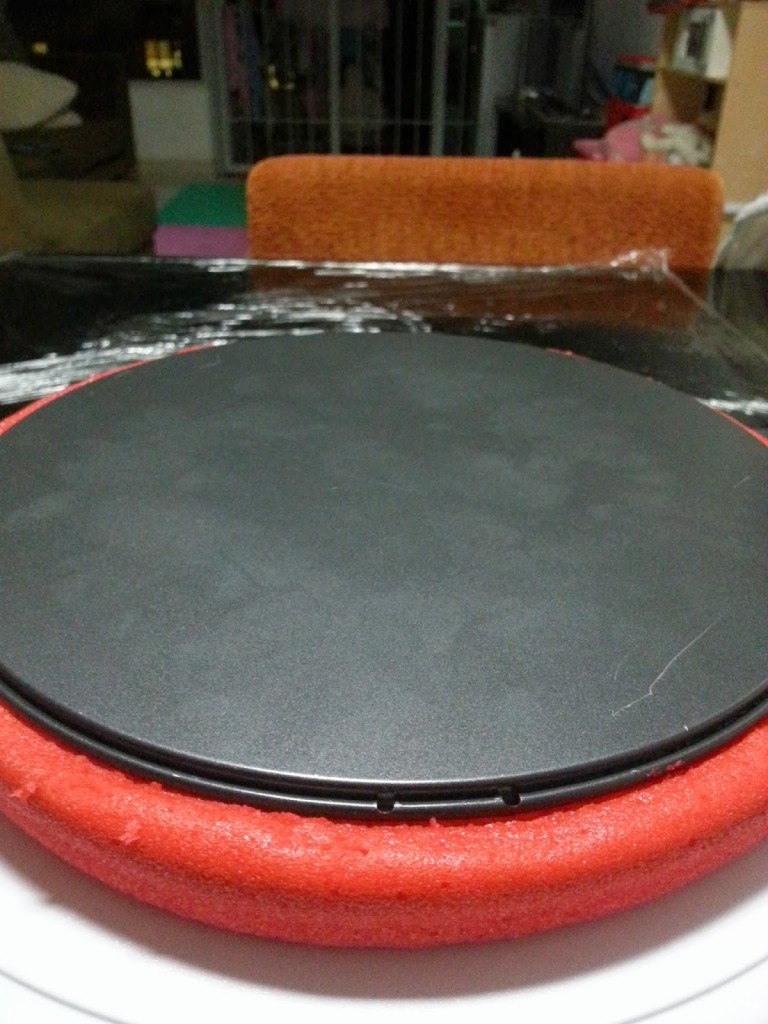 Next I have to trim the sides of the cake as I'm going to be exposing them, we don't want any uneven browned bits or shape do we? There is no need to trim the sides if you are covering the sides of the cake with frosting. Here, I improvised by using the base of my 9 inch cake pan and place it on top of the cake as a guide.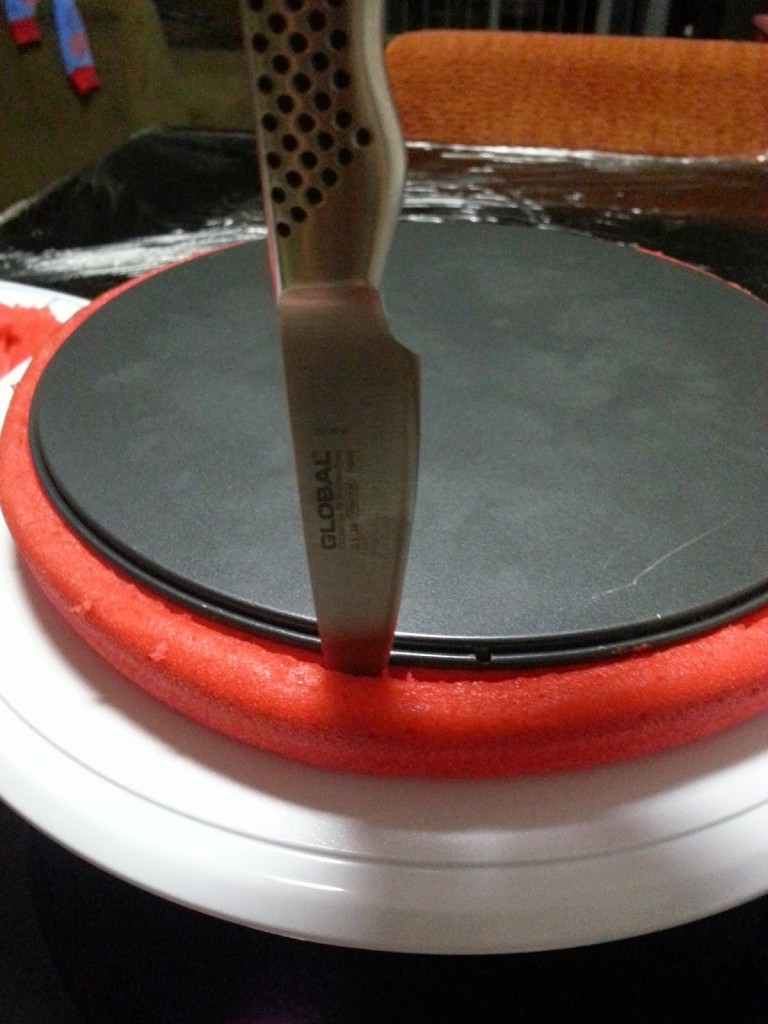 Then using a sharp knive to go around trimming the cake, using the tin base as a guide.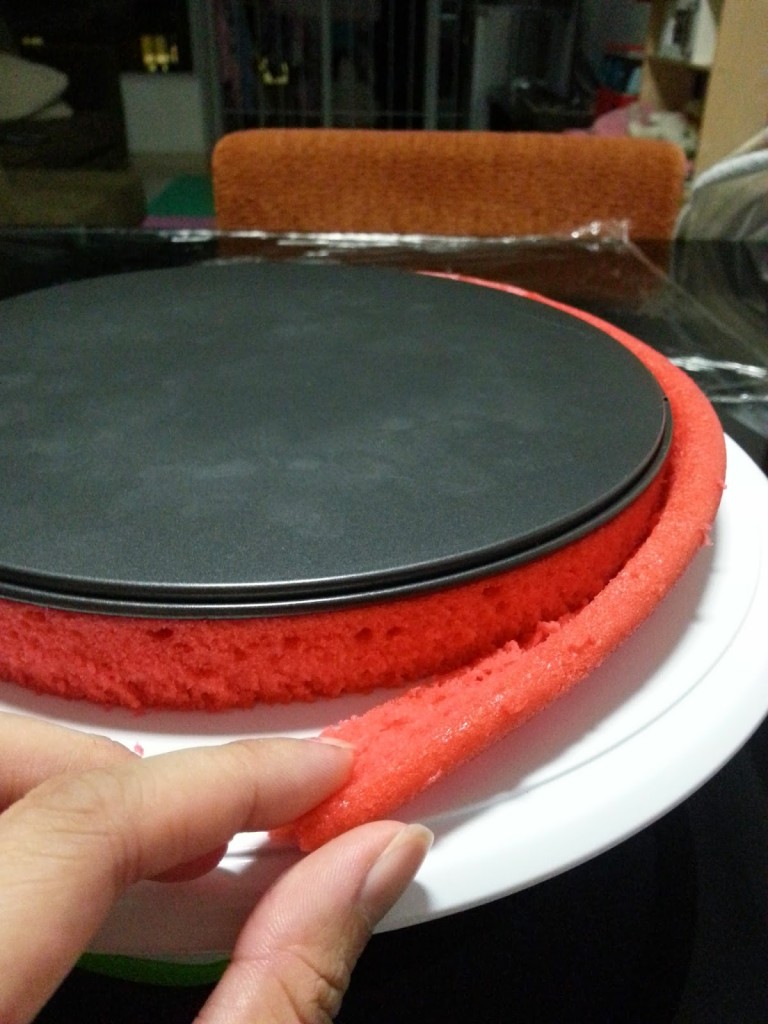 Then carefully removed the trimmed portion. You can save those bits to make cake pops!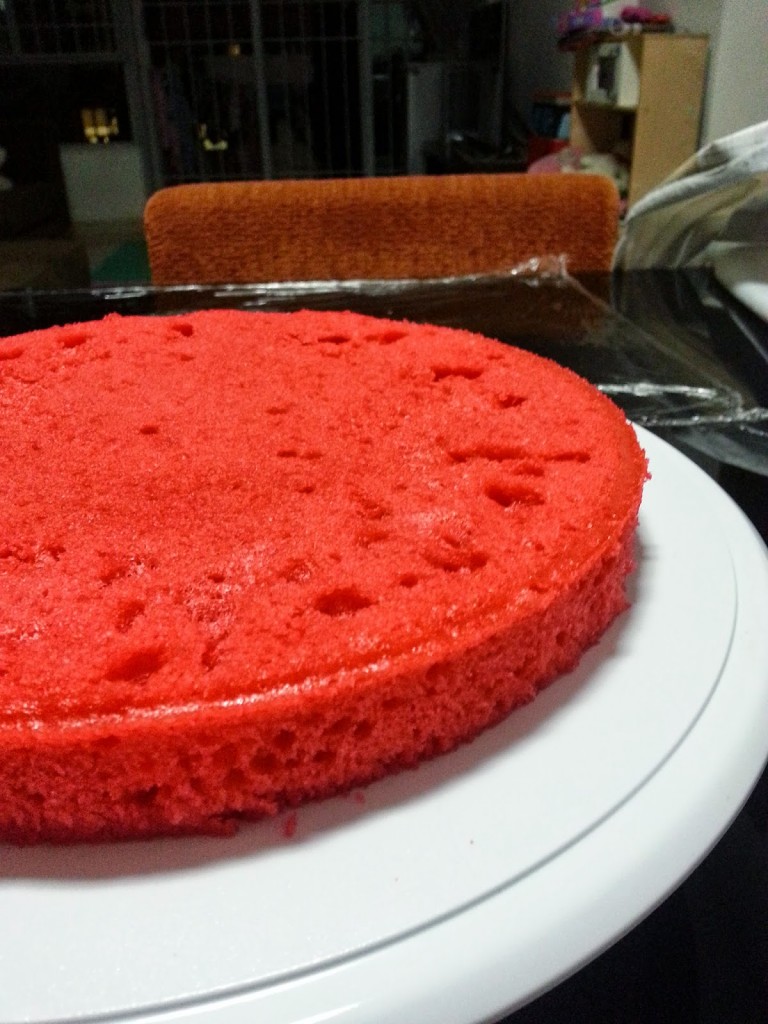 One layer done! 5 more to go!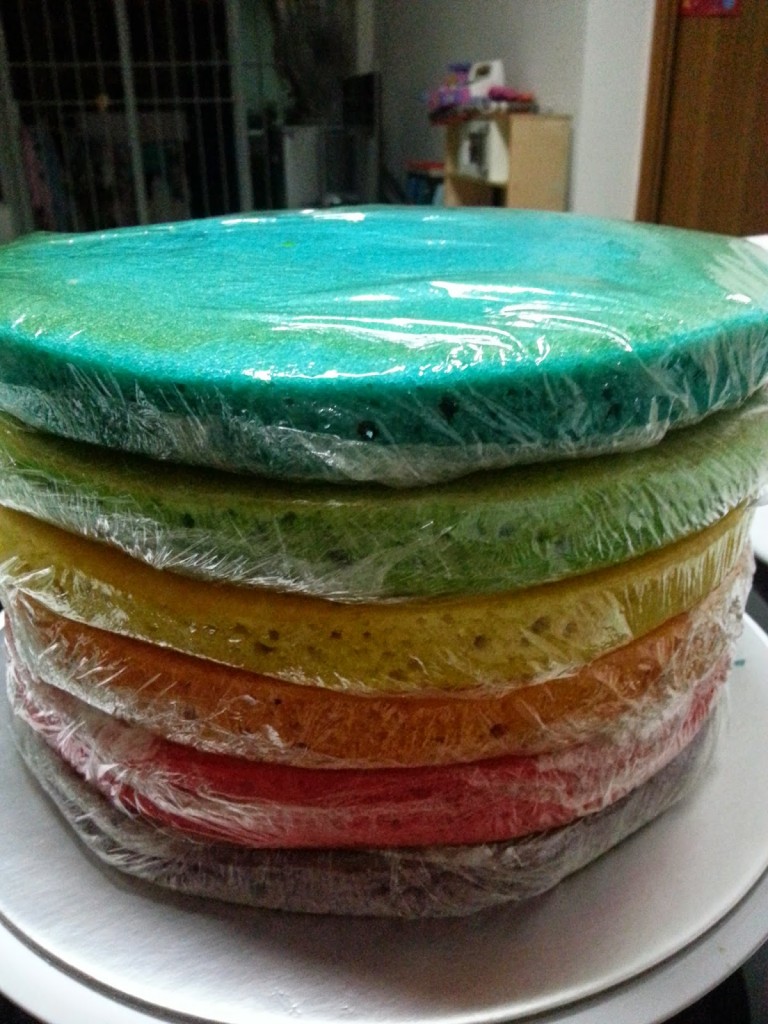 When you are done with each layer, wrap it up in cling wrap securely to so that the cake will not dry up. Skip this step if you are frosting and serving the cake the same day. I had to level and trim the cake the day before as I do not have time to do so the next day.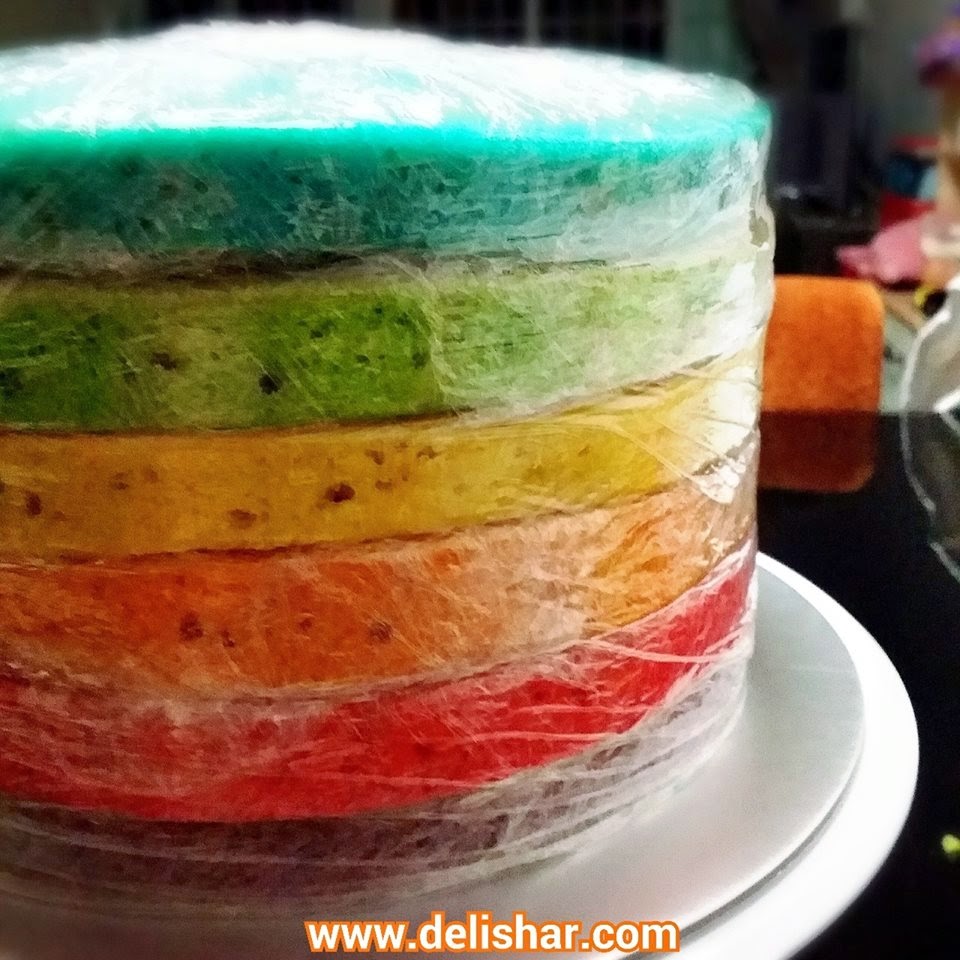 I stacked it up, then wrap it up all together with cling wrap again. And kept it in the fridge to chill.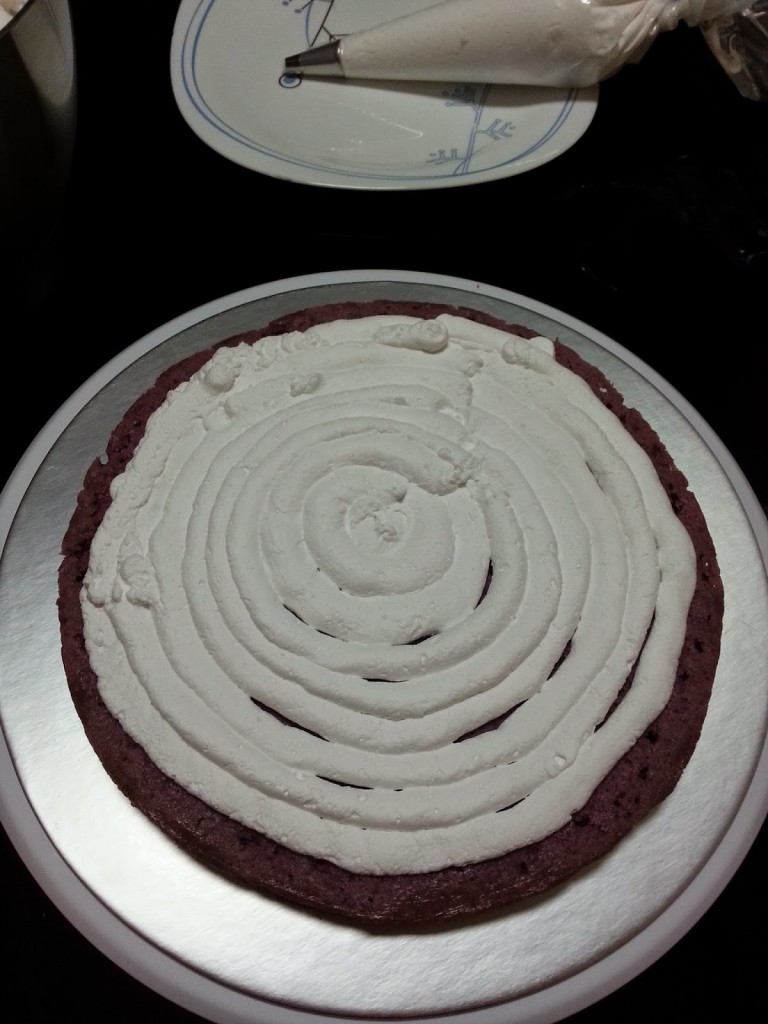 The next day, I filled each layer with fresh cream using a round nozzle to distribute the icing, leaving at least 1/2 inch empty on the side.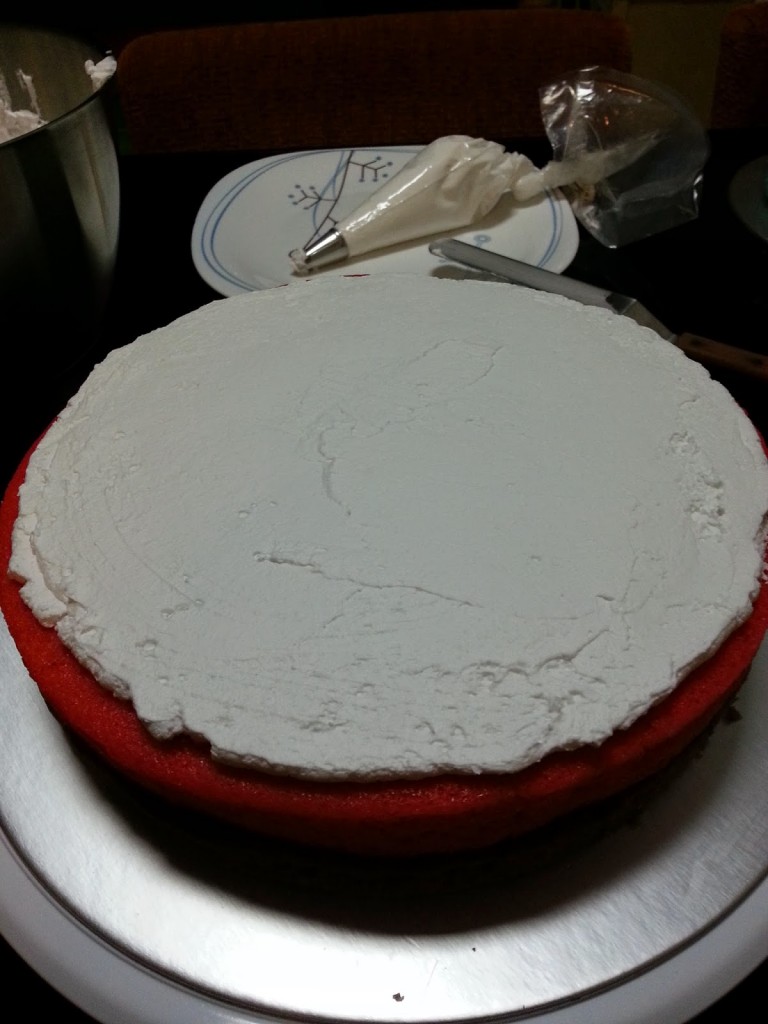 Then smooth it with a off set spatula. Leaving about 1cm without filling on the circumference of the cake. I will explain more later.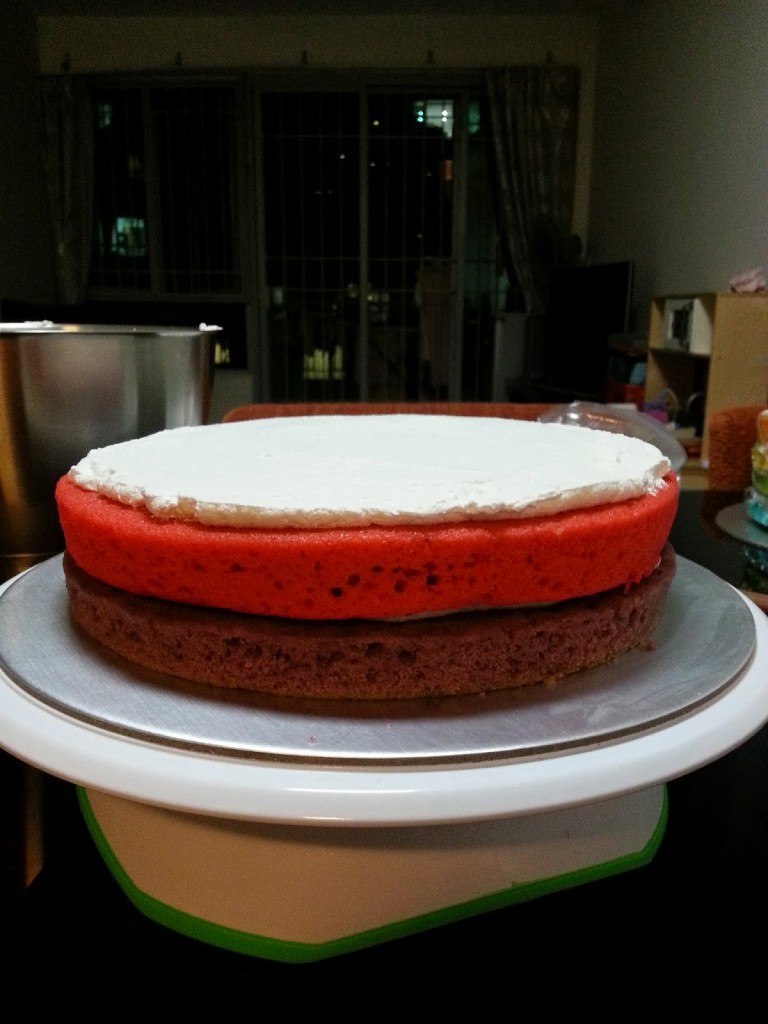 Continued to fill and built the layers of the cake.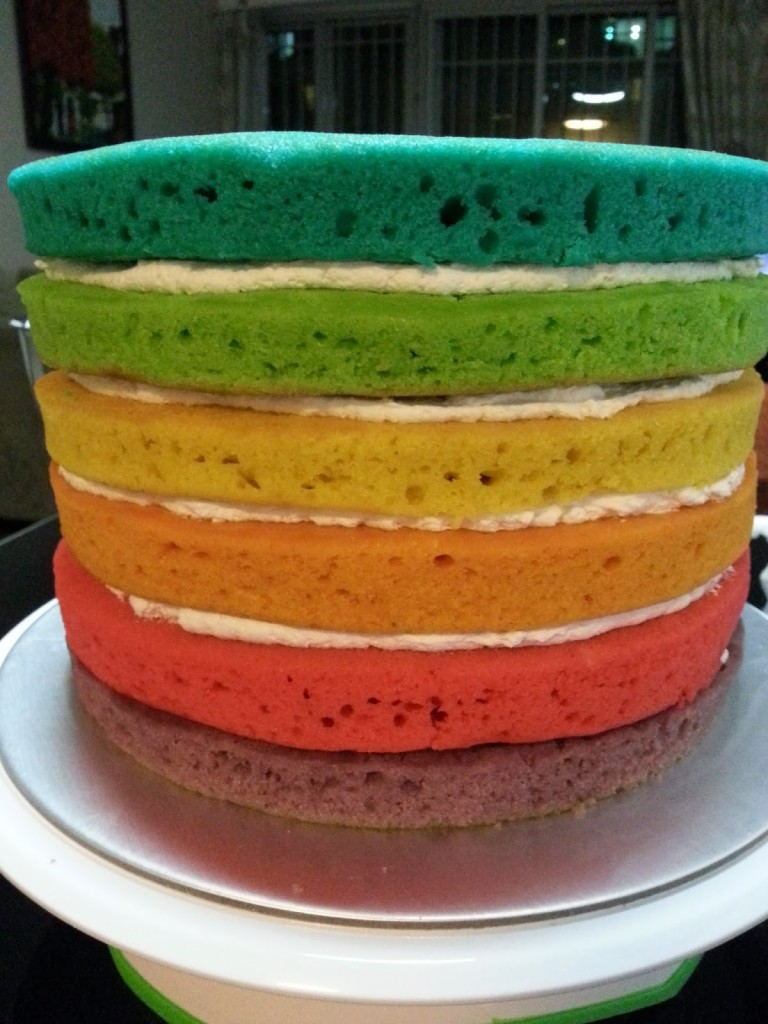 As you can see there are gaps in between layers, if the layers were filled to the brim then you will have to do a lot of cleaning up if the cream are pushed out to the sides of the cake when stacking.
To fill the gaps, I used a smaller round nozzle to fit into the gaps and filled the gaps with frosting.
Then I frosted the top and used an offset spatula to create some texture to make it look like clouds. You can use the back of a spoon too. Then I added the cake toppers when I un-boxed the cake at Peighton's childcare centre. The happiness on her face and her gorgeous smile melted my heart! Thank you Naked Cake for making this possible!
Naked Cakes
E-store: http://nakedcakes.sg/
Email: Cakes@nakedcakes.sg
Contact number: 9726-7922
FB Page: Naked-Cakes-Singapore
Disclaimer: The opinions voiced in this post was entirely my own. Naked Cakes sponsored Delishar with the cakes for review. No monetary compensation was given.