So work has been pretty stressful lately, as I was away for a while, and I have a backlog of work on top of the ones that I need to handle as I go in to work. Not that I'm complaining because I love what I do, and most of all I care for my students. I think they are an awesome bunch of adolescents!
But when things gets a little stressful, I find solitude in my kitchen. Turn up the heat, mess up my counter top, product in my oven, and cleaning. It is my kind of therapy. I see baking as a proper therapy, with research and recipe as the opening of a session. The preparation as the process, and finally cleaning as a closing. Then majority of the time, I'm able to reap the rewards with the finished baked goods. I feel relaxed, and I feel good. Because, in the process of baking, I'm able to disconnect and fully be mindful of the process. Even simple things like folding in the flour till combined. Seeing how the whites of the flour slowly incorporate itself and disappear into the batter was soothing, and an amazing sight when I pay attention to it. Sometimes, I'll stand by the oven and watch the cake rise and sink a little as it's done. While I take in and notice the changes in smell at every stage of baking.
I can see why a lot of people said that baking is therapeutic. Try it if you have not. Use a simple recipe like this one, and practise mindfulness.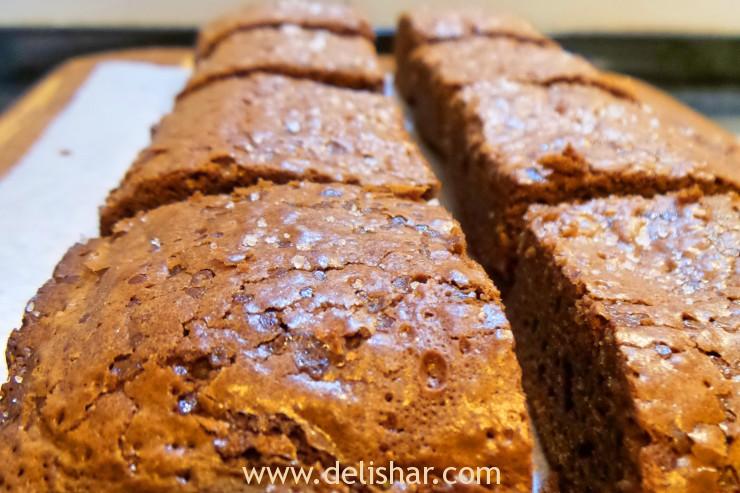 I simply love the combination of sweet and salty. The sea salt in this bake makes the brownie different. With each bite, that touch of saltiness balances the sweetness in the brownie, and makes you wanting more. The teachers enjoyed the brownies and commented that it has a deliciously unique flavour. This brownie is easy to make and does not require a mixer. It produced a moist, fudgy center, with a crackling crust on top. It was hard for me to stop at one, so I cut up each squares into 4 in hopes to outsmart myself! LOL!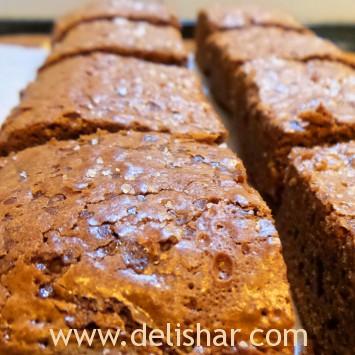 Sea Salt Chocolate Brownie
Makes 9 large brownies
Ingredients
345

g

semisweet chocolate chips

12oz

170

g

unsalted butter

cut into pieces (1 1/2 stick)

170

g

granulated sugar

3/4 cups

3

large eggs

1

teaspoon

vanilla extract or vanilla bean paste

94

g

all-purpose

flour 3/4 cup

sea salt flakes to sprinkle on top
Instructions
Preheat the oven to 175*C.

Line an 8x8-inch baking pan with foil.

Spray with cooking spray or grease foil.

Combine the chocolate chips and butter into a large microwave safe bowl.

Heat in the microwave for 1 minute then stir.

Continue heating in 30-second bursts.

Stirring between each burst, until mixture is melted and smooth.

Please be careful not to scorch it.

Let cool slightly.

In a large mixing bowl, beat eggs and sugar until light and thick.

Add in the vanilla extract, and beat.

Stir in the cooled chocolate mixture with a rubber spatula.

Then gently fold in flour until combined.

Pour the batter into the prepared baking pan.

Sprinkle a little sea salt flakes on the top of the batter.

Do not over salt it!

Bake 35 minutes or until skewers has a few moist crumbs when inserted.

Do not over-bake.

Let cool to room temperature before slicing.

Sprinkle a touch more sea salt of desired.