Made this 3 weeks ago to celebrate the husband's birthday. I actually got my heart set on making him a chocolate ombre cake with salted caramel frosting. Whenever I ask the husband what his preference will be, his answer will always be, "Everything is fine :)". So I didn't bother asking him what he wants this birthday and decided on the chocolate salted caramel cake. I mean, who doesn't like chocolate AND salted caramel right?!
However, just 2 days before his birthday celebration, I casually asked if he would like me to bake him a specific cake. This time round, he said yes! He wanted a carrot cake. That changed the plan altogether! And I wasn't prepared for the change…plus I couldn't say no. So I started working, and searching for a recipe that will yield the type cake I know he will like.
The next day I went out to get all the ingredients, and mentally go through the whole baking and decorating process. The plan was to keep the cake simple, create swirls with my off-set spatula, then top the sides of the cake with chopped walnuts. So on the day of the celebration, I baked the cake in the morning, frosted it, and decorated it as planned.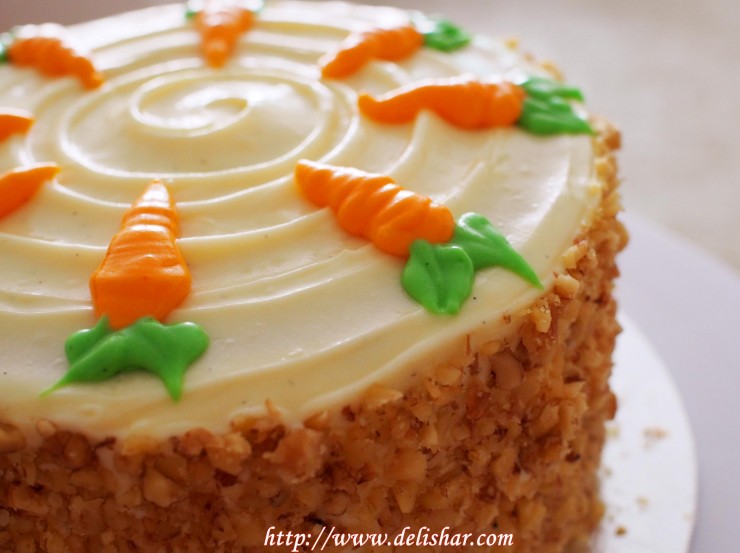 As I was packing the cake in the box for storage, my youngest daughter came up to me. She asked what cake did I baked for daddy. I answered that daddy wanted a carrot cake, so I baked one for him. Peighton gave me a look with a little disappointment, then said,"But mom…A carrot cake must have carrots on top…". That face and voice melted my heart! I told her that I'll see what I can do. Of course I'm going to put carrots on top!
As the girls took their nap, I started working on the 'carrots'. Coloured some left over cream cheese frosting with orange gel colour, snipped off the end the piping bag, and piped the carrot. Use constant pressure, pushing the tip in then continue doing that till the length u want, lighten pressure and pull off. The pushing in is what creates the ridges. The carrot tops are made with Wilton Tip 67, and cream cheese frosting tinted with green food gel. The smile that I got from my girl's face when she saw the carrots on top was priceless.
This recipe yields the perfect texture of carrot cake. Moist, not overly sweet, and beautifully spiced. The cream cheese frosting adds nice tang that complimented the spiced carrot cake perfectly. I particularly liked the crunch from the walnuts. Enough blabbers, here is the recipe. 🙂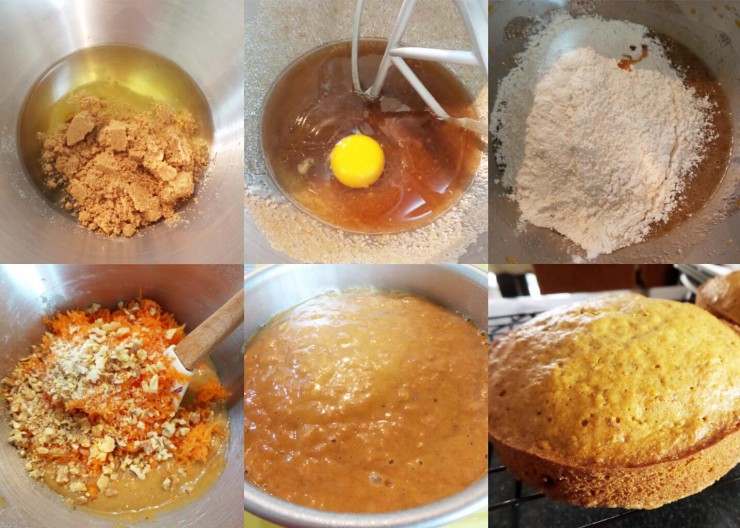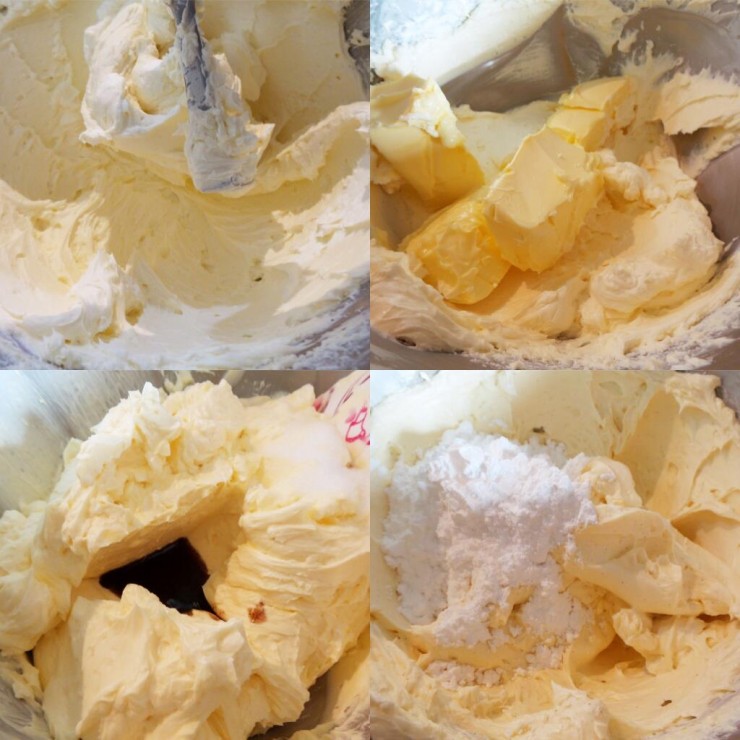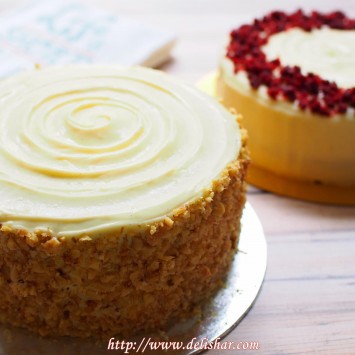 Carrot Cake with Cream Cheese Frosting
2 layers 6 inch cake
Ingredients
Carrot Cake
250

g

finely grated carrot

1/4

cup

chopped walnuts

optional

3/4

cup

+ 1 tbsp vegetable oil

195ml

1/3

cup

white sugar

67g

1/3

cup

brown sugar

74g

3

eggs

2

tsp

vanilla extract

1-1/2

cups

+ 2 tbsp plain flour

208g

2

tsp

ground cinnamon

1

tsp

baking soda

1/2

tsp

baking powder

1/2

tsp

salt

1/4

tsp

nutmeg
Cream Cheese Frosting
1

block 8 oz cream cheese

225g, room temperature

1/3

cup

butter

75g, room temperature

1

tsp

vanilla extract

pinch

of salt

2

cups

powdered sugar

256g, sifted

Toppings for side of cake: 1 to 1-1/2 cup chopped walnuts
Instructions
Carrot Cake
Preheat oven to 350F/175C.

Grease and flour 2 x 6 inch baking tin.

Sift together flour, cinnamon, nutmeg, baking powder, baking soda, and salt.

In your mixer, beat sugars and oil together.

Add eggs one at a time, then vanilla, and beat until smooth.

Add dry ingredients into mixer bowl, and beat until just combined.

Fold in grated carrot and chopped walnuts. Do not over-mix!

Divide batter into prepared pan, and bake for 25-30 minutes or until skewer inserted comes out clean.

Allow to cool in pan for 5 minutes, remove from pan to cool completely on wire-rack before frosting.

Level off the top of the cake before frosting.
Cream Cheese Frosting
Using your mixer, cream butter and cream cheese together until smooth and lump-free.

Add vanilla extract and salt.

Mix until combined.

Lower speed to low and gradually add in sifted powdered sugar.

Then increase speed to medium-high and beat until combined.

If too thin, add more powdered sugar, too thick, add milk tsp at a time.

If too runny, pop it in the fridge to chill before frosting.
Notes
Use the shaved cake and left over cream cheese frosting to make cake pops!
Adapted from Gimme Some Oven