Made this one afternoon for the helper and myself because she bought 3 pieces of firm tofu what was on offer. Nobody else at home consumes soy beancurd except for myself and the helper, so I felt sorry to see it sit sadly in the fridge without a purpose. Don't get me wrong, I love my tofu and will eat tofu everyday if I can. But unfortunately too much soy is not good for my thyroid condition. Plus, it's a little lonely eating tofu alone while the whole family neglects it.
Since I don't get to make much tofu at home, I took the opportunity to whip up something that I know we'll truly enjoy, and I don't have to feel guilty or lonely about eating it. I love how the tofu transform from a white block of nothing (that's what the husband calls it) into this gorgeous golden pillow with soft fluffy interior. What a play of texture!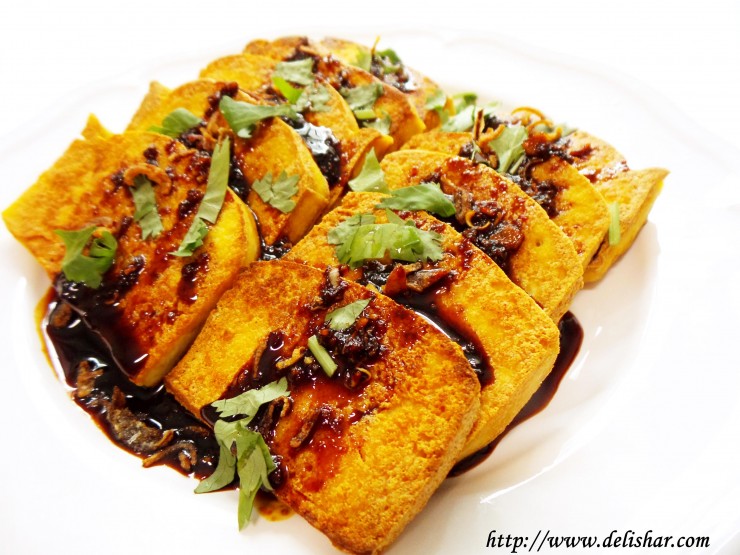 And the sauce… omg don't even get me started… that delicious sticky glaze was THE sauce for the pan-fried golden puffs! It was the perfect balance between sweet, salty, tang, and spice! I served it with plain steamed white rice, and may I say that it was one of my most satisfying meals. So simple, but so good. If you are a tofu lover, you are going to love this one. I promise.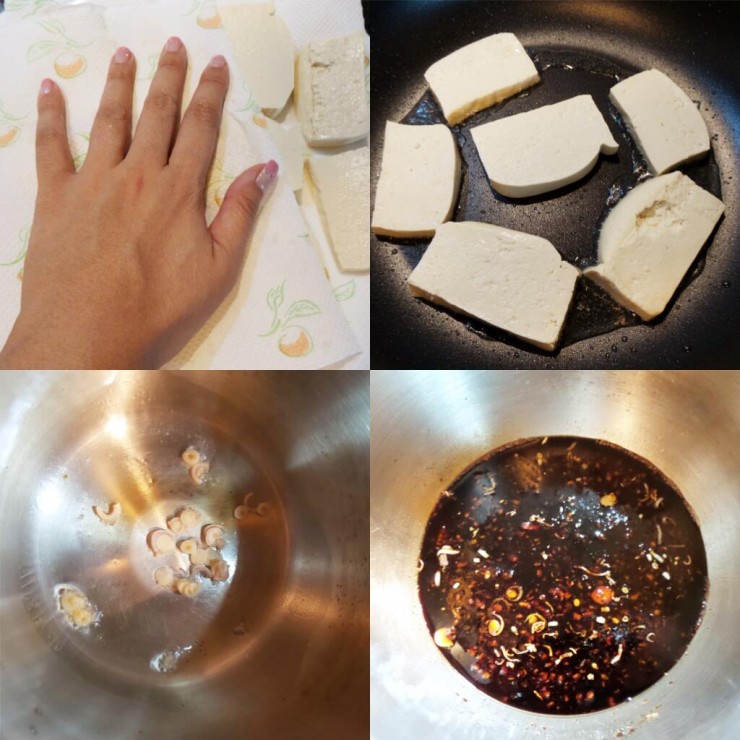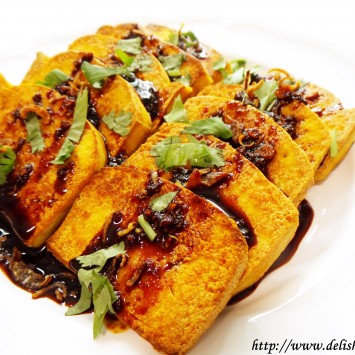 Crispy Honey Soy Tofu
(Serves 4 in a multi-dish meal)
Ingredients
2

firm / extra firm tofu

sliced to 1/4 inch thickness (about 350g)

2

tbsp

dark soy sauce

2

tbsp

honey

1

tsp

white/rice vinegar

1

tsp

sambal chilli

optional or to taste

2

cloves

garlic

minced

1

lemongrass

ends only and sliced

1 to 2

tbsp

oil

Another 1 tsp oil

Chopped cilantro and fried shallot to garnish
Instructions
Dry tofu with kitchen towel.

Pan fry over medium high heat until golden brown on both sides.

Set aside.

In a saucepan, add 1 tsp oil and saute lemongrass and garlic until it starts to turn golden.

Pour in dark soy, honey, vinegar, and chilli.

Give it a stir, and lower heat to simmer.

Allow sauce to thicken. (sauce will thicken further when cooled)

Drizzle sauce over golden tofu just before serving.

Garnish with cilantro and fried shallot.