I love Halibut. I love the delicious firm and meaty texture of this lovely white fish known as the largest flatfish in the ocean. Due to the firmness of the flesh, it can withstand a more robust cooking just be careful not to overcook, or it'll dry out. I like searing the fish with very little seasoning as I feel that by doing so, it accentuates the natural flavour of the fish. And searing the fish helps to keep the flesh moist. There is nothing worse than to mask the delicious taste of quality seafood with tons of spices.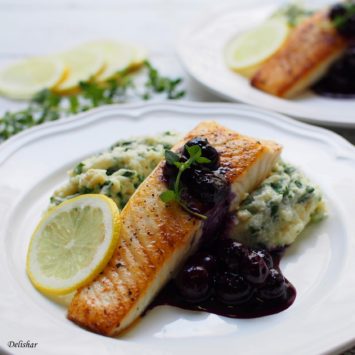 I got my supply of Alaskan Halibut from The Alaska Guys (TAG). I've collaborated with them for a while now, and they have never failed to supply me with the best quality Alaskan seafood. I've learnt a lot about Alaskan seafood and the fishery industry from Kevin, the founder or TAG. I've found out that Atlantic halibut is classified as endangered species, while halibut around Greenland is considered threatened. However, the Halibut from TAG are sustainable line-caught Pacific halibut. I found that interesting as I had no idea that there are such differences, and of course I want to support sustainable seafood.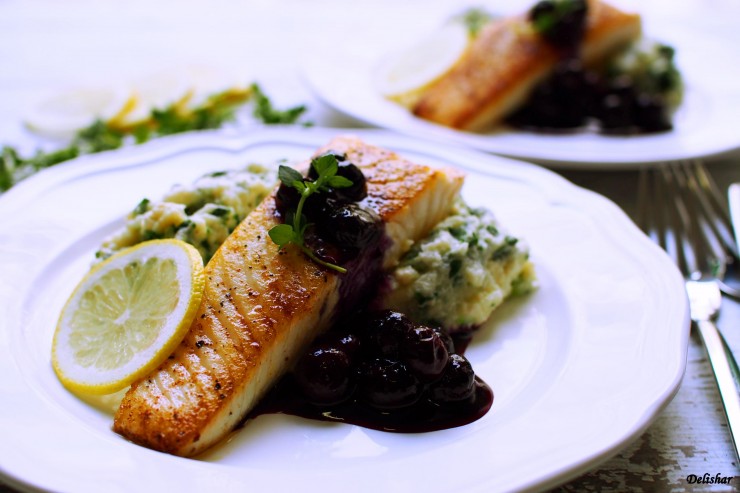 I also found out that the 'halibut' we get from out local markets here are usually turbots. Turbot is also a flatfish similar to halibut, but it isn't halibut. Turbots are smaller, wider, kind of rounder in appearance. While Halibuts are bigger fish, and longer with a white bottom side. That made me feel slightly cheated. I mean, I don't want to be playing for a good glass of wine, only to be served grape juice cause it kind of looks alike. Well, not that bad but you get the gist.
Anyway, back to this delicious meal I made. The husband claimed that this meal topped all the other meals and is now on his top 10 favourite list. He loved the texture of the fish, with a slightly crisped up golden crust, and moist lovely flesh that flakes off piece by piece. The blueberry sauce was a suggestion from Kevin. He said that his mom used to make a blueberry sauce to serve atop fish, and asked if I can recreate it.
The sauce was absolutely delicious! It paired nicely with some chicken breast the next day too! The husband and I loved it so much. The husband also commented that this was the best cauliflower mash recipe I've made. All in all this meal was a very satisfying low-carb meal that I will be making again sometime soon.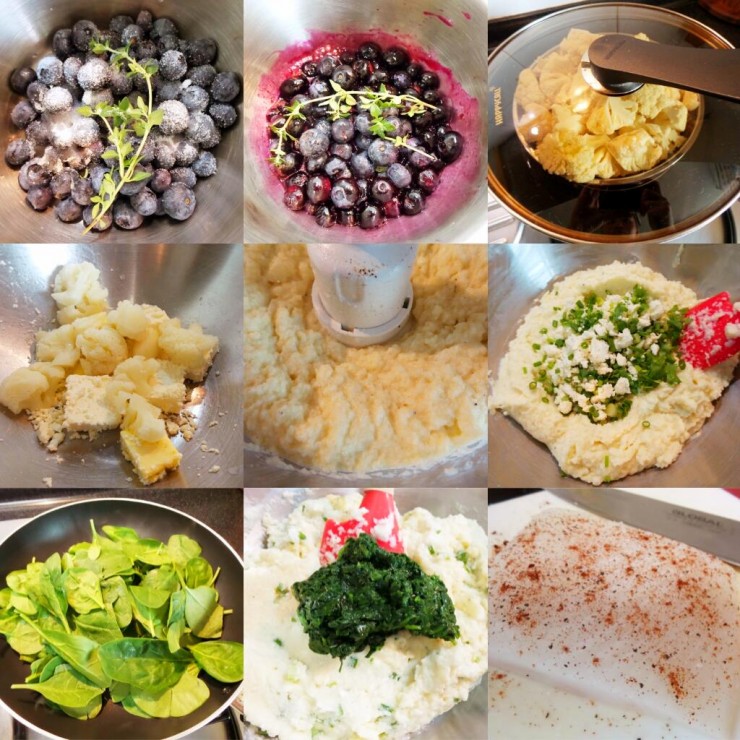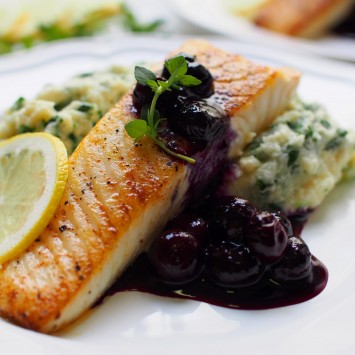 Pan-Seared Halibut with Fresh Blueberry Sauce
Ingredients
Fresh Blueberry Sauce
1

Cup

fresh blueberries + 2 tbsp fresh blueberries

1

tbsp

brown sugar

1

tsp

lemon juice

1-2

sprigs thyme
Pan Seared Halibut
4

fillet of Halibut

about 200g each

1

tsp

paprika

Salt and pepper to taste

2

tbsp

olive oil
Instructions
Pat dry Halibut fillets, and season both sides with paprika, salt and pepper.

Start cooking the sauce.

Place 1 cup fresh blueberries in saucepan together with sugar, lemon juice, and thyme.

Simmer for 3 minutes, and then add the remaining 2 tbsp of blueberries.

Allow to simmer for another 1-2 minutes until syrupy.

Remove from heat and set aside.

Heat a frying pan on medium high, and add oil.

When oil is shimmering, sear fish presentation side down.

Do not touch or flip it for 3-4 minutes to get a nice golden sear.

Flip and allow to cook for another 2 minutes or until done.

Serve with sauce over fish.
Spinach and Feta Mashed Cauliflower
Serves 4-6
Ingredients
1

medium head cauliflower

cut into small florets

2

tablespoons

butter

1/4

cup

cream cheese

1

cup

cooked fresh spinach

squeezed of excess liquid and coarsely chopped

1/2

cup

feta

crumbled

2

tbsp

chopped spring onions

1

tbsp

chopped cilantro

Milk to taste

Salt and pepper to taste
Instructions
Steam cauliflower until fork tender, about 10 minutes.

Mash the cauliflower with a food processor along with butter and cream cheese.

Add enough milk to bring the mashed cauliflower to the desired consistency.

Mix in spinach, feta, cilantro, and green onion.

Season with salt and pepper to taste.
Get the pre portioned cook kit for this amazing dish and
cook it in your own kitchen! Order Now