Here's a one pot recipe that will look like you worked your arse off in the kitchen. Well, I'm not saying it's effortless. But it's a pretty straight forward recipe and all that stirring is going to pay off in more than one way. Your biceps, taste-buds, and tummy will thank you. And because you made such a good meal for your other half, you might even get lucky that night! The other half might just offer to do the dishes for you! 🙂 What were you thinking?
The constant stirring of the arborio rice helps to release the starch in the rice giving it a creamy texture. I read that making risotto has to be a slow process, stirring the rice helps the grains rub against each other. And adding the stock a little at a time helps the starch release slowly. It's important to use hot stock, this is to keep the cooking temperature constant.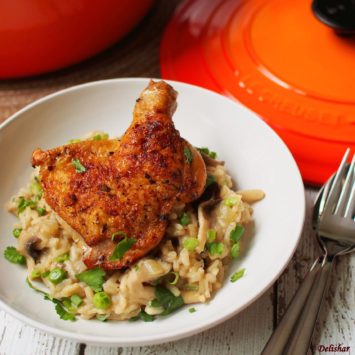 I find that making it this way gives you control of getting the consistency you prefer your risotto to be. That way what ever your fancy pants wants, your fancy pants gets. Some like it wet, runny, and creamy. Others like it slightly on the drier side with more of a bite. How do you like your risotto? That being said, if you decide that stirring is definitely not how you wanna roll. Then try out my other one pot No Stir Chicken & Sausage Risotto Recipe.
Don't forget to take part in the Chinese New Year 2016 S$500 Paypal Cash Giveaway! Click to go to GIVEAWAY PAGE and complete the rafflecopter widget at the end of the post!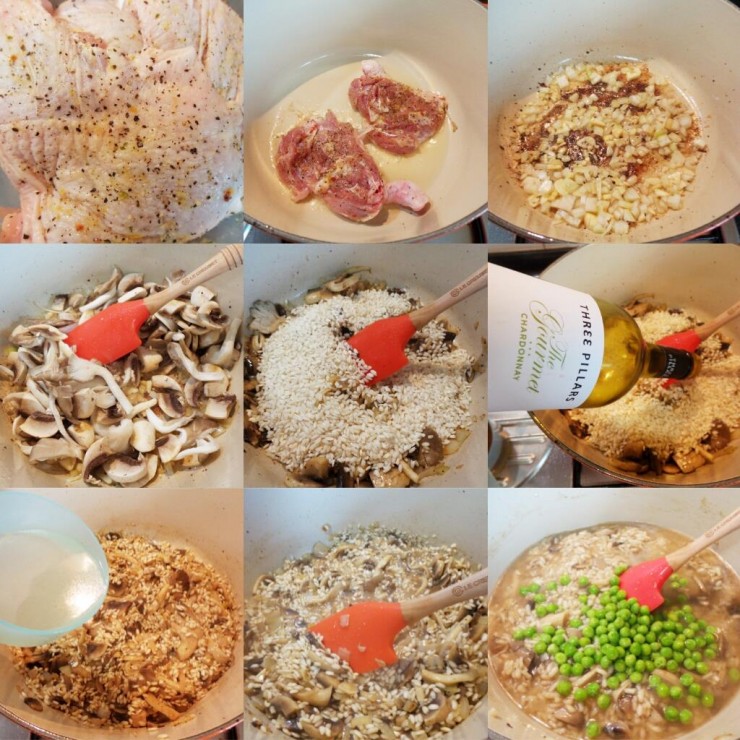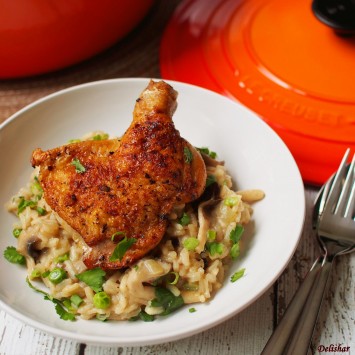 Creamy Mushroom Risotto with Pan Fried Chicken
Ingredients
Pan-fried Chicken
4

bone-in skin on chicken legs

1

tsp

garlic powder

Salt and pepper to taste

2

tbsp

cooking oil
Creamy Mushroom Risotto
1 1/2

cups

arborio rice

150

g

button mushrooms

sliced

150

g

oyster mushrooms

torn

1/2

cup

dry white wine

5

cups

chicken broth

1/2

yellow onion

diced

2

cloves

garlic

minced

1/2

cup

frozen peas

2

tbsp

butter

1/2

cup

parmesan cheese

Salt and pepper to taste

1

tbsp

chopped spring onions

1

tbsp

chopped italian parsley
Instructions
Pan-Fried Chicken
Season both sides of the chicken generously with garlic powder, salt and pepper.

Heat French oven on medium high heat, and add 2 tbsp cooking oil.

When oil is shimmering, place chicken skin side down.

Do not touch it for 4-5 minutes to get a nice golden sear.

When the chicken is ready, it will release on it's own.

Flip and cook until done, about 10-12 minutes total time.

Remove chicken, and set aside.

Drain grease from French oven, and return pot to stove.
Creamy Mushroom Risotto
Microwave chicken stock until hot, and set aside ( or you can use a sauce pan to heat up the chicken broth)

In the same French oven, melt 2 tbsp of butter over medium heat.

Saute onions and garlic, until onion is translucent.

Add mushrooms, and saute until tender, scraping up the brown bits on the bottom of the pot.

Season with salt and pepper.

Add rice, and stir to coat.

Add wine, and stir until wine has almost completely evaporated.

Add hot chicken broth 1/2 cup at a time, stirring constantly.

Allow each addition of broth to be absorbed before adding the next 1/2 cup.

Cook until rice is tender but still firm to the bite, and mixture has a creamy consistency, about 25-30 minutes.

Remove from heat, and stir in parmesan cheese.

Transfer risotto to serving bowl, top with chicken, and sprinkle some spring onions and parsley.

Serve immediately.
Notes
Adapted from Foodnetwork.com