This is one of the best blueberry muffins recipe I've tried. It yields a soft, fluffy, kinda cake like crumbs, and the yogurt used ensures that you get moist muffins. Tossing the blueberries with a little bit of the dry ingredients keeps the blueberries from sinking to the bottom of the batter when it's baking. Topping fresh blueberries on top of the batter before baking gives you that visually pleasing look as the berries explodes and bleeds down the sides of the muffins. I don't know about you, but that is just plain sexy to me.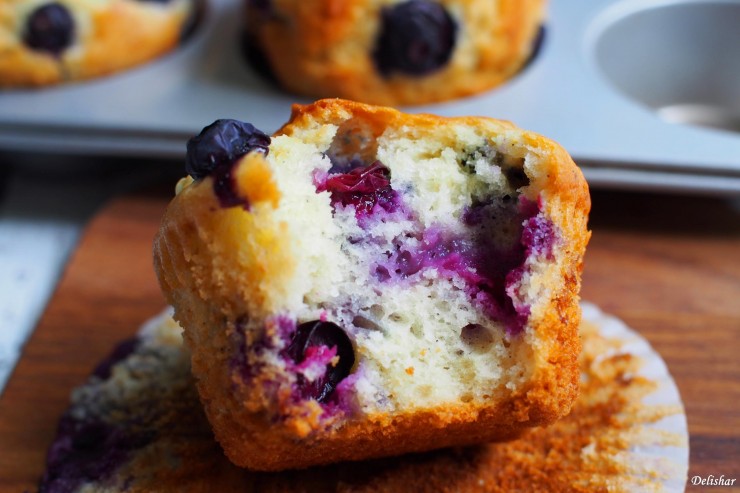 When I took my first bite of the muffin, I was blown away. Not overly sweet but so freaking good! I lost self-control and had 2 at one go, the husband had 3. LOL. I took a batch to share with the teachers and canteen vendors. All the feedback gathered confirmed what I already knew. So I'm really excited to share this great recipe with you, and hope you'll enjoy it as much as we all did. I'm putting this on my muffin rotation list! While you are at it, try out my other Blueberry Streusel Muffins recipe!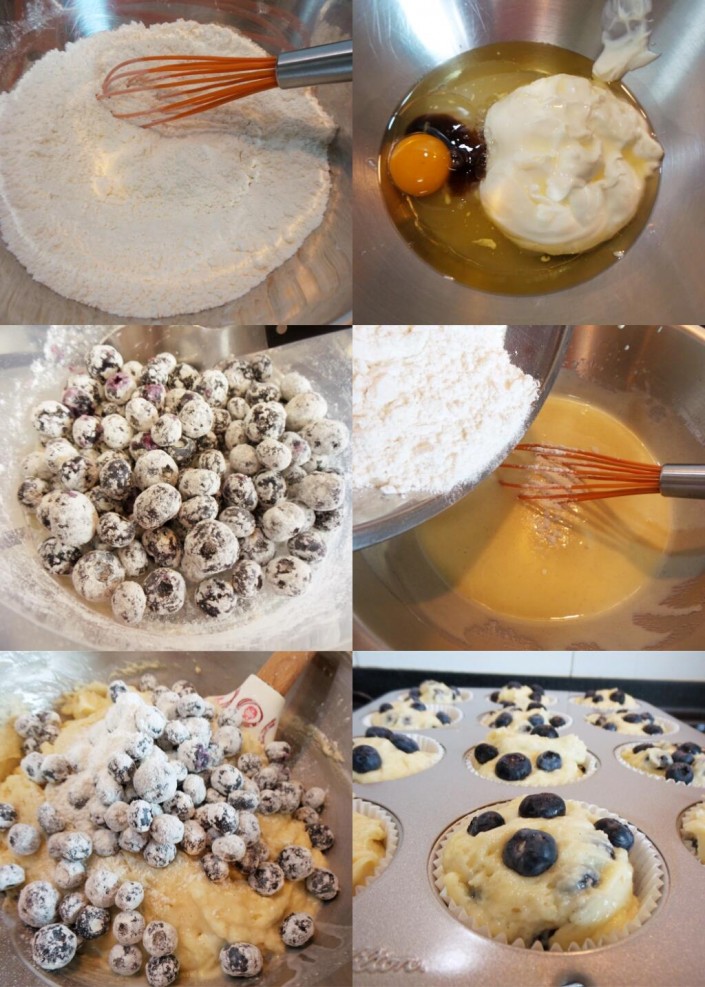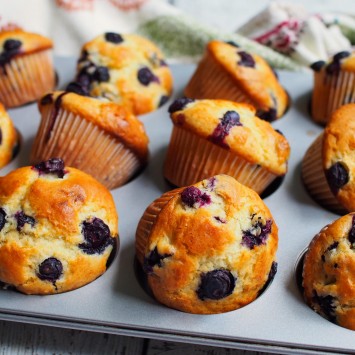 Blueberry Muffins
Ingredients
354

g

12.5 oz cake flour

1

tsp

baking soda

2

tsp

baking powder

1/4

tsp

salt

3/4

cup

150g castor sugar

1/2

cup

115g melted butter

1

large egg

60g

1

cup

250g greek yogurt

1 1/2

cups

222g fresh blueberries

1

tsp

vanilla extract
Instructions
Preheat oven to 200C, top and bottom heat only

Line your muffin tray.

In a large mixing bowl, sift cake flour, salt, baking powder, baking soda together.

Toss 1 tbsp of the flour mixture with ONLY 1 cup of blueberries (148g). Reserve the other 1/2 cup blueberries for topping, DO NOT mix toss with flour mixture.

In another bowl, whisk to combine butter, sugar, vanilla, egg, and yogurt.

Mix dry ingredients into wet ingredients until almost combined but still clumpy, do not over mix or you will get tough muffins.

Fold in the 1 cup of blueberries for about 3-4 folds.

Again, do not over-work batter.

Then fill liners with batter to about 3/4 full, and top with reserved blueberries.

Bake at 200C, middle rack for about 20-25 minutes (mine was 22mins) or until a skewer inserted comes out clean.

Cool in pan for 5 minutes before removing to cool on wire rack completely.
Notes
No mixer is required for this recipe. 🙂
If your batter is too thick, thin it out with some milk 1 tbsp at a time.
If you are using plain flour or part wholewheat pastry flour, you'll have to add another 2-4 tbsp of milk to thin out the batter a little bit.
Adapted from Foodnetwork.com